Guns 'n' Roses lead singer Axl Rose has been making headlines recently, and it's not even the 90s anymore. The singer was spotted leaving an Atlanta rehearsal facility with members of the legendary Aussie band AC/DC. Earlier this month, AC/DC's lead singer Brian Johnson, 68, was told by his doctors that he needed to stop performing immediately or risk losing his hearing. Johnson told Howard Stern that his hearing loss is from racing cars without using earplugs, not performing specifically, although you can see how belting out "Back in Black" would worsen the condition. The remaining members of AC/DC have rescheduled the last 10 dates of its Rock or Bust World Tour and announced a "guest vocalist" will replace Brian. Could it be Axl?
Axl recently reunited with his G'n'R band mates, and just last week they announced a 21 city North American tour. So, these recent meetings do arouse a little curiosity. It's unsure whether Axl was meeting with AC/DC's Angus Young, Cliff Williams and Chris Slade to discuss filling in for Brian or the prospect of AC/DC opening for G'n'R on their tour. But, if Brian hasn't recuperated, is Axl going to sing for both bands on the tour? That's highly unlikely, as Axl already has a bad reputation when it comes to showing up late to concerts and his diva-meter could reach 11 if he were fronting 2 bands at the same time. Neither the rescheduled AC/DC dates nor the G'n'R dates have been announced yet, so the speculation is sure to continue.
I have issues with this. First of all, you don't replace a singer with such a distinct voice as Brian Johnson. I would be miffed if I had gotten tickets to see the AC/DC, only to find a replacement lead singer. It's like having an understudy take over the lead in a much anticipated Broadway show. However they could have done far worse in choosing someone to replicate Johnson's gravelly vocals. Axl and the guys did a pretty cool cover of "Whole Lotta Rosie" – of course, this was back in 1987. I don't know if 2016 Axl can still tear it up like that. Even if he could, I am still a Brian Johnson gal.
Should AC/DC just pack it in? With no Brian Johnson, no Phil Rudd and no Malcolm Young, I tend to think so – they're venturing into tribute band territory, and that would be a sad end to such a great band.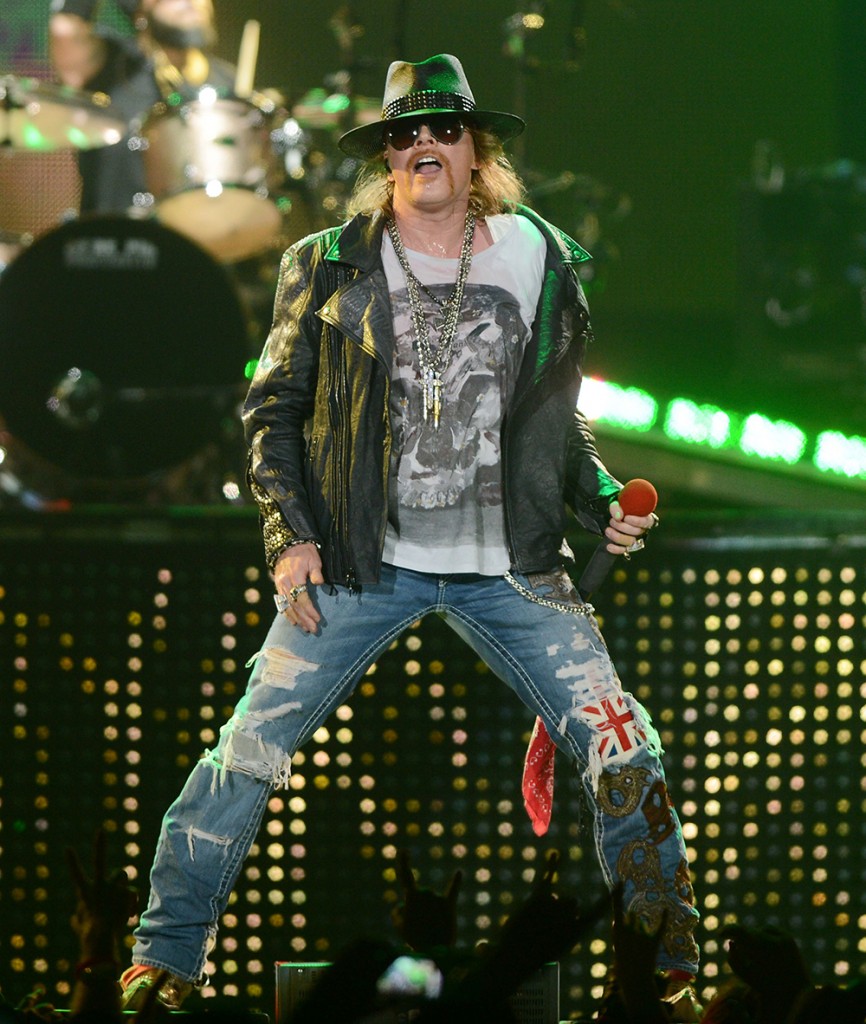 Photo credit: WENN.com, Getty Images