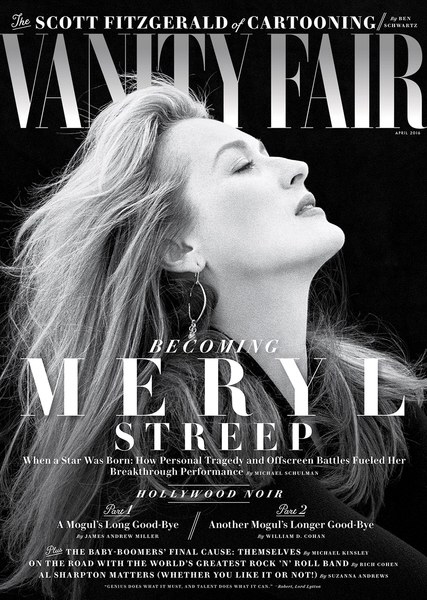 I was all prepared to throw a hissy fit about this Vanity Fair cover. I thought that VF had done a profile of Meryl Streep for their April cover, and I was pissed off that VF used such an old photo of Meryl instead of showing a lovely 60-something woman in all of her glory on the cover of a major magazine. But then I read the Vanity Fair piece and I get why they used an old photo. Meryl didn't give them an interview – the cover is an excerpt from Michael Schulman's biography of Streep, called Her Again: Becoming Meryl Streep.
The excerpt – which you can read here – focuses on arguably the worst time in Meryl's life, the time following John Cazale's death – they were engaged, very much in love and she was with him as he fought and then succumbed to cancer – and when she threw herself into work afterwards. Immediately following Cazale's death, Meryl scored the role in Kramer v. Kramer, for which she would win her first Oscar. This was also the time when Dustin Hoffman (her Kramer costar) had one of the worst reputations of any actor. He was a noted bastard, hardass and know-it-all, and he made her life hell while they were filming. The whole VF excerpt is worth a read, but this part caught my eye because OMFG.
On the second day, they continued shooting the opening scene, when Ted follows the hysterical Joanna into the hallway. They shot the bulk of it in the morning and, after lunch, set up for some reaction shots. Dustin and Meryl took their positions on the other side of the apartment door. Then something happened that shocked not just Meryl but everyone on set. Right before their entrance, Dustin slapped her hard across the cheek, leaving a red mark.

Benton heard the slap and saw Meryl charge into the hallway. We're dead, he thought. The picture's dead. She's going to bring us up with the Screen Actors Guild. Instead, Meryl went on and acted the scene. Clutching Joanna's trench coat, she pleaded with Ted, "Don't make me go in there!" As far as she was concerned, she could conjure Joanna's distress without taking a smack to the face, but Dustin had taken extra measures. And he wasn't done. In her last tearful moments, Joanna tells Ted that she doesn't love him anymore, and that she's not taking Billy with her. The cameras were set up on Meryl in the elevator, with Dustin acting his part offscreen.

Improvising his lines, Dustin delivered a slap of a different sort: outside the elevator, he started taunting Meryl about John Cazale, jabbing her with remarks about his cancer and his death. "He was goading her and provoking her," Fischoff recalled, "using stuff that he knew about her personal life and about John to get the response that he thought she should be giving in the performance."

Meryl, Fischoff said, went "absolutely white." She had done her work and thought through the part. And if Dustin wanted to use Method techniques like emotional recall, he should use them on himself. Not her. They wrapped, and Meryl left the studio in a rage. Day two, and Kramer vs. Kramer was already turning into Streep vs. Hoffman.
Yes, this is less about how Meryl Streep is a world-class actress and more about how Dustin Hoffman was (and possibly still is) a son of a bitch. WHO DOES THAT? What leading man slaps his costar to "help" her get into character? And "taunting" her about John Cazale? My God. It's a wonder she didn't walk off the set completely and never come back. If that happened today… I would like to think that we would hear about it, don't you?
Inside the making of Streep vs. Hoffman, otherwise known as Kramer vs. Kramer https://t.co/r4lRpvhTru pic.twitter.com/6ORmClAJE1

— VANITY FAIR (@VanityFair) March 29, 2016
Photos courtesy of Getty, Vanity Fair.