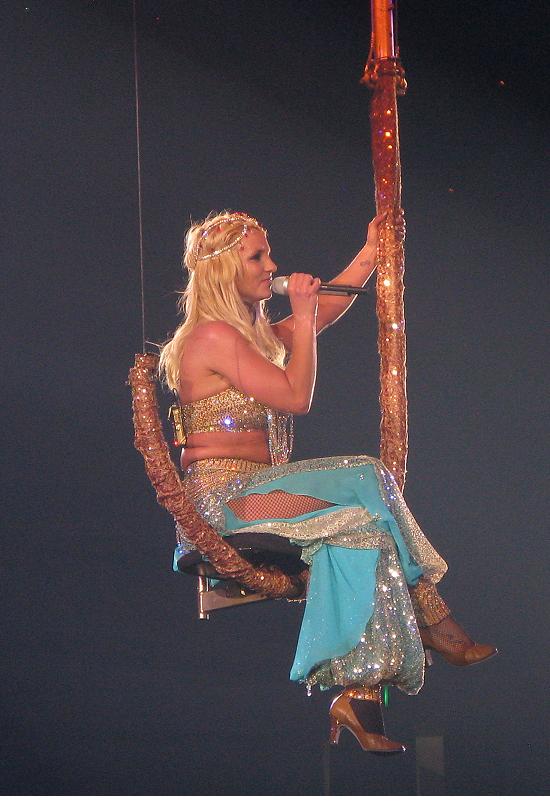 Britney Spears dared to show a teeny, tiny bit of pudge at her concert in Anaheim the other night, and now everyone is sure she's knocked up. Well, by everyone, Ryan Seacrest. Though given his influence, it might as well be everyone. Ryan announced on his KIIS radio show yesterday that he heard from a "reliable" source that Britney is pregnant again. Extra wrote it up on their website, but the story has mysteriously disappeared. But they left it on their Twitter.
Britney Spears was baring her belly at her concert in Anaheim on Monday night, but now there are rumors there might be more going on in her much talked about mid-section. This morning on his radio show, Ryan Seacrest announced that he heard from a "reliable source" that Brit is pregnant again.

There have been rumors about her relationship with a backup dancer as well as the random story about the real estate agent that her people denied. Plus, earlier this week the news broke that Britney might be ending her tour early. It would be pretty surprising if Britney Spears had another baby right now, but then again she's unpredictable.
[From PopSugar]
I don't think it'd be all that surprising if Britney were pregnant again. It wouldn't be good, but it wouldn't be shocking. Since her first pregnancy it's been widely discussed that she really wants a daughter, and there were rumors that she felt some extra pangs when little sister Jamie Lynn had a baby girl last summer. She has worked hard to earn more time with her sons, but that doesn't mean she's not hankering for a full-time baby.
It'd mostly be shocking because Britney's been working so hard on her career and getting her life back on track. And it would be a huge debacle, since she's still under her dad's conservatorship. It essentially means she's not a legal adult – thus she probably couldn't have custody of any other children she has until the conservatorship is lifted.
Those costumes aren't very forgiving, and everyone gets a little sitting fat in the stomach. Let's hope Seacrest's rumor is wrong.
Here's Britney performing in L.A. on April 11th. Images thanks to Fame Pictures .