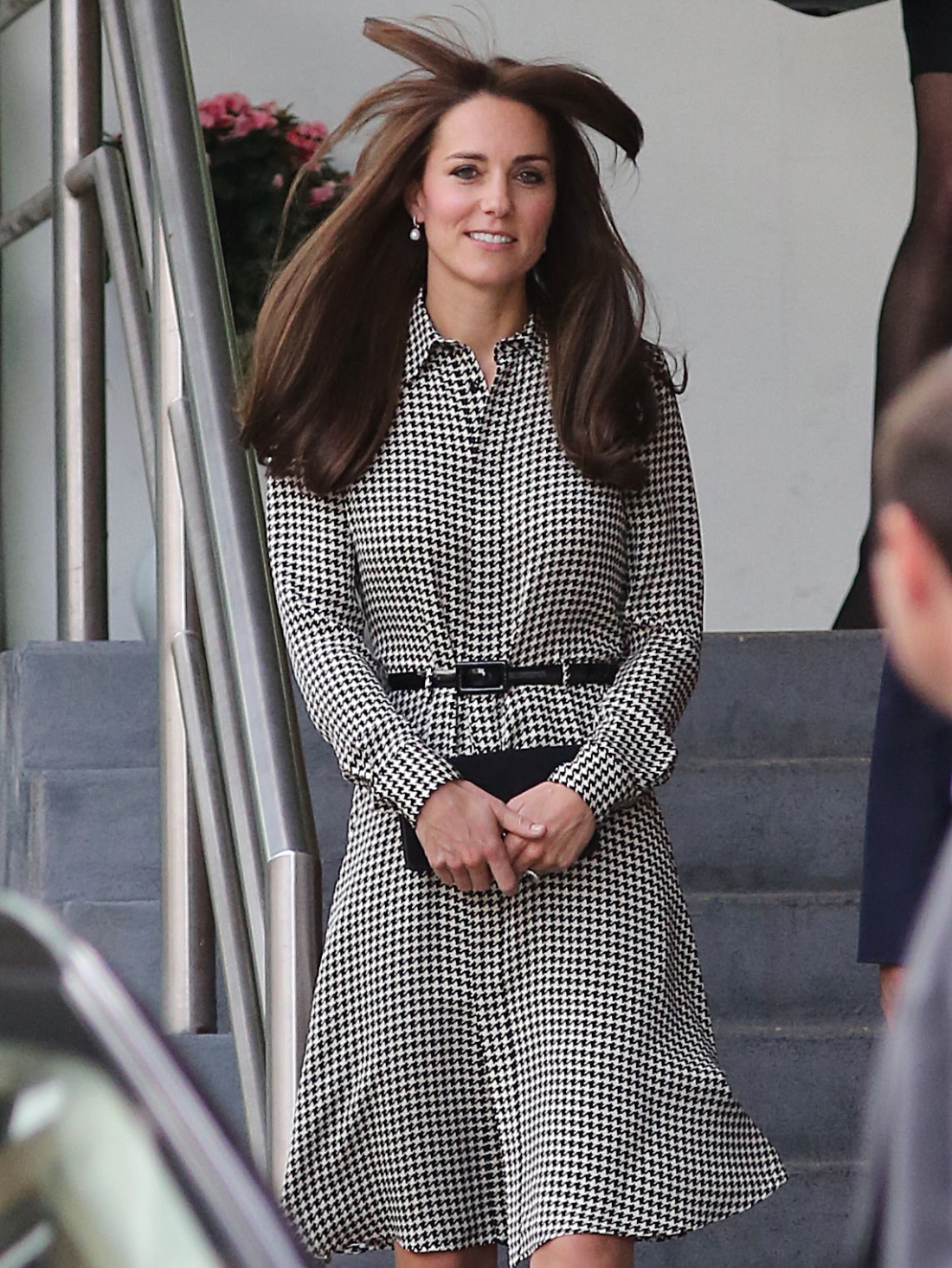 We got a special request from commenter Sixer to re-use some of the "helicopter hair" photos of the Duchess of Cambridge, so here you go. It took me a second to realize that you guys were probably talking about Kate's big "comeback" to work after her maternity leave (the photos of Kate in Ralph Lauren), but I also included some photos of Kate with her hair loose on a windy day last fall too (that was an official event as well).
As we've been hearing for a few weeks now, basically ever since Kate shunned the Irish Guards and then breezed through a 30-minute appearance at a shop opening the next day (with her hair freshly colored and blown out), Will and Kate were going to take a break from public appearances ahead of their MASSIVE and grueling six-day tour of Bhutan and India. Then the Cambridges were quietly called to Windsor Castle on Monday for an audience (and photoshoot) with the Queen, just as soon as William returned from his four-day solo frolic in Kenya. Now, suddenly, Will and Kate will be doing an appearance ahead of their tour. Coincidence?
The Duke and Duchess of Cambridge are set to take part in a reception held at Kensington Palace on Wednesday, April 6th, a few days ahead of their visit to India and Bhutan. The reception will give Their Royal Highnesses the chance to meet with and speak to young people from India and Bhutan who are currently studying or working in the UK. Their interactions will give William and Catherine a greater understanding of the people, history, culture, politics and current affairs of the countries that they are visiting next month.

The Duke and Duchess be introduced to a number of Indian and Bhutanese people who are currently living in the UK and are involved in British and Indian businesses and charities. These individuals are key figures within the diaspora community of Great Britain. Among them is Navtej Sarna, a noted Indian author and columnist who is India's High Commissioner to the UK.

Also in attendance will be representatives from the British Asia Trust, as well as Indian and Bhutanese students who are enrolled on the Foreign and Commonwealth Office's Chevening Scholarship Programme, which is an international awards scheme aimed at developing global leaders. Additionally, Their Royal Highnesses will meet Indian entrepreneurs who are supported by the UK Trade and Investment's Global Entrepreneur Programme, an initiative that helps and supports foreign startups or technology businesses that are in their early stages to relocate to the UK. This will prove to be a precursor to the Duke and Duchess's second day in Mumbai, where they will meet young Indian entrepreneurs at a GREAT campaign event.

The Duke and Duchess of Cambridge will visit Bhutan and India between 10th and 16th April. It will be the first time that the royal couple has visited either country.
Well, it's good that we'll (hopefully) get some photos of the Cambridges ahead of the tour, and it's good that somewhere, someone is telling them that can no longer go dark for weeks and even months at a time. I also think this reception in particular is a good idea, but I often feel like Kate and William have very limited experiences with people who are not A) posh or B) working for them in some capacity. That being said, the last time a big reception was held at Kensington Palace, it was the night before the BAFTAs and BAFTA president Prince William didn't even bother showing up, for the second year in a row. It would funny/sad if that happened here – like, Will and Kate make a big deal about a "Kensington Palace reception" and they don't even show up.
Two more things. One, the Daily Mail's Sebastian Shakespeare got his hands on a blurry photo from Jecca Craig's wedding, which you can see here. She wore a sleeveless, simple wedding gown which looked very pretty on her. Also, the British Monarchy YouTube put up one clip of Kate talking for the Queen at Ninety special. It's a clip we've seen before, but it's still interesting. I'm obsessed with her faux-posh accent.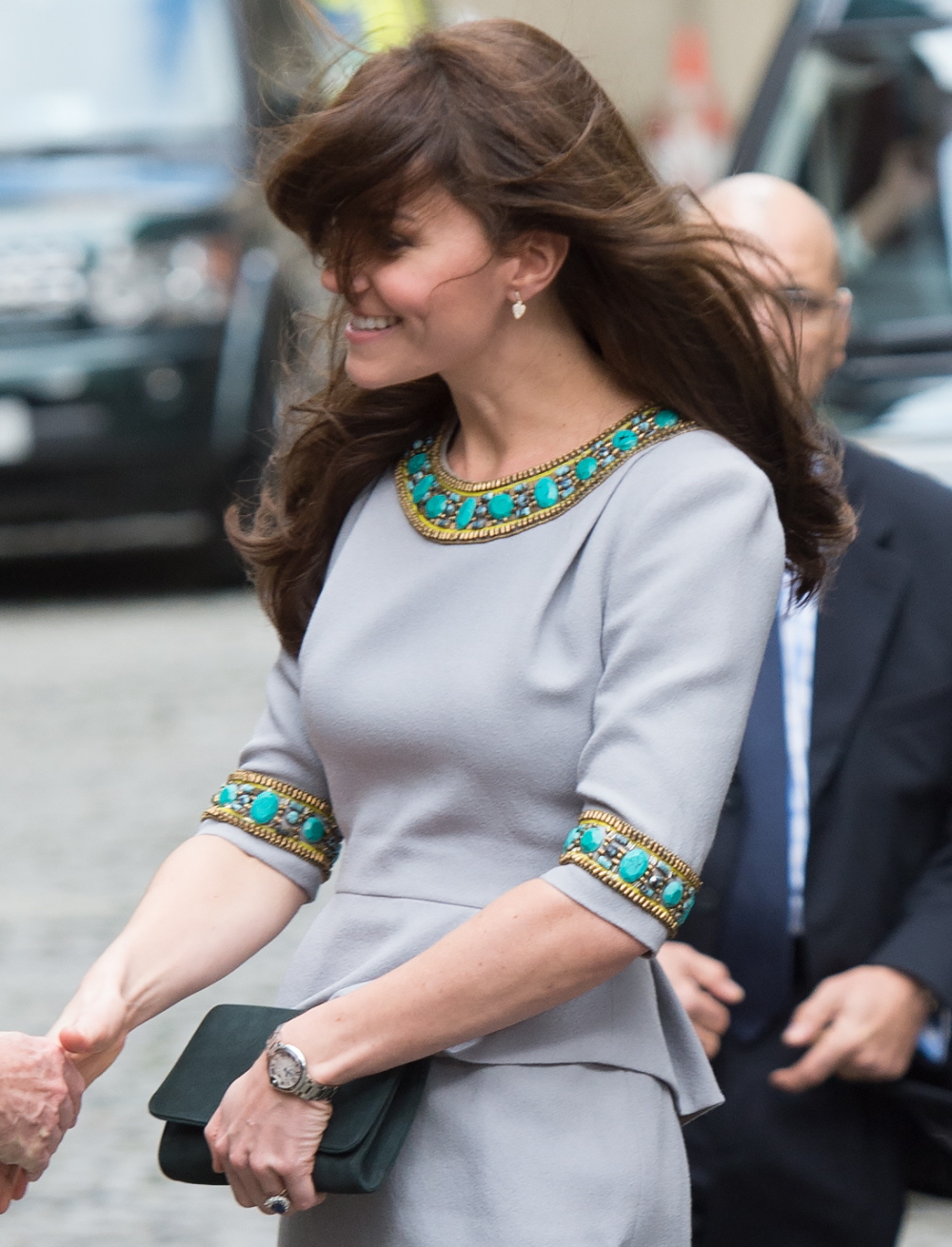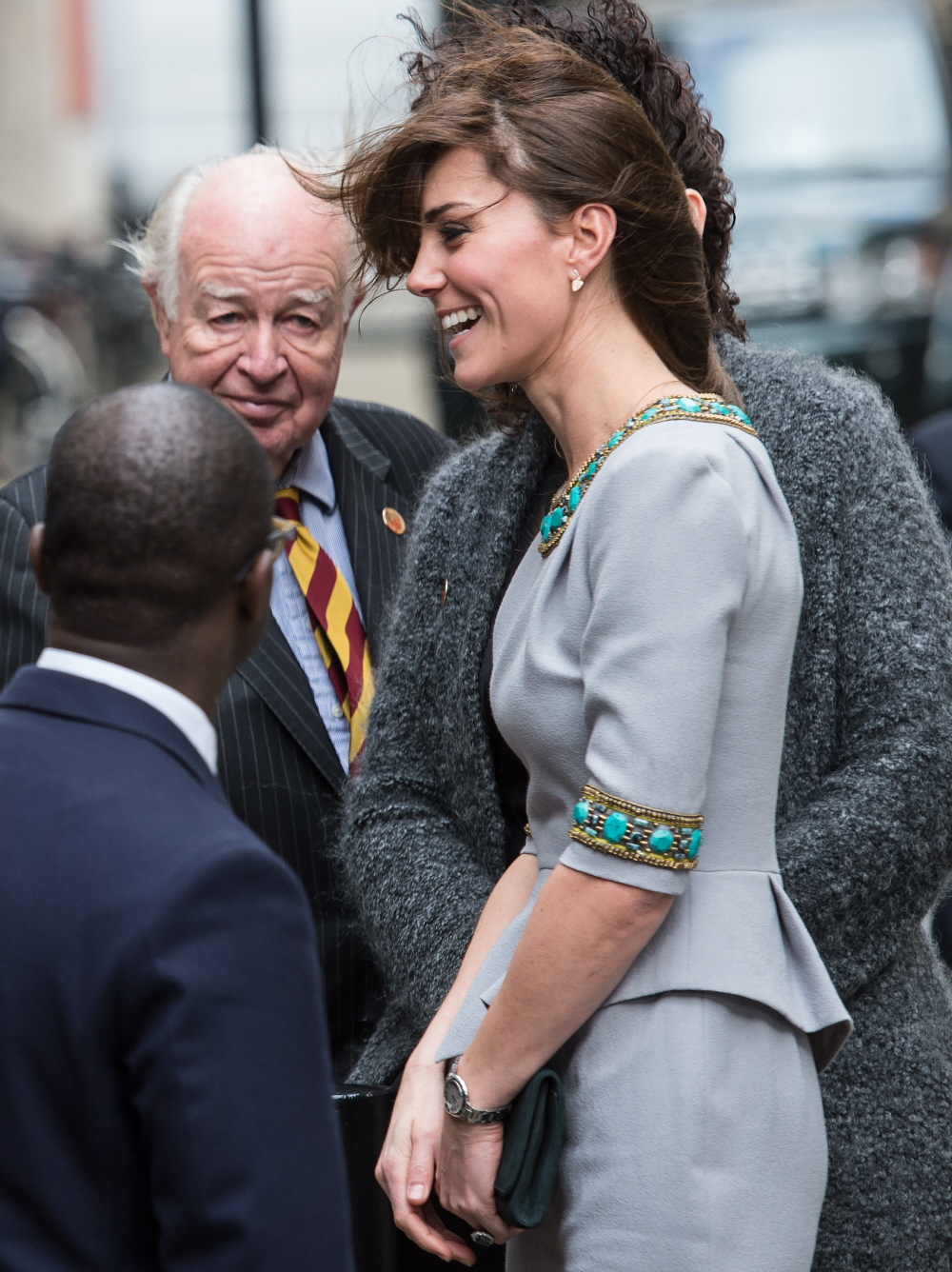 Photos courtesy of WENN.