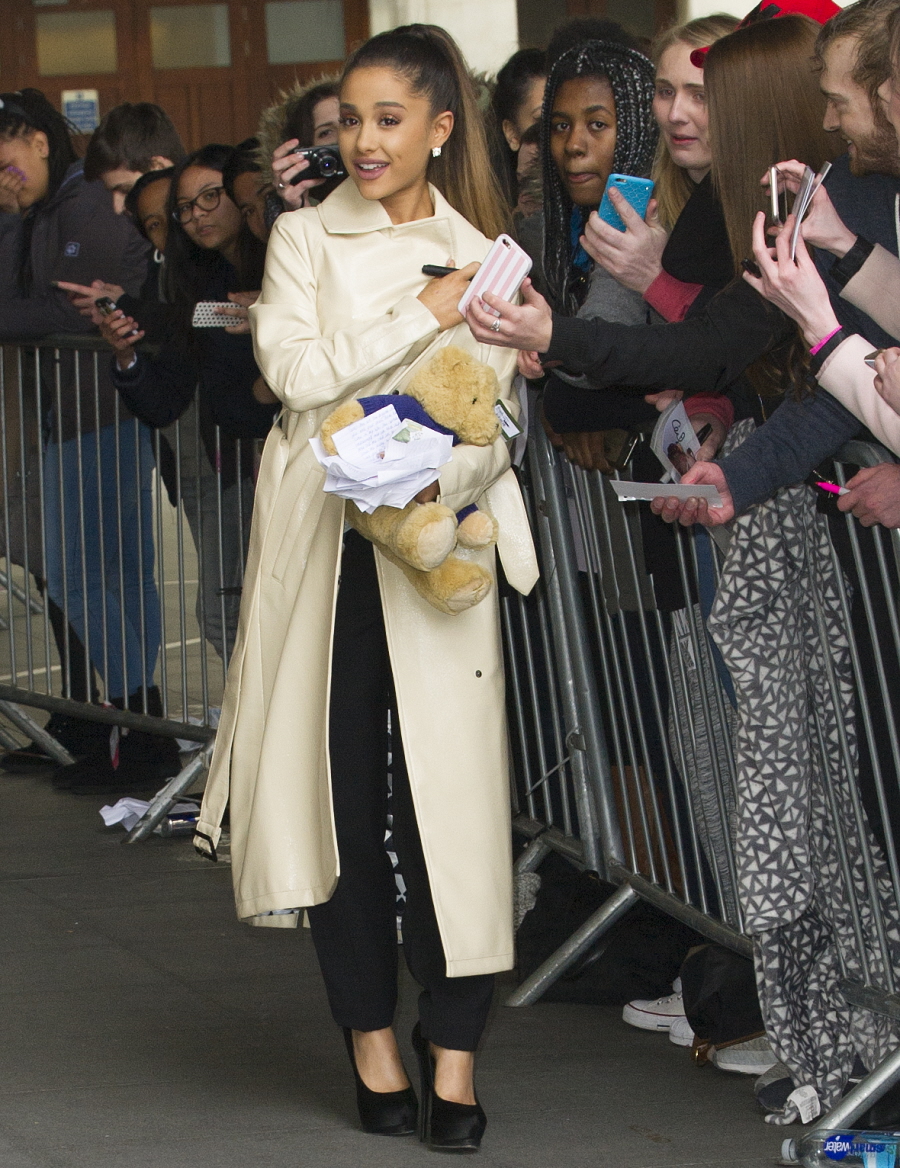 We haven't talked about Ariana Grande since the Grammys, and before that, it had been months since we've discussed her. That's a choice I've been making, by the way. Ariana has been making the promotional rounds for weeks, trying to reclaim her pop-diva glory after her bratty-diva reputation drowned out her musical success. Some days, I think she's the female version of Justin Bieber. Anyway, yes, Ariana has a new album and her first single, "Dangerous Woman," is already everywhere. A few weekends ago, Ariana pulled double duty as musical-guest and host of Saturday Night Live to promote her album. And according to Star Magazine, Ariana-the-Bratty-Diva is still around.
Ariana Grande's recent SNL gig may have shown that she's killer at celebrity impressions, but it also proved that the rumors about her unusual demand are true: She insists on being carried!

Stories have swirled for years that the pint-sized diva liked to get a lift from assistants, perhaps due to fatigue or sky-high stilettos, however Ariana has always denied the chatter. But Star's SNL insider can confirm that during her taping she wanted to be physically totes to her costume changes – and not even by a burly security guard, but by a woman!

"As soon as a skit ended, she'd jump off the stage and expected this lady to catch her every time," dishes the witness. "That poor woman's entire job was to act as a human pack mule. Just because Ariana is petite, doesn't mean she's a baby."
[From Star Magazine, print edition]
This is kind of an obvious one – we've heard stories of Ariana demanding to be carried around like a baby before, and I genuinely believe she does that. But it's a given at this point – it would be like Star Magazine claiming that while at SNL, Ariana spit on some donuts. Still, it's good to know that Ariana is still the same little brat she always was.
Here's Ariana's new music video for "Dangerous Woman." I'm already hearing the song all over the radio and it seems like she's licensed it for TV shows and commercials already. Or maybe I'm imagining that, because the whole song feels really familiar. The video seems to be shot like a Victoria's Secret ad too, which makes me wonder if Ari wouldn't be better off just writing jingles for commercials and TV shows. I don't consider this NSFW, but there's a lot of lingerie, so…whatever. NSFW.
Photos courtesy of WENN, Fame/Flynet.