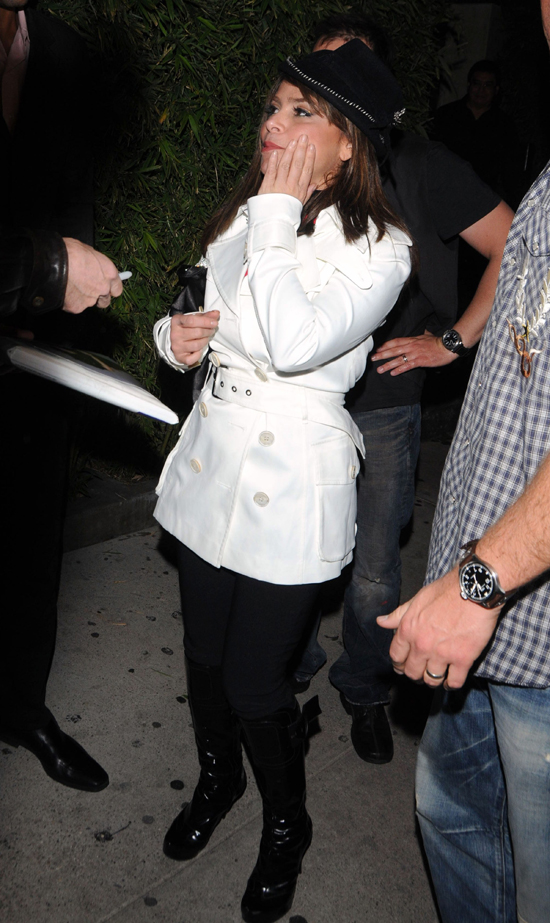 Paula Abdul has had a rough go of it. Over the past four years she's had some bouts of very erratic behavior, leading to gossip of drunkenness or a pill problem. Abdul has always denied this, and claimed it was the result of medication she's taken for reflex sympathetic dystrophy, which is a type of Complex Regional Pain Syndrome, along with the 15 surgeries she's endured since an accident in 1992. She's also claimed she's never been addicted to any drug, but that's a fuzzy line. A person can obviously be addicted but think they're not.
Paula just gave a lengthy interview to Nightline, in which she repeated that she's never been addicted to anything. She also says she's never been drunk. All claims that are a little hard to believe.
"I've never been addicted to any prescription drugs. I've never been drunk. I've worked my whole life," Abdul told "Nightline" in an exclusive interview. Despite undergoing 15 surgeries since a neck injury in 1992, Abdul said she has never taken addictive painkillers.

"I will not take those drugs," Abdul said. "And you can check my medical records. There is nothing like that. I was never on Oxycontin or Vicodin or anything like that. I was on nerve medicine and anti-inflammatories."

Last week ABC News followed up on Abdul's offer to "check her medical records," asking for her permission to speak to one of her doctors. She declined.
[From ABC News]
ABC's article is incredibly long, and they go over much of Paula's erratic behavior point by point. It all adds up to… well not making sense. At times, Paula has said she's been on medication for pain, and that resulted in some odd behavior. I found that perfectly plausible and understandable. But now she's saying she's never been on anything? That doesn't make sense.
Paula took it too far when she said she's never taken any addictive painkillers. I find it hard to believe for someone who's undergone 15 surgeries. We're seriously supposed to believe she got through each one without potentially addictive painkillers? When I had surgery for a torn rotator cuff, my doctor had me on Oxycodone and Oxycontin for six weeks, and I was still in extraordinary pain for the first week. I can't imagine how a person could have surgery with lesser, non-addictive painkillers.
And we're really supposed to believe Paula's never been drunk? Ever? It's one thing if she meant she's never been sloshed on American Idol. I don't know that I'd believe it, but that's a normal thing for her to say and want us to believe. But to expect the public to believe she's never been drunk in her life? That's naïve.
I don't blame her for refusing to let ABC look through her medical files. That's the kind of thing you say to prove your point. No matter what came out of my mouth, I wouldn't actually let an investigative news team leaf through my medical history. But come on Paula – if nothing else, she stop talking about this. The more she talks, the further she digs the hole.
Here's Paula at Koi on March 10th. Images thanks to Fame Pictures .