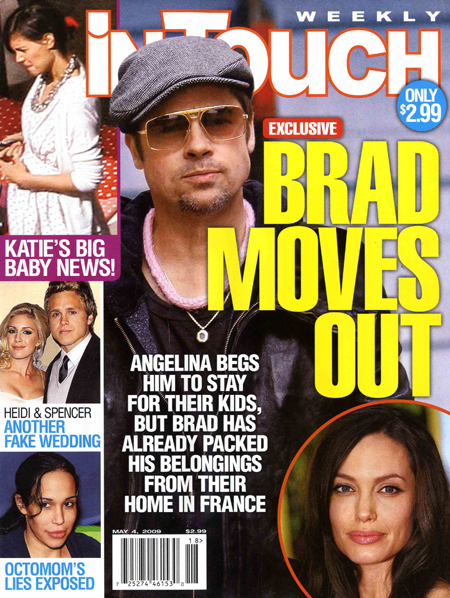 In Touch Weekly's cover story this week is called "Brad Moves Out". Gee, I wonder what it's about? The "moving out" story (via Showbiz Spy) is apparently based on last week's story of Brad jetting off to France for a few days before Easter. Because, yes, in Tabloidville, going to France for a few days is "Moving Out".
In Touch doubles down on the moving out story, saying that Brad and Angelina's recent trip to a Long Island grocery story was just a public relations move – they "can turn it on for the cameras most of the time". So, you see, the rumors of a split started because they hadn't been photographed together for a couple of months, and now that they're photographed together, it's "all for the cameras". The tabloids get them coming and going:
Relations between Hollywood couple Brad Pitt and Angelina Jolie are at an all time low — but the two are putting on a show of unity for the cameras.

"Sure, they look happy in photos," a source tells In Touch Weekly magazine. "They are actors and can turn it on for the cameras most of the time.

"The cracks in their relationship are getting deeper and deeper."

The couple — who raise six children together — apparently had an argument just before Easter, which is said to have resulted in Brad storming out of their rented Long Island, New York, mansion.

"He told her very clearly that he just can't live with her anymore," the source added. "He said it was over. He was like, 'I'm outta here,' and left."

It was recently claimed that Jolie had offered Pitt $90 million for custody of their kids.
From Showbiz Spy
As far as the claim that Angelina offered Brad $90 million for the kids, it just seems too absurd. In the first place, Angelina doesn't have that kind of money. Brad does – Angelina doesn't. Secondly, Angelina wouldn't take away the kids, not even if they split. Those kids love their father, and what would taking the kids away accomplish?
For people who have been consistent gossip readers for years, this all has a summer 2007 feel to it. That was the time when every tabloid and site were piling on Brangelina, claiming all kinds of crazy things about their demise. Why do the tabloids do it? Is it low circulation? Declining readership? Do they think these split stories are what people want to hear?