Cameron Diaz is promoting her second health and wellness book, The Longevity Book, out now. She's giving a lot of quotes on aging, on accepting it and on living life in a healthy, positive way. Some of the things she's saying I can relate to and have heard in various ways from other older women. My mom is always telling me that the older I get the less I'll give a sh*t about things and she's absolutely right. I'm Cameron's age, 43, and in many ways I feel more confident than I ever have. Here's some of what she's said in various interviews promoting this book.
Her theory on happiness and aging
It's called the U-bend of happiness. Basically, when we're 18, we're happy. Of course we are, duh. Then, when we're in our twenties and thirties, it starts to get stressful and life isn't so much fun. Then, in our forties, we start to lighten up a bit more — we're more comfortable with ourselves, we're more knowing, more connected, more appreciative. [At] 50, it's even better. But if you make it to 85, you're the happiest you've ever been. Isn't that amazing? Because you get there and you don't give a s–t. … Look, I'm 43. … It's not as hard as 25. Twenty-five sucked. – From US Magazine

Aging is about living
There's no secret to aging well. There's a basic way of doing it and it's called living. It's how well you live…how well you take care of yourself. There are five pillars of well-being. It's good nutrition, good movement of the body, good night's sleep, stress release and meaningful, connected, loving relationships.

You need to take responsibility for your body
This book…will help women take responsibility for their body…if you don't get ahead of that…then what happens is that you become sickly, and old and broken instead of being full of life until the end of it. – From ABC News

On meeting her husband, Benji Madden
The first thing I said when I first met my [would be] husband was, 'He's hot.' How come I didn't know this before? We had never been in the same circle… It was one of those things where everyone tells you, 'You just know when you know.' I was like, 'What does that mean? Oh, I get it. You just know when you know.' Like you're my husband.

On how her relationship makes her forget the past
You know, nothing matters now that I have my husband. Like, I don't even remember any of that. All of that is like, that's the thing, that's how I know he's my husband…No one compares. Everything else just like washes and slips away. You realize like, 'Oh this is like the real thing is. This is what real love is. This is what real commitment and devotion is. This is the person you build your life with.' – From E! Online
The last time we covered Cameron she made a kind of clueless assertion about menopause, claiming that women who stress about it "have it longer and harder." I doubt she would have said that if she'd actually started to experience it, and if so, her outlook on aging would likely be much different. I'm not trying to knock her, but I just started having hot flashes and holy sh*t, it makes you feel crazy. Perimenopause has put my whole system out of whack and I'm probably going to go on HRT soon. I'm happy to get older, I feel healthy overall, I eat well and exercise but I have a feeling that menopause is going to kick my ass for a while. Cameron is giving aging advice from the perspective of someone who has not gone through menopause and that's fine, but it's also obvious. This is also the perspective of someone who has never had a major health crisis. Sometimes sh*t happens and there's absolutely nothing you could have done to prevent it.
Cameron has dedicated the book to her husband of one year, Benji Madden. She gushed, in part, "I never knew what love was until I found you. How did I ever live without your love, your friendship, your brilliant mind, your genius sense of humor, and your enormous, loving, beautiful heart?" I'm glad she's happy with Benji I really am, but doesn't it feel like she's saying her way of aging is the best? Like "be happy like me in a relationship, don't stress, and everything will go great?" Maybe that's my hormones talking though. Her heart is in the right place.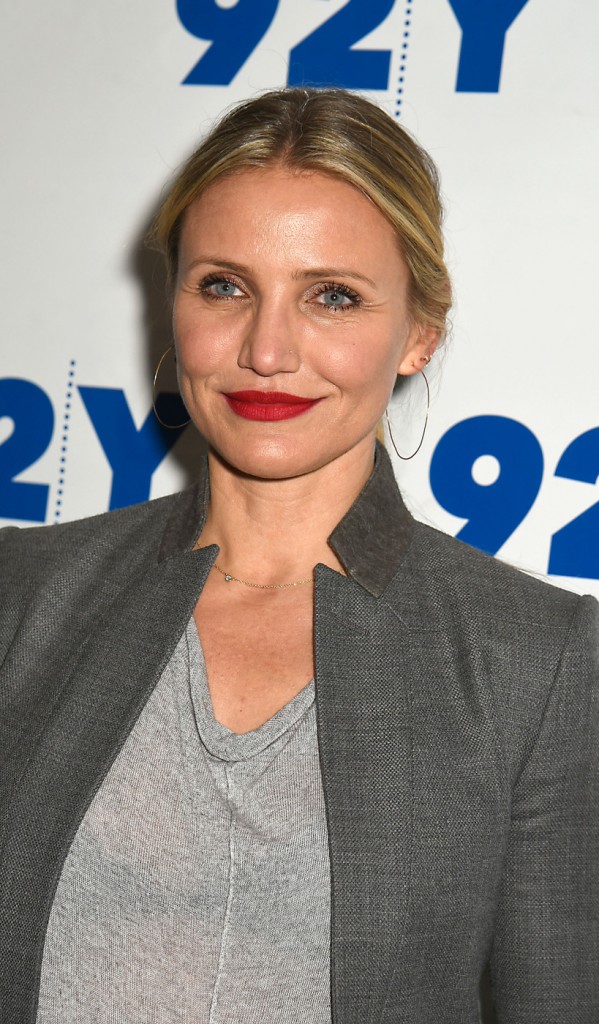 photos credit: Getty and Pacific Coast News