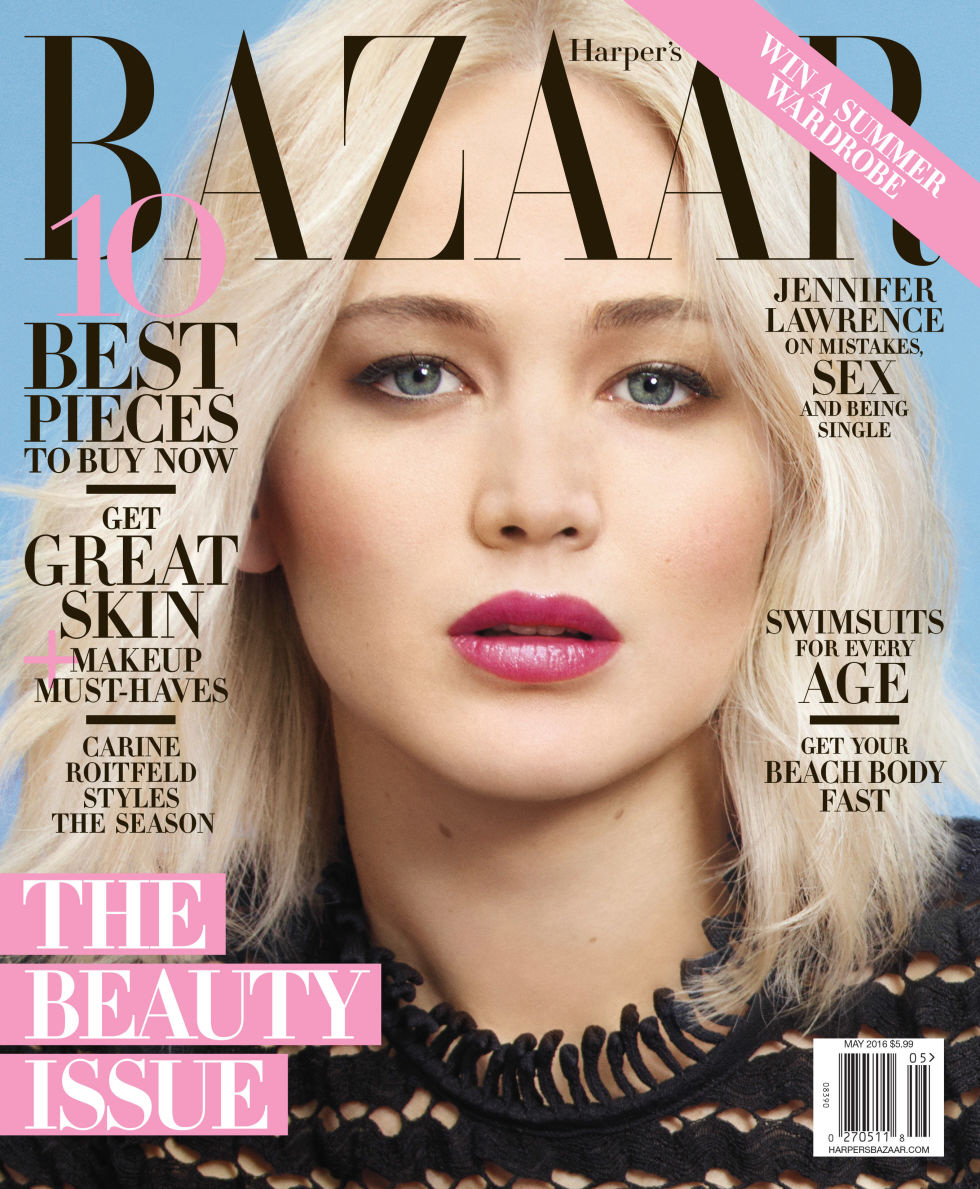 I can't help it: I'm still a Jennifer Lawrence-stan. I was super-excited when I saw (earlier this morning) that she covers the May issue of Harper's Bazaar. I was giddy at the prospect of a new, confessional, soundbyte-crazy interview from Jennifer. And she delivered! She could teach a class in how to give a great interview. Jennifer is currently promoting X-Men: Apocalypse, and the setting for the piece is… J-Law in New York, enjoying some free time and relaxing. It's pretty great. You can read the full piece here. Some highlights:
Hanging out with Aziz Ansari on Valentine's Day: "It was the one night I could see Aziz. For Valentine's he got me a stuffed animal, and I got him a 'That's So Raven' Valentine's Day card."

She doesn't have a type: "I don't think so because patterns are the work of the devil… If I think about all of my ex-boyfriends, they are all so uncomparable."

She's been celibate for a while: "Sex? Someone explain to me what it is."

Her Lenny essay on pay equality: "I had no idea it was going to blow up like that. And I obviously only absorbed the negative. I didn't pay any attention to the positive feedback. My parents get really upset. They do not like me speaking out about anything political because it's hard to see your kid take criticism. But, really, people who criticized it are people who think women should not be paid the same as men. So I don't really care what those people think."

Being the butt of "poor little rich girl" jokes now: "I try not to be too sensitive to the 'poor rich girl' jokes. I was saying my reality is absolutely fabulous, but it is not the reality of a lot of women in America. That's what I'm talking about."

On feminism: "I don't know why that word is so scary to people; it shouldn't be, because it just means equality. If we are moving forward in a society, you are feeling stronger as a woman, and you want to be taken more seriously. You don't have to take away the wonderful traits that come with being a woman: We are sensitive. We are pleasers. We're empathetic. All those things that can keep you from asking for what you want or making mistakes."

She's not a crazy-partier: "I don't really stay out late. I'm kind of a bummer. I'm a nana. It's hard to get me out, and when I do go out I don't really stay out late. If I do stay out late and I'm partying hard, I will throw up. I don't have the tolerance to black out; I just start puking….Ask Emma Stone. It was the night we saw Adele in L.A. She just started rubbing my back. She was really sweet. I was like, 'Get out of here. It's so gross.' Woody [Harrelson] cut his foot. He stayed over in one of my guest bedrooms, but that's where I started puking. I broke a candle because I can't just puke like a normal person—I flay my arms everywhere. And I didn't clean it up because I'm an a–hole. The next day he cut his foot open. I was like, 'F–k, am I going to get sued?' And he's like, 'Are you going to ask if I'm okay?' That night got crazy."

The last thing she bought for herself: "A pair of earrings. I don't have a boyfriend, so I have to do that sh-t on my own."

The red Dior dress she wore to the Golden Globes: "That was my plan-B dress. Plan A was a dress that I couldn't wear because awards season is synced with my menstrual cycle, and it has been for years." The red won because "it was loose at the front. And I didn't have to worry about sucking anything in. The other dress was really tight, and I'm not going to suck in my uterus. I don't have to do that."

Body image: "I would like us to make a new normal-body type. Everybody says, 'We love that there is somebody with a normal body!' And I'm like, 'I don't feel like I have a normal body.' I do Pilates every day. I eat, but I work out a lot more than a normal person. I think we've gotten so used to underweight that when you are a normal weight it's like, 'Oh, my God, she's curvy.' Which is crazy. The bare minimum, just for me, would be to up the ante. At least so I don't feel like the fattest one."
You know one of things I love most about Jennifer? She openly talks about her period, cramps, bloating and all of the sh-t show stuff that comes with being a woman. I really love that. And I love that she talks about being on the Pill too and how her hormones go crazy sometimes – most actresses don't want you to think of them that way. Most actresses don't want you to think about how they have periods and they need to choose gowns based on whether Aunt Flo is in town. Also: I want a "That's So Raven" card from J-Law.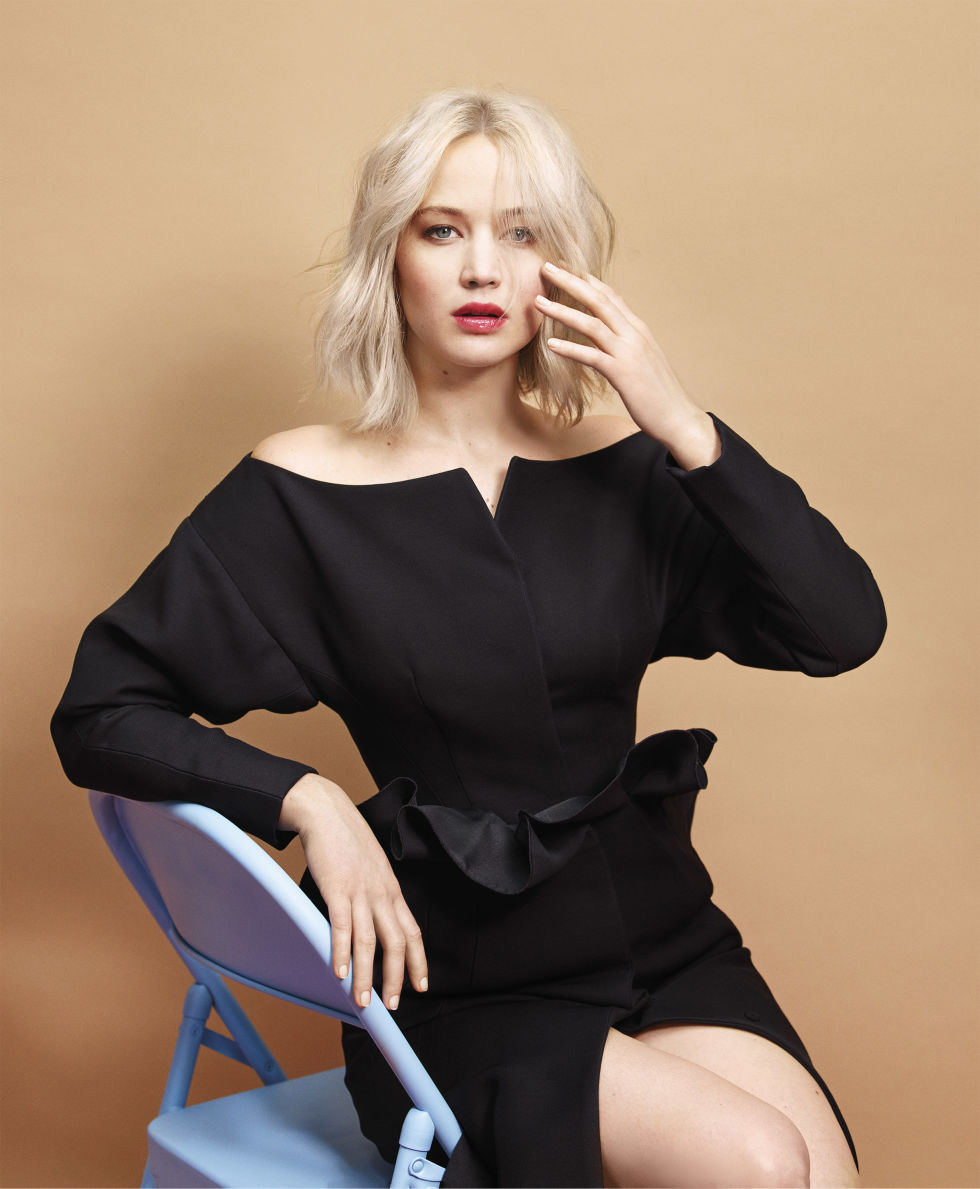 Photos courtesy of Mario Sorrenti/Harper's Bazaar.