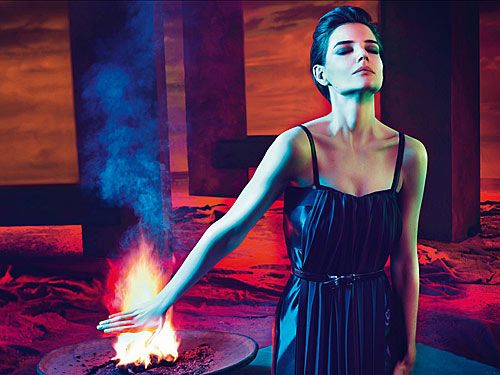 I like to think I'm in the know on which celebs are smokers and which ones aren't. But this one really bowled me over. Mrs. Tom Cruise herself, wholesome Katie Holmes, is a secret smoker. Apparently, she quit when she started dating Tom, but has recently started again due to family stress.
Katie Holmes is coping with the sudden death of her brother-in-law by taking up a nasty habit she'd tried to quit – smoking.

The 30-year-old actress was spotted lighting up at Victoria Beckham's birthday dinner in West Hollywood on April 15, just three days after the death of Joseph Jeffrey Fretti, the 48-year-old husband of Katie's oldest sister, Tammy.

"Katie has tried to quit and was doing really well, until she got the news that her brother-in-law had died," said a source.

Katie, who appeared in the movie "Thank You For Smoking," gave up cigarettes when she met hubby Tom Cruise, but she's had several slips since then.

At the SAG Awards in January, got an urge for a cigarette and took a smoke break with Josh Brolin and Sean Penn. And she's been firing up more requently since Jeff's death, maintains the source.

Jeff, the owner of a funeral home in Toledo, Ohio, and Tammy had filed for divorce on Feb. 13, citing gross neglect, extreme cruelty and incompatibility.

"Katie was already heartbroken that her sister was going through a difficult split with him," explained the insider. "She loved Jeff."

Jeff was visiting his mother in Sarasota, Florida with his two young sons when she found him unconscious. He was pronounced dead at a local hospital.

Katie's spokesperson said Jeff died of heart failure, but a cause of death was still pending.

"Unfortunately, Katie fell back on the smoking to deal with the tension," added the source.
[From The National Enquirer print version, May 4, 2009]
Was I the only one who didn't know that Katie was a smoker? And why is it so shocking to me? Lots of people smoke. I guess I just always thought Katie was one of those goody two-shoes types who would never do something like that. She is a grown woman, and I suppose it's her choice if she wants to pollute her body. I just hope she doesn't do it around Suri!
These are the closest things I could find to pictures of Katie smoking – her ad campaign for Miu Miu.