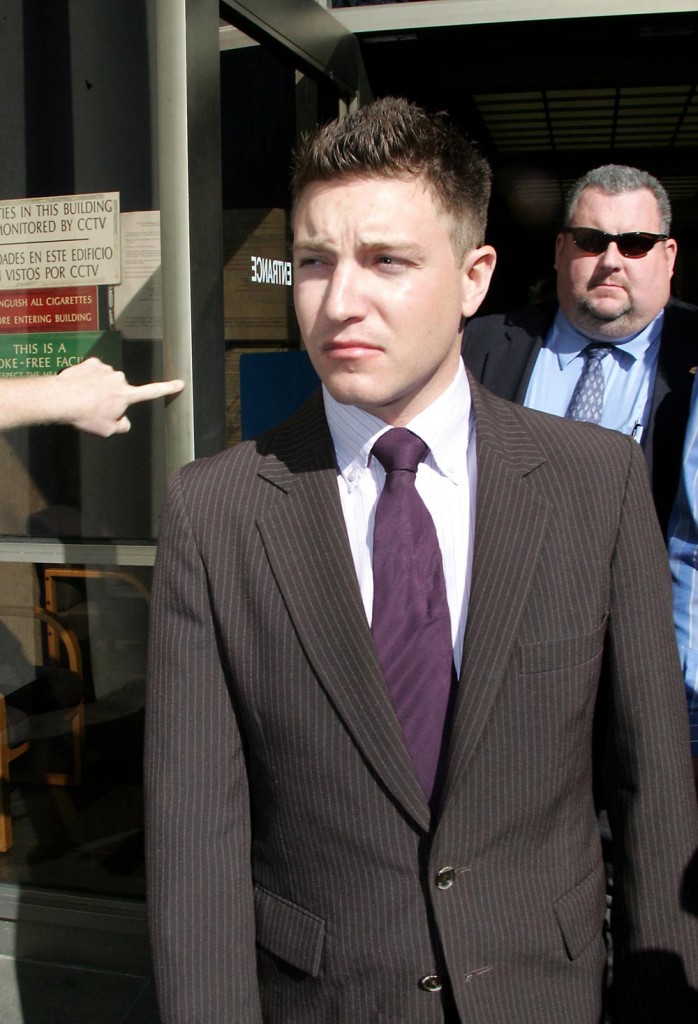 Lane Garrison is set to be released from prison on April 29. Garrison is a former star of Prison Break who was convicted of vehicular manslaughter for a drunken car crash in which he killed a 17 year-old passenger and injured two others. On the night of the accident in December, 2006, Garrison met two 15 year-old girls at a grocery store and either offered to buy them alcohol or was asked to buy the booze depending on whose account you believe. He then went to a party with the teens, where he did shots of vodka. The two girls and 17 year-old Vahagn Setian went out with Garrison in his SUV to buy more alcohol, which is when the car jumped a curb and hit a tree, killing Setian and injuring the two other passengers.
Garrison received 40 months for a guilty plea to felony vehicular manslaughter and driving under the influence, and if he gets out at the end of this month he'll have served just over half that time. He started his sentence at the very end of October, 2007 and received credit for three months served, which would mean that he served only 21 months out of 40 months sentence.
Garrison is an old friend of Jessica Simpon. He lived with her family for a year when he was just 17 and his accident is said to have hit the singer hard. She's sending a car to pick him up when he's released:
Lane Garrison isn't making a break for it — he's being released! The former actor from the Fox hit drama Prison Break just got his walking papers and will become a free man on April 29. In a high-class homecoming, Lane's childhood friend Jessica Simpson has arranged for his ride. "Jessica wanted to pick Lane up herself, but she can't," her pal explains. "So she hired a limo for a few friends to be there once Lane walks out." The singer hasn't visited her pal at the Richard J. Donovan Correctional Facility in San Diego due to security risks, but Jessica and Lane have been in contact since he began his sentence in October 2007. The actor was locked up for a December 2006 DUI that resulted in the death of a 17-year-old passenger.
[From In Touch]
I followed this story closely at the time, and it's just sad all around. Garrison did give a very distraught and heartfelt apology to the victims' families and to the court and even recorded a tearful public service message warning of the dangers of drunken driving. He said he made a "horrible, inexcusable mistake" and that he was "extremely remorseful and grieving." The victim's family was understandably unimpressed, and pointed out that he's an actor and that his carelessness killed their young son. Garrison's sister issued a letter to the court in which she described a horrific childhood in which their father was drunk and abusive and their mother was usually hospitalized. Both of their parents are now deceased.
As for his experience in jail, Garrison said last year that "I have much to say about the pain I've felt and seen inside of prison. It has been eye-opening and a harrowing experience." Unfortunately that experience didn't last for much more than half of the time he was supposed to serve, especially considering that Garrison killed someone and could have received over six years for the crime.
Earlier this week Garrison reached undisclosed financial settlements with the parents of Vahagn Setian, the boy he killed, and surviving victim Michelle Ohana, who spent two months in a wheelchair after the accident. She was asking for $25,000 for the cost of healthcare. It is unknown how much the Setian's received.
Lane Garrison is shown outside court on 3/8/07. Credit: Fame Pictures