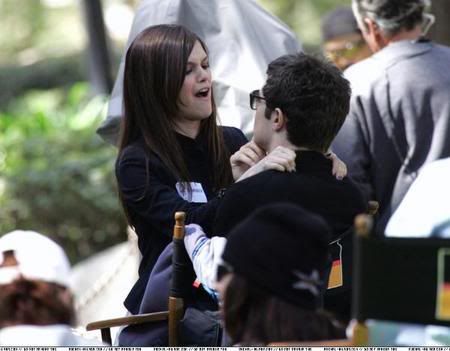 Onscreen and offscreen couple Adam Brody and Rachel Bilson filmed scenes at USC and were friendly to fans on campus according to a student who was there:
I saw the post on Rachel Bilson and Adam Brody on the set of the OC, so I thought I would share my pictures from that day. They were filming at USC, trying to make it look like Brown University (aka the extras were wearing scarves and reading books…) I wasn't sure if they were taking a tour as admitted students or as prospective, but
it seemed like they were taking a tour as admitted students.
Also, Samaire Armstrong was on the set filming a scene with Adam Brody. She was his girlfriend (Anna) in Season 1 (and part of 2 I think?). Anyways, in the scene, he gets lost and they run into each other. Not sure what the dialogue exchange was, but it seems like it could be more drama! (Like they really need more drama.)
Adam and Rachel were really nice. There were quite a few girls screaming over Adam, and he was really shy and quiet about it, just giving little waves. At one point, I was walking through the set between takes because I needed to get to a class in the area, and Rachel was right there, and I said "Rachel! You're adorable!" and she said "Thanks! Hi!" and did a cute little wave hehe.
It looks like Seth runs into his geeky ex-girlfriend Anna while touring the campus. Anna is sure to mix things up for Seth and Summer's relationship.
The OC's creator, Josh Schwartz, admits that he's having trouble figuring out what to do with The O.C. when the lead characters go to college:
The O.C. creator Josh Schwartz is stumped for ideas after the hit show's next season because the four main characters will be leaving for college. But the producer is optimistic the departure of Seth Cohen (Adam Brody), Ryan Atwood (Ben Mckenzie), Marissa Cooper (Mischa Barton) and Summer Roberts (Rachel Bilson) could open doors for new exciting storylines.
He says, "I think we've got at least one more good year in us, so we're going to do some pretty radical stuff at the end of this year. The season finale is going to be the craziest thing we've ever done, and it will launch the show in a whole new direction next year. So I'm excited about next season. And then beyond, I don't know. We'll see."
The show could always follow the characters at university, which is the most logical thing to do. No one is going to want to watch it if most of the young cast is gone or replaced.
Here are Bilson and Brody on set at USC.
Pictures [via]
Three more pictures after the jump.