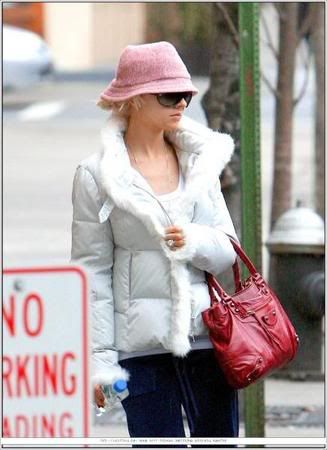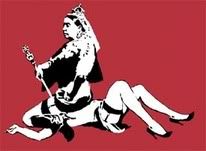 Christina Aguiera has bought one of "art terrorist" Banksy's works, a piece of pop art depicting Queen Victoria in garters sitting on a woman's face. The artwork cost nearly $44,000, and Aguilera is said to be thrilled with her purchase:
A friend of Aguilera said to Handbag.com: "She said she loved the print so much she was going to hang it in her La living room.
"She's been a huge fan of Banksy for months and was desperate to get her hands on some of his artwork."
Banksy has pulled daring and dangerous stunts to get his art noticed. In March, 2005, Banksy snuck his art onto the walls of the Metropolitan Museum of Art, the Museum of Modern Art, the American Museum of Natural History, and the Brooklyn Museum all in one day. Banksy painted scenes on the Palestinian side of Israel's security wall last August that created the illusion of a tropical paradise and mountain views on the other side. He was threatened by Israeli security forces soon afterwards, and was lucky to escape.
Banksy never allows himself to be photographed, presumably so he can continue his art pranks.
Here is Aguilera in NY recently.
Pictures [via]