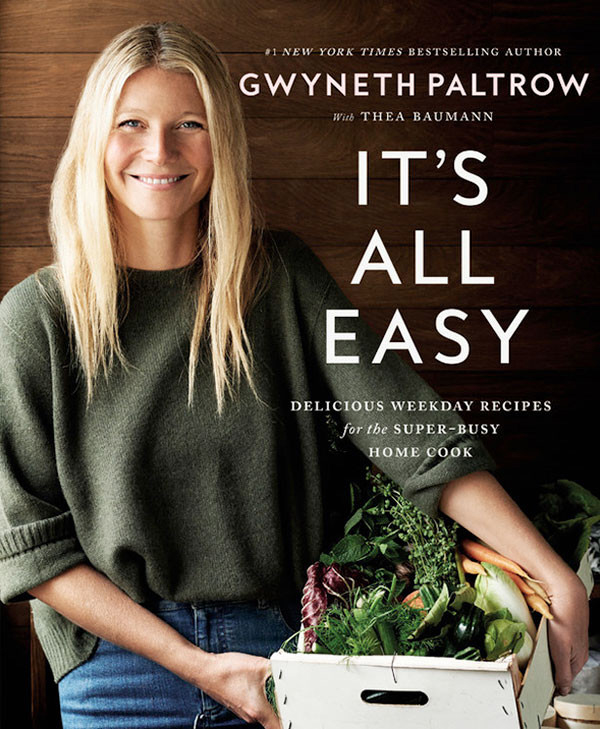 I fell down the internet hole reading reviews and criticism of Gwyneth Paltrow's latest cookbook, It's All Easy. The Los Angeles Times had a somewhat nice piece about the book, saying that the recipes were actually pretty good and that the dishes were somewhat easy to make. But the LAT also got some swipes in, mentioning the two-page list of kitchen accoutrements Gwyneth says everyone simply must have, and asking: "Does every kitchen require a bamboo matcha whisk and gluten-free pancake mix?" There are also some complaints that Gwyneth's recipes are not "easy in a real-world way" and that "Paltrow [is] the ultimate condescending celebrity, the one who, out of touch with the real world, tells everyone that they ought to be spending $4,739 on a gold-plated juicer or dining at Benz's, a restaurant located on the remote Koh Kood Island in Thailand, an hour's boat ride from the mainland."
Which brings me to this piece at E! – they've read Gwyneth's new cookbook and they made a list of some Gwyn-isms that they learned with It's All Easy.
1. The key to making your cooking better? Approach it with "an air of ease."
2. A Spiralizer and a Vitamix will change your life.
3. The more you pile on your plate, the more you'll long for the simpler things in life—like not having a lot piled on your plate.
4. Acai is so over. Pitaya is the hot new healthy ingredient.
5. Never, ever eat grab n' go salads.
6. Avocado toast will never go out of style.
7. If you're too scared to try making your own almond milk, just blend almond butter and water. Seriously.
8. Even Gwyneth Paltrow can't give up caffeine.
9. NEVER ORDER TAKEOUT.
10. Breakfast for dinner is not only encouraged, but it is a sneaky, sneaky chef trick.
11. Self-imposed rules and standards are great, but not if they get in the way of the all-important Daydreaming and Meandering.
12. Get rid of your microwave. Like, just smash it.
13. Get familiar with your local Asian grocery store.
14. For optimal summer enjoyment, spend your evenings dining al fresco around a large farmhouse table. Bonus points if you add in crisp white wine and sun-kissed children.
15. To get your friends to come over, always lure them with snacks.
As I was skimming over the list and rolling my eyes, I honestly thought #14 said something about "crisp white children," LOL. What does Gwyneth have against takeout? Why would one need to make their own almond milk, and I'm sorry, but almond butter and water sounds gross and lumpy. Why can't we have a microwave for reheating leftovers? Why can't peasants get grab-and-go salads? Gwyneth really has no idea how non-Gwyneths live.
Here are some pics of Gwyneth at a book signing this week.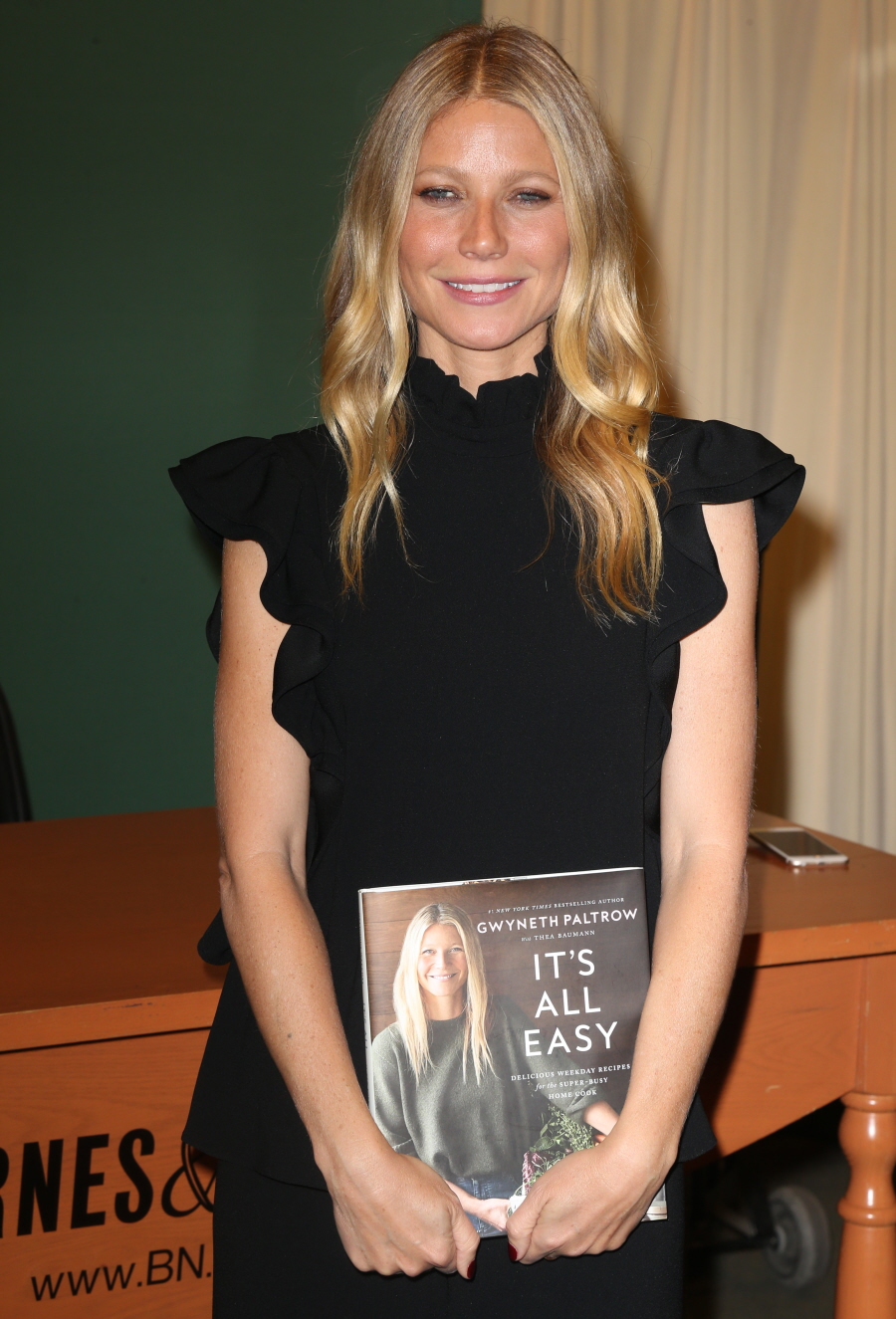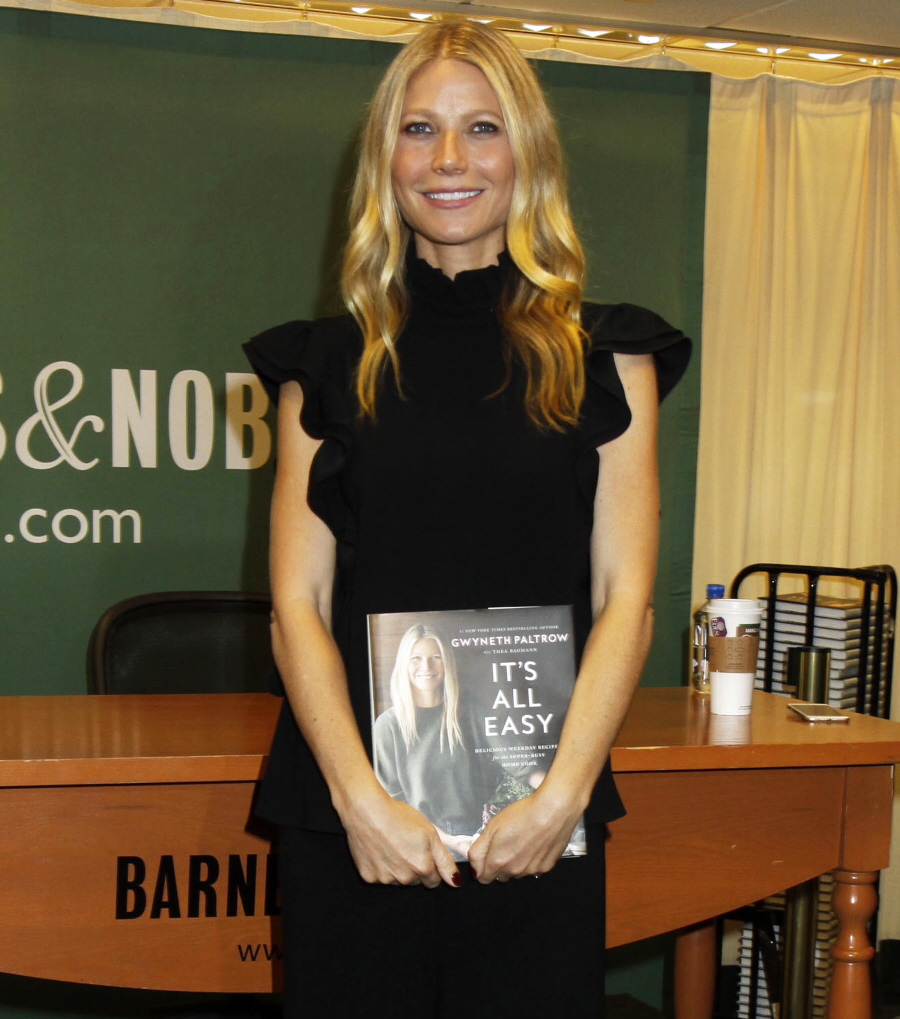 Photos courtesy of Instagram, Goop's cookbook, Fame/Flynet.