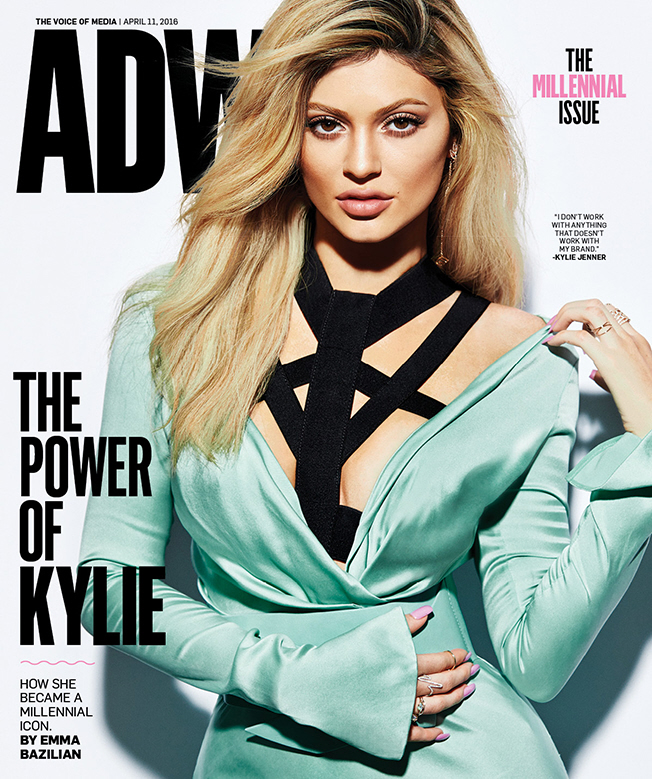 I don't know why Kylie Jenner is on so many magazine covers this month, but here's another one for the pile: Kylie covers the new issue of AdWeek. Last week's issue featured a heavily Photoshopped Kerry Washington, who criticized the excessive Photoshop use publicly. It looks like AdWeek didn't learn their lesson though, because I had to double and triple-check that this was Kylie on the cover. The issue is devoted to the Millennials, and it makes me depressed for that generation if Kylie Jenner is the best representation. You can read AdWeek's story about Kylie's brand/empire here, and her full interview here. Thankfully, she didn't try to claim (again) that she STARTED WIGS.
How she decides which brands to work with: "I have to be passionate about the brand and just love it. It has to be a perfect fit. I don't work with anything that doesn't work with my brand."

She started makeup though. "I feel like people trust my makeup decisions. Before I had a cosmetics line, I couldn't even buy the products that I loved because I would go into stores and they'd be, like, 'Everything's sold out. Everyone wants to buy the color lipstick you're using.' It got frustrating. So I kind of just wanted to take matters into my own hands and create my own line and show people what I actually use and what I actually love."

Whether she wants to start selling her makeup line in stores: "I've been thinking about it. Definitely not in the next year. But if I were to sell in stores, I don't know that I would go to a big retailer. I would probably just do everything on my own. But that is still in discussion."

Whether lip kits are popular because they're difficult to find: "What's interesting is that it's not small at all. We only keep making more and more every single week and it sells out faster and faster. Literally, I pray that it lasts more than 15 minutes every single time. I want people who just feel like buying a kit to be able to go online and buy it. I want that so bad. But right now, it doesn't seem possible."

Social media versus real life: "You can't really tell who a person is from, like, an eight-second Snapchat video or an Instagram. I only post on Instagram or Snapchat what I want people to see, you know? But there's a whole other side to me that people don't know…I feel like people want to see me have a cool hair color and dress a certain way and have pretty makeup and heels. If they were to see me in public, they would expect me to look like that. It's also fun for me, dressing up. That's always been me, since day one, but it's also exhausting for everyday life."

Her anti-bullying initiative: "Just being a young socialite on the internet, it comes with a lot of bullying and a lot of different opinions that have affected me throughout the years. So I just kind of turned to real people with real issues—way bigger issues than me—who are so positive. It just inspires me and I wanted to share it with my fans."

She doesn't want to share everything online: "There's a really big part of my life that I don't share online, and I feel like people think that just because I have a reality TV show and I'm on Snapchat for probably 10 minutes altogether throughout the day, that they know my life. But I feel like everybody—every celebrity, at least—keeps a big part of their life super private. Like, I don't show a lot of my relationships or my ups and downs. I'd never have a fight with someone [on Instagram]."
I hate to admit it, but Kylie actually is right about one thing – she doesn't overshare online. Anymore. Maybe in the beginning she did, but for a solid year now, she's been very controlled about her brand/image, and her social media presence is pretty sterile and business-oriented, meaning… you'll get a cleavage selfie but you won't see her gushing about Tyga in Instagram after Instagram. Also… again with the "young socialite" label. Enough.
Also, this interview inspired me to actually look at Kylie's Lip Kit site for the first time ever. She's just doing direct sales from this site, and yes, everything is completely sold out. She built an empire out of really expensive lipstick and the allure of exclusivity and limited supplies. Hey, you guys… she started lipstick. Just like she started wigs.
Photos courtesy of Fame/Flynet and AdWeek.