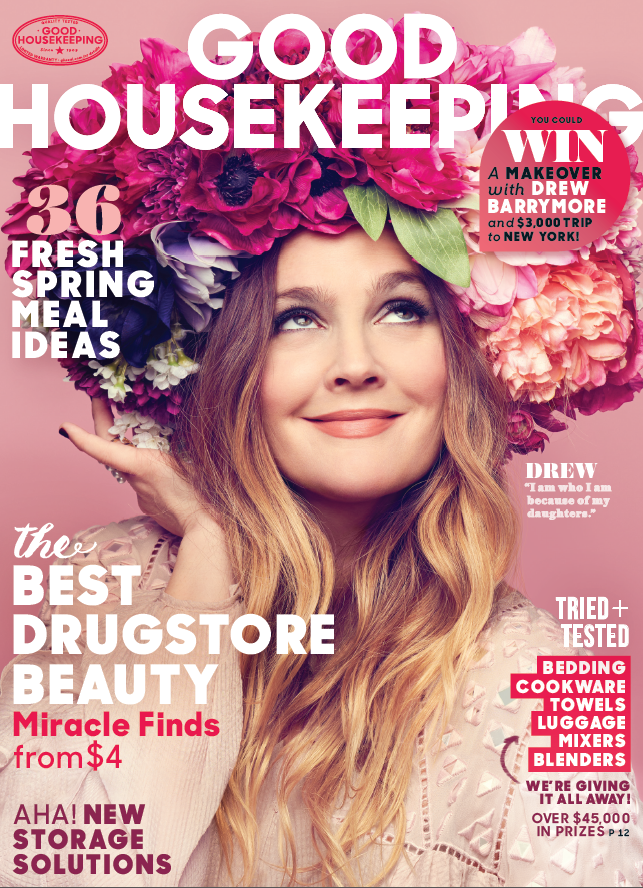 Drew Barrymore covers the upcoming edition of Good Housekeeping in a kind of floral crown. It's a cheeky nod to her Flower Beauty line and she somehow skirts the line between wacky cute and ridiculous. The Good Housekeeping profile was done before Drew announced her split with husband Will Kopelman after three years of marriage. Her comments are pretty telling and hint at issues she's having at home, particularly when she talks about what a supportive friend Cameron Diaz has been to her over the years. The article is worth reading for the context – Drew is effusive and friendly to everyone at her Flower Beauty office, she hugs people a lot and she gets emotional at some points. Here's some of what she told Good Housekeeping.
On her friendship with Cameron Diaz
If you are in scary prison in the middle of nowhere, call Cameron. She'll get you out. If you're looking for the best dinner-cooking partner and watching-TV-on-the-couch friend, call her. If someone is in a medical situation, call her! She's the most loyal, fierce, fun, cozy friend. We have incredible honesty with each other, and we work hard on our lives and our friendship. My girlfriends are my first family, and they know that I would lie down and die for them. My love for them is unbreakable.

On marrying Will
I don't think there was one moment when I knew I wanted to spend my life with Will. It was a sweeping, fluid process. It was falling in love with his family, being ready to have a family of my own and thinking if I had a family with this family, it would be really wonderful. Sometimes there's just a time to go for it with a good person.

She was asked what she loves most about Will and named her daughters
I thought I knew what love was, but holy cow, I did not. I could never have imagined the kind of love I have for my children. I am who I am because of my daughters.

On her parenting style
I'm an overachiever parent, and not because I think I'm going to repeat the patterns of my parents. That's not my fear — I've already broken that pattern in my life. But having grown up in the opposite way, I'm raising my children with all consistency, all protection. This is my chance to get it right. I'd never let them become child actors. They'll have a chastity belt, a tracker system, no cell phones and we'll live in the middle of nowhere. In reality, I'll just lead by example by being spirited, classy, consistent, philanthropic, hardworking, loyal to my friends and there any second they might need me.

On her figure
I'd love to have six-pack abs, but I'm genetically predisposed to having Pillsbury Doughboy abs. Six-pack abs are not a priority for me, because that takes a lot of time.

On her wine line
Wine is such a beautiful thing with friends at dinner. Or … at lunch.
Read the sections about Cameron Diaz and about Drew's parenting style. She claims she wants to live in the middle of nowhere with her daughters (she currently lives in Montecito, which is near Santa Barbara and about a two hour drive from Los Angeles). She also calls Cameron the person to call "If you are in scary prison in the middle of nowhere." Maybe I'm reading too much into it, but those two statements seem related, like Cameron saved her when her marriage was breaking down. She also talks about Will as if she chose him for stability, not because she was particularly falling for him, which is consistent with all the insider quotes we've heard about their divorce.
Also, I worry about Drew a little bit. It seems like she's talking too much and needs to tamp it down. She's promoting her wine and makeup lines though and it's like she can't help but be disarmingly honest. She's not dishing the dirt, but it sounds like she's revealing more than she should.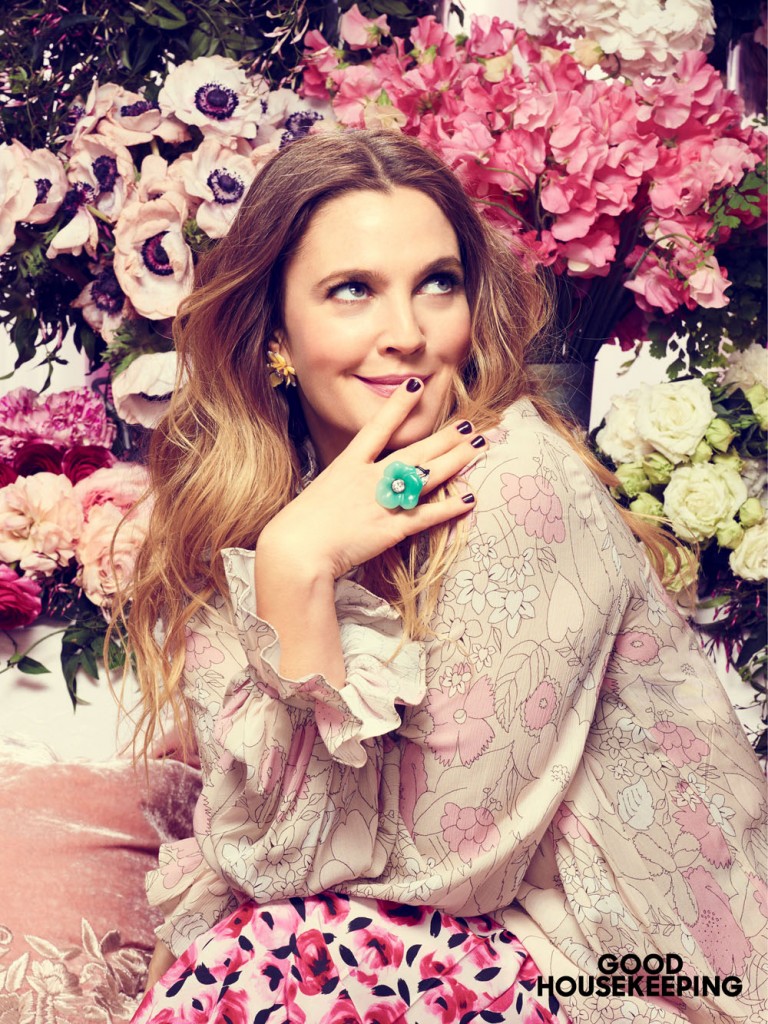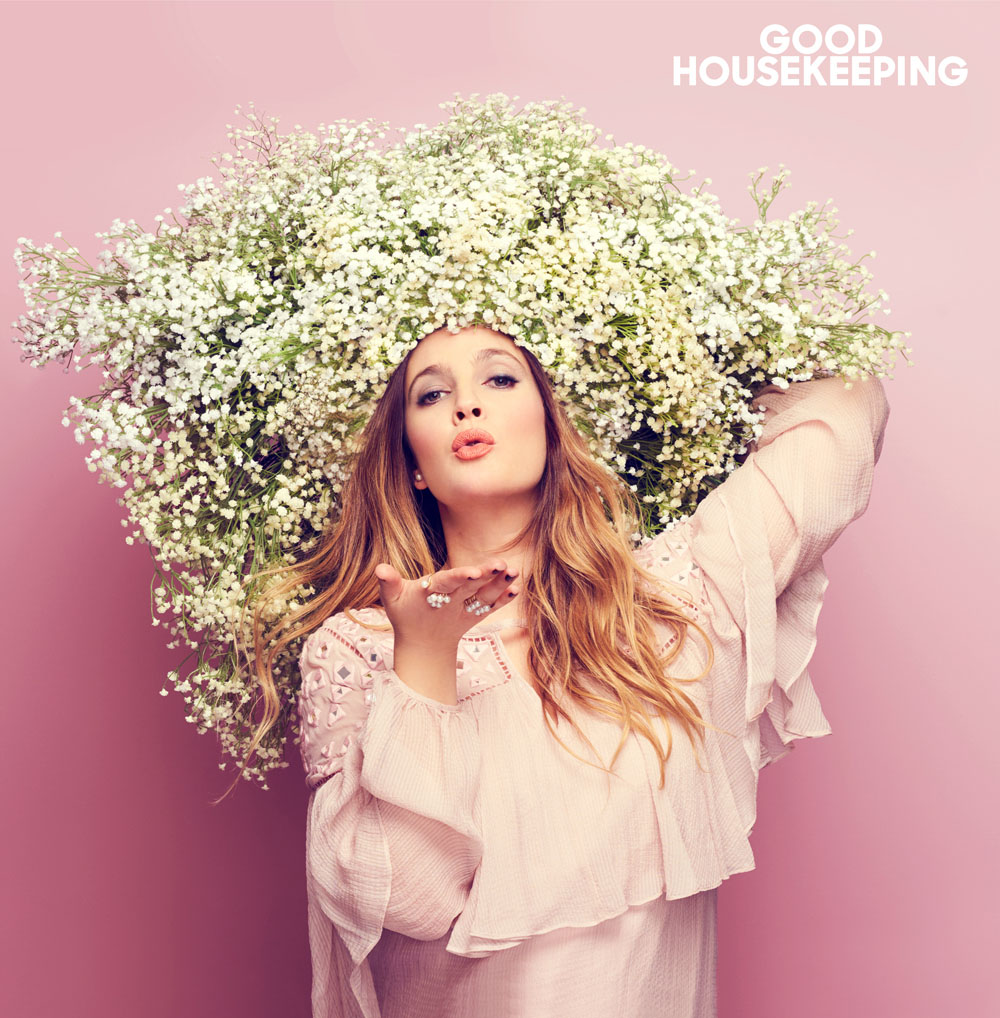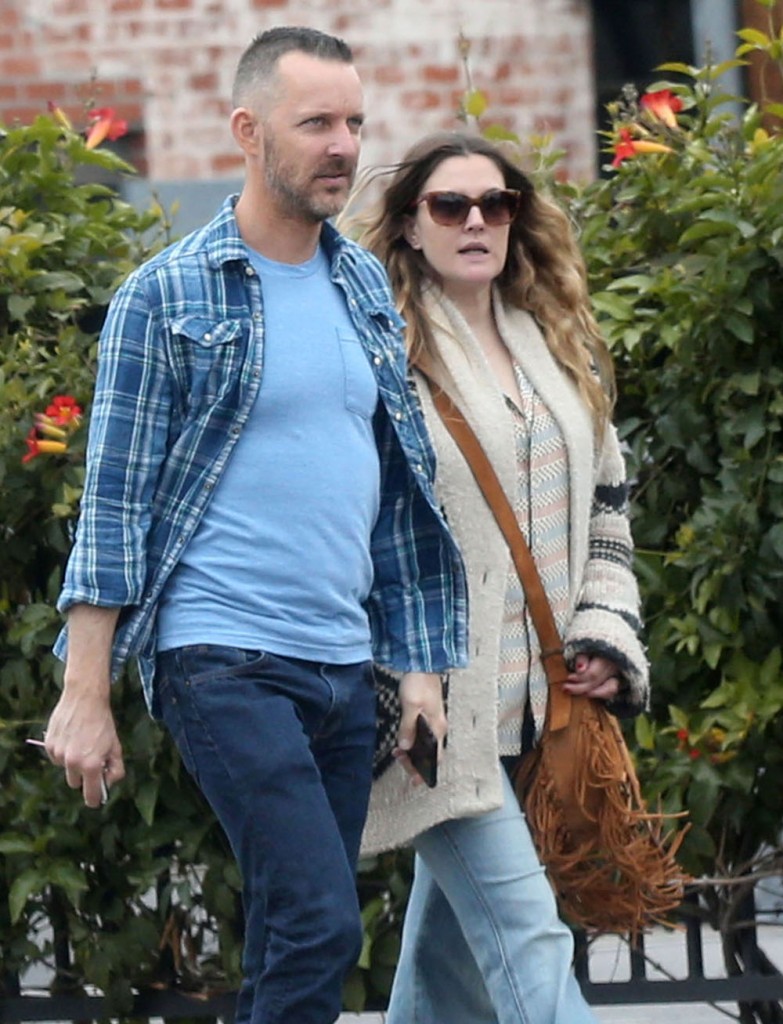 Here's Drew out to lunch last week, April 9, with a "mystery friend." (That's what the photo agency calls him.) For what it's worth, she's still wearing her wedding ring. Credit: FameFlynet. Good Housekeeping photos credit: Brian Bowen Smith