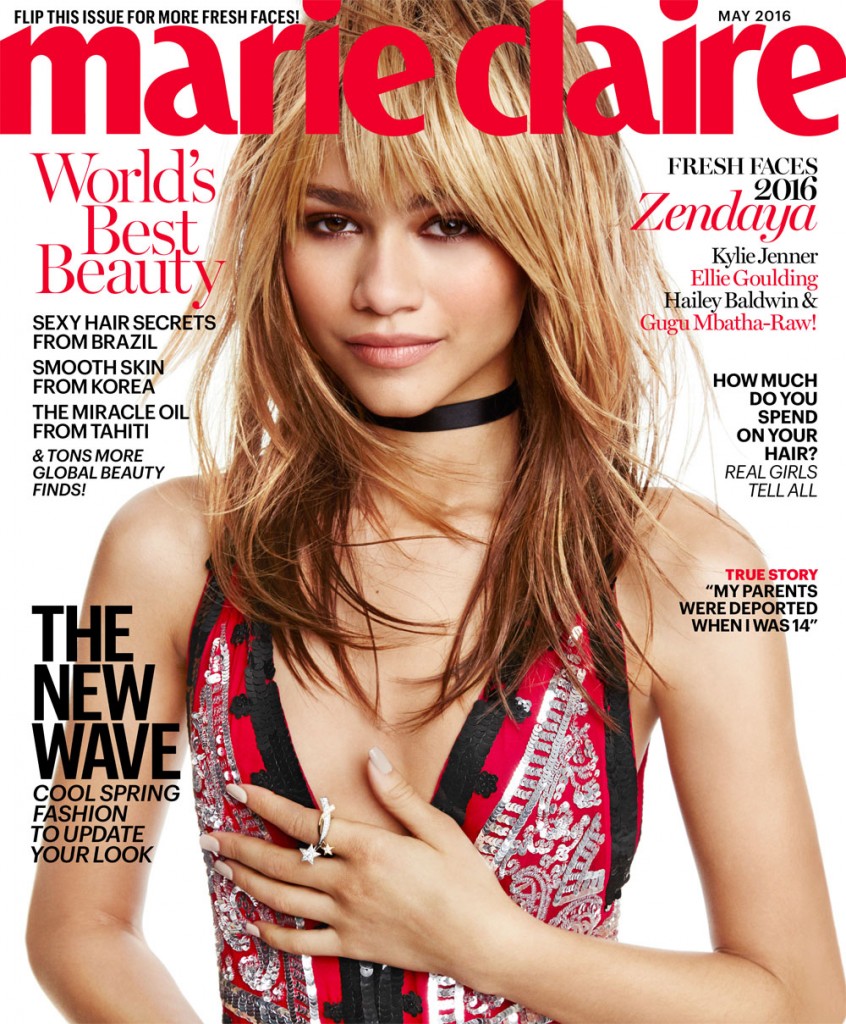 Marie Claire is featuring five different female artists on their upcoming edition, with different covers for each. I'll just be reporting on Zendaya and Hailey Baldwin in this post. Kaiser covered Kylie Jenner and Gugu Mbatha-Raw's covers yesterday. I like Zendaya for her styling, fashion and also the fact that she's a smart and outspoken advocate for diversity. She's only 19 and she's a chameleon who takes risks. In this brief excerpt from Marie Claire, Zendaya touches on both of those issues and she also discusses her date with New York Giant, Odell Beckham Jr., 23, when her dad tagged along as a chaperone. We haven't seen her out with him again though so I guess that didn't work out.
On why she returned to Disney: "A big reason why I wanted to come back to Disney is because I saw a lack of diversity on the channel. To see a black family, to see a young girl with these adorable Afro puffs…little things like that are so important."

On going to the Grammys after-party with her dad and New York Giant, Odell Beckham Jr.: "If a guy can handle my dad the first time, then he's worth giving my time to. If he can't, then I might as well not waste my time. Just because they're in the NFL doesn't mean they get a pass."

On not worrying about what other people think: "I wore a freaking mullet to the Grammys. I felt like I was killing it. And I was. That's all that should matter when you step out."
Is that arrogant to claim that she was "killing it" in that mullet or is she just confident? Maybe it's a little of both. I think she looked incredible despite the mullet. Like she can even pull off a mullet she's that gorgeous. That's part of her appeal I guess, she's a risk taker and she pulls it off with attitude.
You might know Hailey Baldwin, also 19, as Stephen Baldwin's model daughter. She also dated Justin Bieber briefly before he went running back to Selena Gomez only to get his widdle heart broken for the umpteenth time. She talked about Bieber in her Marie Claire interview and she doesn't sounds as… mature as Zendaya.
On dating Justin Bieber: "I don't want attention out of dating somebody. Texts started coming through, crazy phone calls…it's hard to date somebody in this industry. You have to have really thick skin and be very strong. You have to focus on the person and nothing else."

On her feelings: "I'm the type of person where I let things slide. I push it to the side. And then finally explode every so often, but by myself. I've been in situations with friends [when] someone will have said something that really hurt my feelings, so I sit there choking tears back."
Hailey posted multiple photos on Instagram hugging up on Justin Bieber and yet now she's claiming that she didn't "want attention out of dating somebody." Like Zendaya, she's also 19. Just compare what Zendaya said about bringing her dad along to vet dates to Hailey posting photos with Bieber on Instagram and then complaining about people asking about it. I'm not saying Hailey in any way deserved the fallout, just that she could have anticipated it.