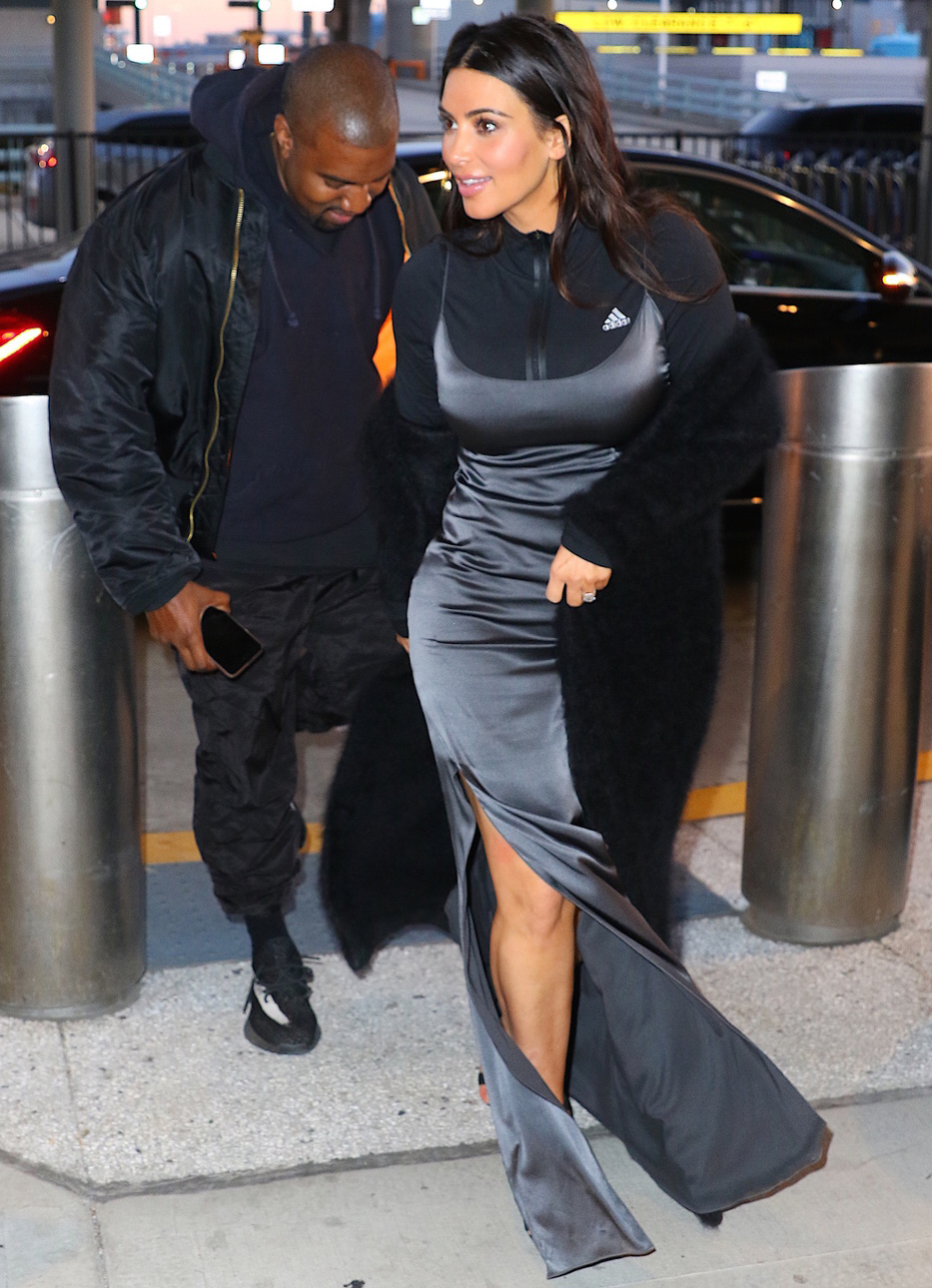 Here are some photos of Kim Kardashian and Kanye West at JFK Airport over the weekend. No, I have no idea what Kim is wearing in these photos. This is how girls dressed circa 1996 – satin slip dresses over t-shirts or turtlenecks. I can't believe that look is coming back, but it might be. This is not the best example of it though! Anyway, Kim and Yeezy were flying out of New York to go to… Iceland! I don't know if it's an E-sponsored trip, but apparently the trip involves Kim, Kanye and Kourtney. They left their kids at home – allegedly, Aunt Khloe is looking after the whole brood. Aunt Khloe probably needs a stiff drink right about now. You can see some photos of Kim in Iceland here. She wore a nude jumpsuit and a fur coat and she looked totally deranged.
Meanwhile, Aunt Khloe's talk show has been canceled, but Kim and Kanye have already taped their part of Khloe's last show. It's basically just Kim, Khloe, Kanye, Chrissy Teigen and John Legend sitting around a table talking about babies and stuff. But Kim did say something interesting – she's already stopped breastfeeding four-month-old Saint West! It's because North West was so jealous.
Kim Kardashian has revealed she stopped breastfeeding Saint because her daughter North West was jealous. When Khloe asked if Kim was still breastfeeding, the 35-year-old replied: "Nope. North West stopped that for me. She would cry so much and try to pull him off me. She was so jealous she took her little milk box and put it in my bra with the straw sticking out and she wanted to drink while he was drinking. This week she goes to me 'Mommy I'm not mad anymore, you can feed baby brother I won't cry' and I was like 'look honey, the milk is all dried up.'"
I'm guessing that sibling jealousy is a real thing that happens to parents around the world, but it seems pretty extreme to stop breastfeeding your baby just because the older kid is jealous. Man, Kim has her hands full. Here's that clip:
And here's a clip of Kanye basically admitting that he bought his first phone after he heard about Kim's engagement to Kris Humphries and he was basically trying to convince Kim to dump Kris. I mean… we've heard before that there was overlap between Kris and Kanye, but Kanye really sounds like he was doing everything to convince Kim not to get married.
Photos courtesy of Pacific Coast News.