I don't normally think of Hillary Clinton as a "cute" person. I don't need to find her cute to vote for her, you know? And I like that she's serious and she's not into telling perfect little PR stories and everything. But, with all that being said, this is a pretty cute interview with Hillary. She appeared on 105.1's The Breakfast Club with Charlamagne Tha God, DJ Envy and Angela Yee. And while some of the stories go on too long and some of the time she comes across as pandering, it's actually a charming, cute interview. She talks about how Bill proposed to her – he bought her a house in Arkansas when all she had told him was that she would "think" about marrying him – and she talks about her love of Beyonce. And yes, Hillary does carry hot sauce in her bag, #swag.
Ahead of Tuesday's New York primary, Clinton appeared on 105.1's The Breakfast Club Monday morning. In addition to talking politics, the presidential hopeful also recalled seeing Beyoncé perform at First Lady Michelle Obama's 50th birthday party in 2014. "It was so amazing. We were in the East Room of the White house, and they had a stage set up and everything, and she had some of her backup dancers. I sat there and I was just amazed," Clinton, 68, said. "Look, I've seen her on TV a million times, but to see her that close and in person [was incredible]. So, afterwards I was talking to President [Barack] Obama and he said, 'Yeah, I saw you over there. Your mouth dropped open.' I said, 'Yeah! It was unbelievable! What an incredible performer.' He goes, 'Yeah, everybody in this audience who had never seen her before was all saying the same thing,'" Clinton continued. "I can't believe it. It's like a natural phenomenon."

Clinton joked that she "totally" practices Beyoncé's dance moves when she's home alone. "I'm always in trouble when I try to dance in public. Have you noticed that? I have no coordination."

Later in the interview, Angela Yee asked Clinton to reveal something she "always" carries with her on the road. "Hot sauce," the politician replied. "Really?" Charlamagne Tha God and DJ Envy asked in unison. "Are you getting in formation right now? Hot sauce in my bag, swag!" Charlamagne Tha God asked, referring to lyrics from Beyoncé's latest hit single, "Formation."
"Hot sauce," Clinton reiterated. "Yes!"

Charlamagne Tha God warned Clinton that some people who listened to her interview might think she was "pandering to black people." Clinton anticipated that very criticism. In fact, she welcomed it. "OK!" she said with a laugh. "Is it working? No, seriously, I've been eating a lot of hot sauce—a lot of raw peppers and hot sauce. Because I think it keeps my immune system strong. I really do. I think hot sauce is good for you—in moderation. Let's not go overboard."
Yes, she'll say anything to win. So will every other politician out there. I'm not sure if I believe she's always carrying hot sauce, but I'll believe that at least one of her staffers has an emergency supply of hot sauce for Hillary. #HotSauceForHillary could actually be a good campaign moment?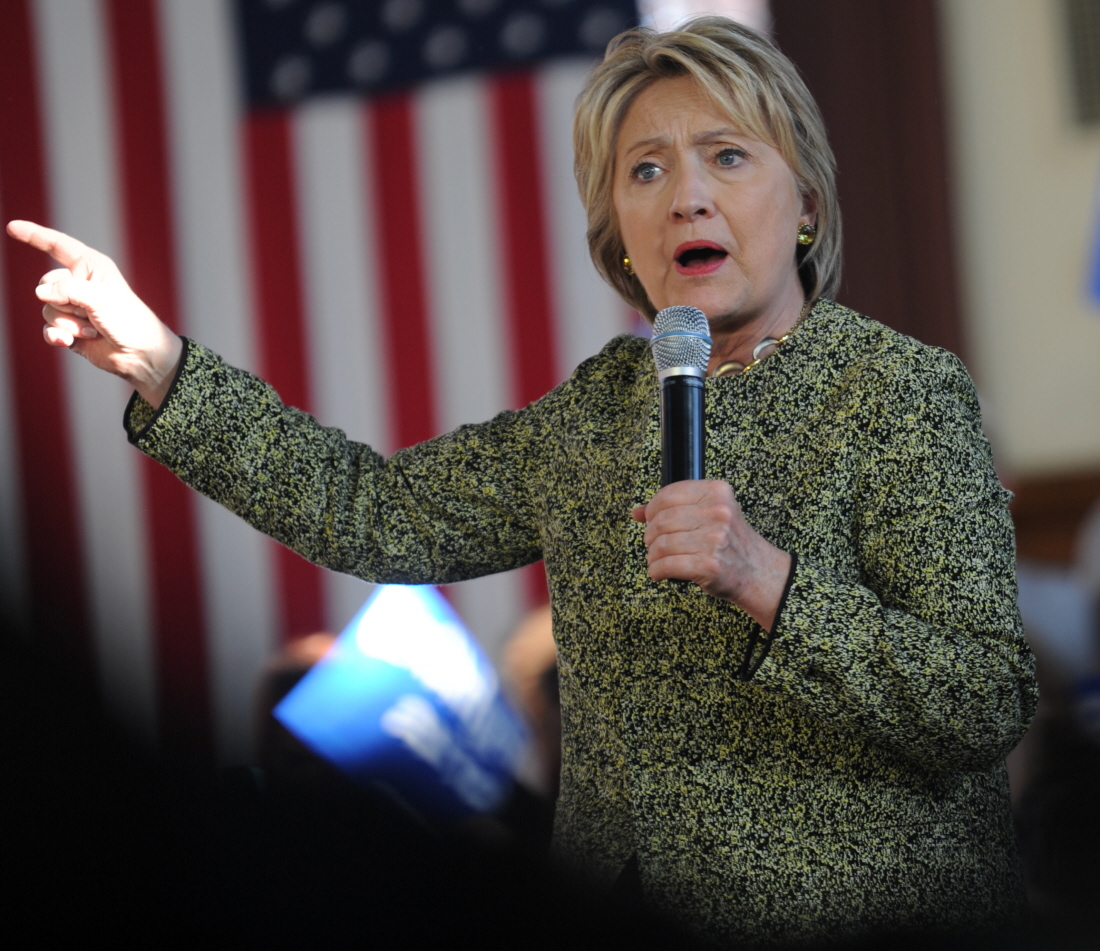 Photos courtesy of Fame/Flynet.