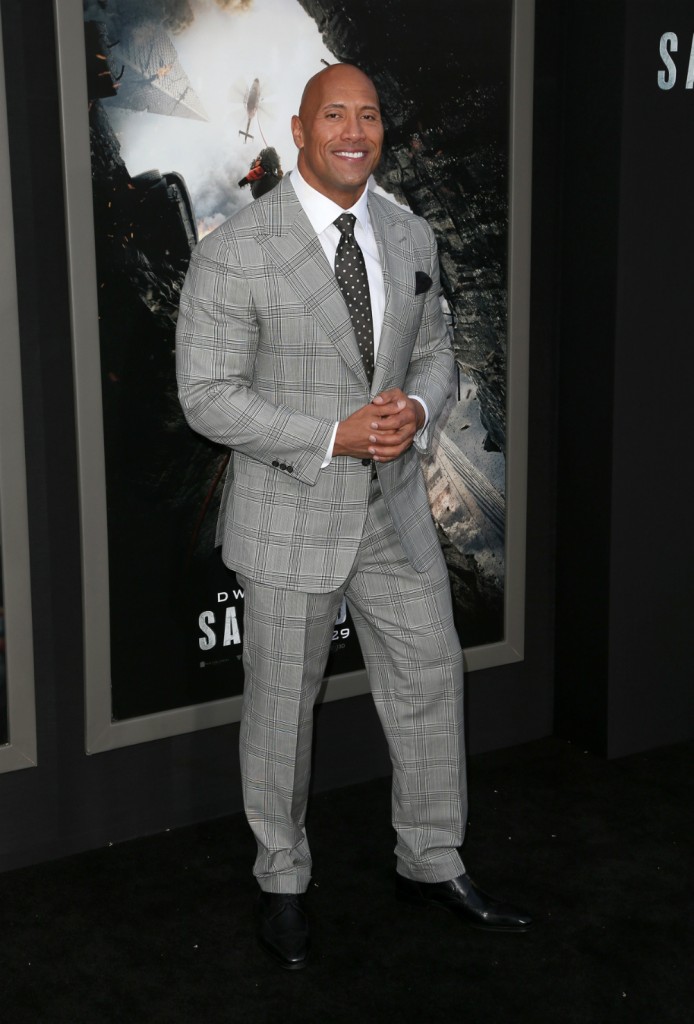 Since Hollywood is now where original ideas go to die, Dwayne Johnson has confirmed that he has signed on for the remake of Jumanji, the 1995 film starring Robin Williams. They have been threatening this redux since 2015 but now it's official. I assume Johnson will play Alan Parish, the Robin Williams role. The original story was two kids who find a board game that releases a man who has been trapped in the game for decades. Unfortunately, a whole mess of danger was unleashed as well like stampedes of elephants, lions, a crazed poacher and terrible CGI. The only way to stop it was to finish playing the game. No plot changes have been announced yet – or explanations as to why it needed to be remade.
Dwayne "The Rock" Johnson took to Instagram today to share that he's officially onboard to help bring the remake to the big screen, and makes a promise to fans that they'll "deliver something cool and special."

With a photo alongside his adorable furry friend, the actor wrote, "It's OFFICIAL: Love this script! Big movie news that me and my canine gal Shang are excited to share;) To produce, create and deliver original properties to fans like HBO's #ballers to this summer's #CentralIntelligence is one of the best parts of my job. But to take great properties that are beloved worldwide like #BAYWATCH and #RAMPAGE and have the opportunity reimagine their stories in dope new ways to a whole new generation is truly an honor."

He continued, "It's official. We'll produce and deliver to a whole new generation a title that I love and is one of my all time favs: There's games you play for fun… then there's games that change your life. JUMANJI Working on edging up an already very good script with my @sevenbucksprod team. Up next is meeting with our producer Matt Tolmach and director Jake Kasdan. Shooting starts this fall. Promise to deliver something cool and special.. and not screw the whole damn thing up;). As always I'll keep you posted. Casting this should be fun! #JUMANJI #JungleLife #JustPressStart #SONYPictures"
Johnson sure seems excited about it. I have to be honest, I don't remember much about the first movie. Bonnie Hunt, whom I love, was in it as well as a young Kirsten Dunst, who beat Scarlett Johansson for the role. Here is a refresher for those who loved it. This (NSFW – language) recap is not as kind but much funnier. I am sure they will focus most of their energy on the graphics, although it would be a riot if they did homage to the first film by having those wonky monkeys in the kitchen or a giraffe walk partially through a wall. Kevin Hart is also rumored to be cast, according to IMDb, so it should be fun. Those two were good together hosting the MTV Movie Awards.
Speaking of casting news – CJ Parker is back! It is finally confirmed that Pamela Anderson will be reprising the role that made her famous in the Baywatch remake. Johnson announced Pam's return on Friday via his official spokesman, Instagram. I am not expecting Citizen Kane from the Baywatch reboot but the cast might actually be hot enough for me to check it out. Maybe I will mix a vat of Cosmopolitans and do a double feature with Jumanji.
Photo credit: Instagram, WENN Photos and Getty Images