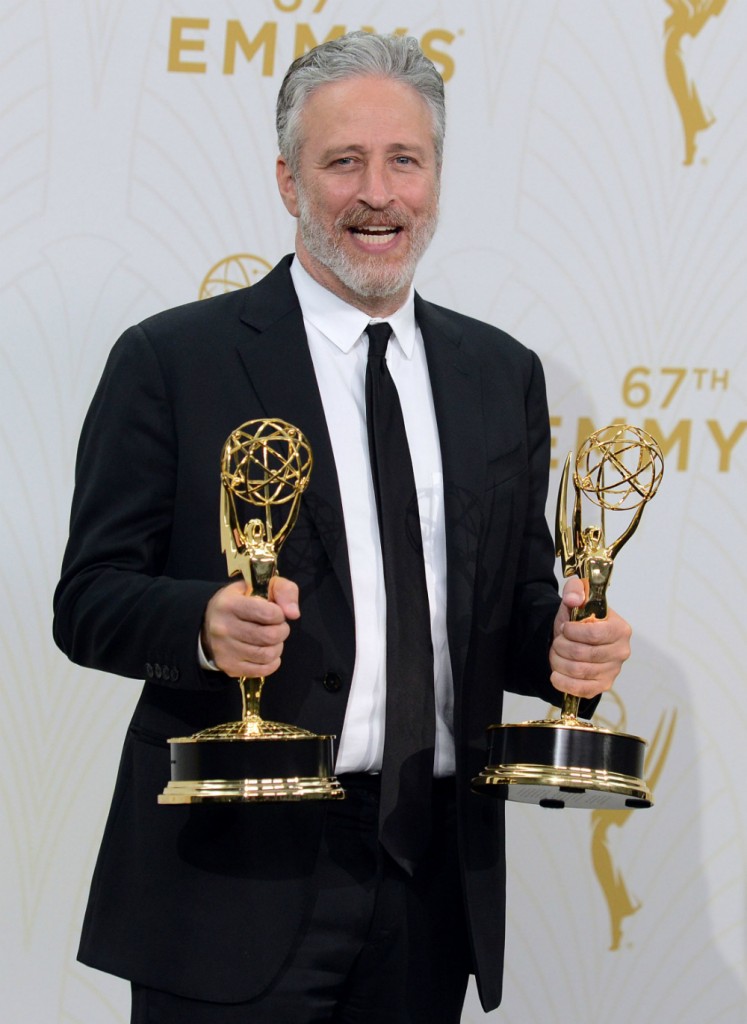 Since leaving The Daily Show's anchor's chair after nearly two decades, Jon Stewart and his wife Tracey converted their Bufflehead Farm in Middletown, NJ into an animal rescue facility. Among the animals who live there are two pigs the Stewarts adopted from Farm Sanctuary after they were rescued from the side of a Georgia highway. The poor little ladies were found injured, exhausted and starving probably after falling from a truck likely bound for the slaughterhouse. Fully recovered and living high on the… (I won't, I can hear you groaning already) they are pretty big stars at Bufflehead. You can see the video of Jon petting his pigs below:
What a bunch of camera hogs!

In a video posted last week by The Daily Squeal, Jon Stewart showers his rescue pigs, Anna and Maybelle, with affection at his farm animal center in New Jersey.

The two piglets were found on the roadside of a busy Georgia highway last summer and brought to Farm Sanctuary's location in New York. Jon and Tracey Stewart, who are well-known animal advocates, adopted Anna and Maybelle after meeting them on on a tour of the place and brought them to their farm animal center in New Jersey, which partners with the sanctuary.
This is not the first animal the Stewarts have saved from the slaughterhouse, they rescued and briefly housed Frank, the truck-bolting bull that escaped in Queens just last month. Frank is now in his permanent home and very happy.
The Stewarts are currently under contract for the historic Hockhockson Farm in NJ to develop as an educational and outreach program. They are presently working on securing those permits. Although Jon and their two children, Nathan and Maggie, are quite active with them, the farms are really Tracey's babies. She has had a relationship with Farm Sanctuary for some time, even dedicating a portion of her book's proceeds to support their work.
Original plans for the Stewarts' farm included a production office for Jon but those plans "got scrapped." I wonder if that is farm speak for "Maybelle ate them." Scrapped office aside, Jon still has one foot in the entertainment business. The documentary he produced, After Spring, just debuted at the Tribeca Film Festival. In addition, he still has a four-year production deal with HBO and is developing content for them along with virtual-reality startup Otoy. Jon has called Otay a "limitless mind-blowing creative platform" and their collaboration will involve "original holographic content." I am not sure what all of that means but it certainly sounds intense.
And now, your moment of zen:

Photo credit: Fame/Flynet Photos and Getty Images