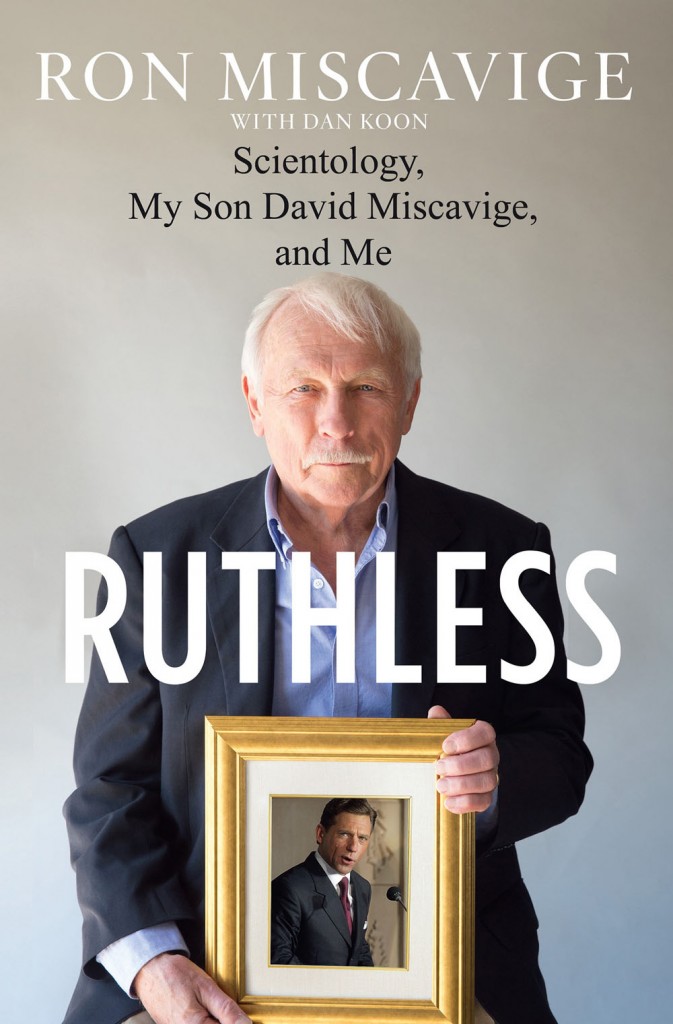 As we heard last month, the father of Scientology leader David Miscavige has written a tell-all book about his son called Ruthless: Scientology, My Son David Miscavige and Me. It's not even out until May 3 and the book is already the number one bestseller in the psychiatry category on Amazon. That's got to peeve the Scientologists off considering that the cult hates psychiatry with a passion. They also hate anyone talking about them as anything but a persecuted, misunderstood new "religion" and use threats, intimidation and the legal system to harass their detractors. So it's not surprising to hear that David Miscavige has sent a threatening letter to the publisher of his father's book. This news comes from Tony Ortega, a journalist who has worked for years to expose Scientology. The publisher is not backing down.
David Miscavige's father, Ron, is set to go on 20/20 this Friday, after which sales of this book are sure to skyrocket. They've released some clips and quotes from Ron's interview and he's not an unimpeachable source. Ron admits that "there was some domestic abuse" in his marriage. Of course Scientology goons have latched on to this to try and smear Ron and Ron's sisters released a statement claiming that "Our father beat our mother senseless in drunken tirades, averaging two violent attacks with his fists per week." Ron denies this account.
Ron describes the way his son obtained control of Scientology following L. Ron Hubbard's exit, and he attributes that to David's authoritarian personality. At least one higher up in Scientology backs Ron's account, and states that L. Ron Hubbard wanted a committee to run Scientology, not one single person, but that David stepped in and took control, ruling with an iron fist. Here's that part of Ron's interview, and you can read much more, including how the family got involved in Scientology, on ABC's site:
Ex-Scientologist Lois Reisdorf told ABC News she first met David when she was at Flag looking for recruits to join Scientology founder L. Ron Hubbard's personal elite Sea Org unit called the Commodore's Messenger Organization…

Before long, David Miscavige was in Hubbard's circle and moved West without his family where Hubbard, who was also known by his initials LRH, was building new secret bases and shooting Scientology training films…

The Church says Hubbard decided early that Miscavige would eventually succeed him.

"Mr. Hubbard viewed David Miscavige as one of his closest and trusted aides, and he essentially groomed him to become the leader of the Church," said Church lawyer Monique Yingling. "So really while there wasn't an anointment or anything like that, it was clear to everyone… that David was the person that Mr. Hubbard would want to take the Church forward."

But that claim is intensely disputed by Church critics. Reisdorf said originally Hubbard wanted the Church to be run by a committee after he died, not one person. But she said that after Hubbard went into seclusion in 1980, David Miscavige's influence and power grew as he evolved from the Commodore's Messenger Organization into a Gatekeeper.

"He started to get power and started to pull in people … onto his side, and it ended up being like a coup, where you had half of the management took over and kicked out the other half," Reisdorf said.

Reisdorf claims she was part of the "other half" and that she was relieved of her executive duties.

"It was a betrayal," she said.

In a statement to ABC News, the Church said, "Lois Reisdorf was removed from Church staff and expelled in 1982…

"Her claims regarding Mr. Hubbard's plans and intentions for the future of Scientology are lies," the statement said. "She has no knowledge of them, because she had long since been removed."

Ron Miscavige joined Sea Org in 1985 when his son David, then in his mid-20s, was already established in the Church's leadership. His father said he learned shortly after he arrived at Sea Org that things were different between them.

"I saw him walking, oh about 20 yards from me," Ron Miscavige told ABC News "20/20." "I says, 'Hey Dave.' And he turned to me and he looked at me like, 'Who are you talking to?' No words were said but that glance told me those days were over. I would never, I could never do that as a father to a son."
Ron goes on to describe an incident in which David yelled at him, in public, for an hour. He also says that David was allowed to lead Scientology because "there were no checks and balances on him." This account is consistent with what we've heard about David Miscavige's management style, particularly in the brave expose that the Tampa Bay Times (formerly the St. Petersberg Times) did in 2009, back when hardly any mainstream news outlets dared to take on the cult. They had multiple ex-Scientologists who witnessed tirades, dirty tricks, isolation and physical abuse of parishioners, sometimes directly by Miscavige. Now with so many books published on Scientology, celebrity defectors and the HBO documentary Going Clear, it's not as dangerous to expose Scientology. The more we hear the more sinister it sounds, particularly when the leader's own father is willing to speak out against him. Of course Ron is no angel, but that doesn't mean he's wrong.