What does an ice queen get her king on his birthday? Well, if you are Victoria Beckham, you get him a proper jeweled crown. For his 41st birthday, which is today, Picky (Posh + Vicky) presented David with a motorcycle helmet bedazzled in real jewels. The helmet, a French Les Atelier Ruby, has 17 gems on it, one for each year of their wedded bliss. Apparently, Picky put a lot of thought into the helmet's design and had a pair of gloves made to match.
VICTORIA Beckham has bought hubby David a gem-studded motorbike helmet for his 41st birthday.
Posh, 42, spent a five-figure sum on the lambskin-lined lid, which has 17 jewels – one for each year of their marriage.

It is a custom version of the popular French Les Atelier Ruby helmet, which Posh has airbrushed matt black.

A source said: "David loves bikes so she designed a special helmet as well as gloves, a bluetooth device and expensive camera lens. It certainly required a lot of effort and thought."

Becks, 41 tomorrow, has a string of flash bikes including a Bonneville he rode in the Amazon rainforest for a BBC film. Last month he rode in the Californian desert.

The loved up couple are known for giving each other swanky presents have always given generous gifts to each other with David splashing £50,000 on a diamond bracelet for Posh's 40th in 2014.
I know none of you hold my affection for Picky. But this is exactly why I love her; she is so far removed from reality that her idea of a gift is to put actual jewels on something that is designed to be scraped on the asphalt. She even remembered the matching gloves – and spent five figures to do so. Can you imagine what David is going to look like sailing down the road under the California sun with this disco ball on his head?
As the article suggests, the Beckhams are always generous in their gifts to each other. David's last gift to Picky was 5.2 million pounds to bail out her flagging fashion line out. I wonder if David opened this helmet, saw what she had designed and finally realized why the fashion thing isn't working out. I kid, I actually like Picky's clothes but I can't afford them. Ever the practical one, Picky's glam helmet will prove versatile; not only will David be the most fabulous biker out there, but they can take turns wearing it as they ride shotgun while Brooklyn learns to drive.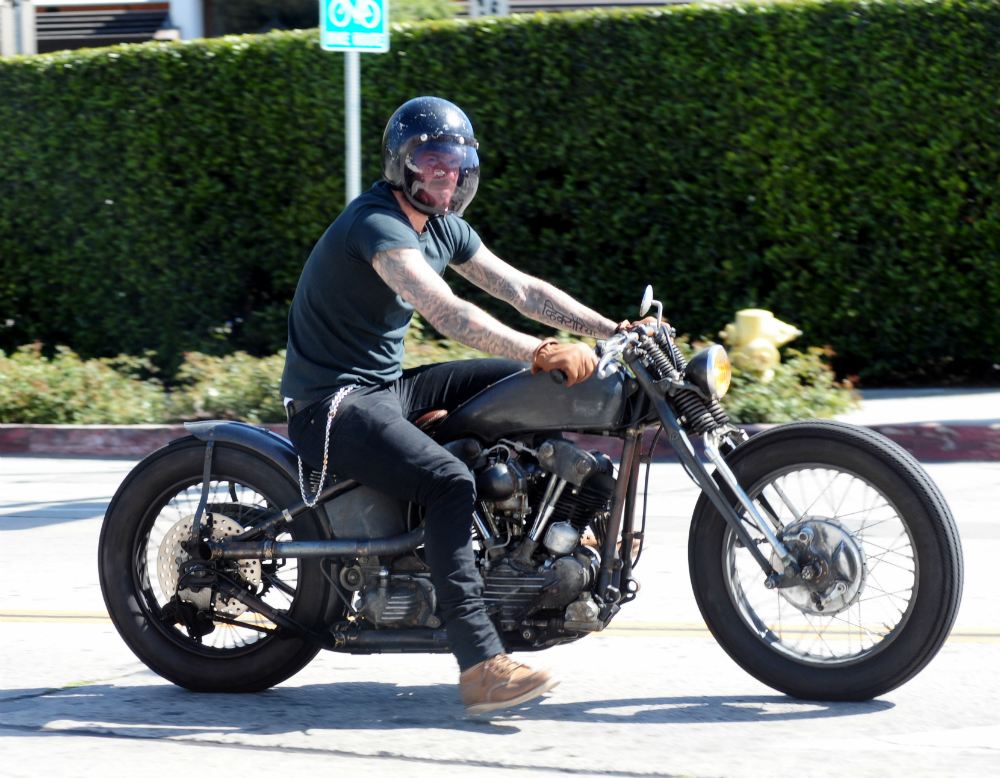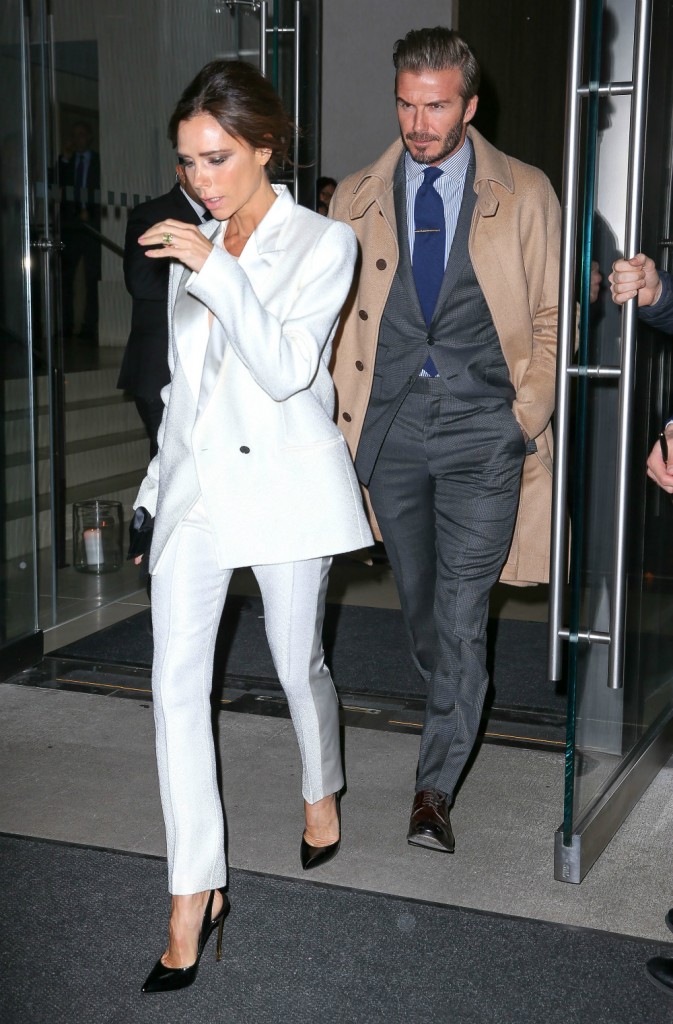 Photo Credit: Fame/Flynet Photos and Getty Images