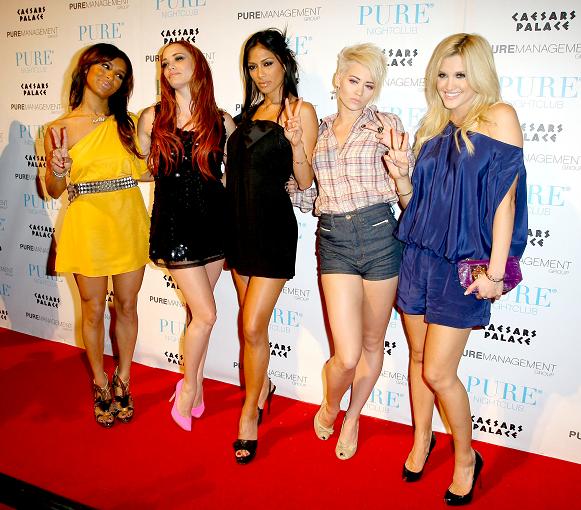 Nicole Scherzinger of the Pussycat Dolls has tried to create a solo career in the past, to disastrous (or rather, terribly bland) results. So she came crawling back to her roots and the girls continued performing as a group. Well, when the Pussycat Dolls version of the Slumdog Millionaire hit Jai Ho was released in mid-March, the album cover said that the song was by "The Pussycat Dolls featuring Nicole Scherzinger." Odd, but not particularly noteworthy. Now it is being reported that Nicole may actually be leaving the group to pursue a solo career (again), but won't announce it officially until after the group's current tour with Britney Spears' Circus show is over. In a recent concert in Pheonix, one of the Dolls, Melody Thornton, gave a telling shout-out to the crowd: "Thank you so much for supporting me – even if I'm not featured, you know what I'm saying?" Ouch.
The Pussycat Dolls version of "Jai Ho" and "Hush Hush" have been released under the name "Pussycat Dolls featuring Nicole Scherzinger" instead of the usual "Pussycat Dolls."

"Thank you so much for supporting me – even if I'm not featured, you know what I'm saying?" Thornton shouted in front of a packed audience.

The singer even sounded a little choked up as she added, "You can do anything you want to do. Don't give up on your dreams and don't let anyone stop you – ever!"

Scherzinger reportedly shot Thornton a nasty look after the remarks.

The group's label has kept mum on why Scherzinger has received special attention, leading some to think she may be leaving the Dolls to pursue a solo career.
[from NY Daily News]
Other news sources are also reporting that Nicole might be leaving the group, and I tend to believe this. This wouldn't be the first time that the band seemed to be on the verge of a breakup, and it might not be the last. Considering how well Nicole's solo career went last time, it wouldn't be surprising if she comes back to the group again. She was always meant to be the front woman, but she has always seemed more invested in her own fame than that of her band. Even if they aren't officially breaking up yet, Melody's shout-out proves that there is at the very least some animosity among the band members – never a good sign.
Check out the video below to see the shout-out. Header of the Pussycat Dolls at Pure in Vegas on Saturday. Image thanks to WENN.com .