Apologies for not seeing this story when I covered Demi Lovato's Latina Mag interview yesterday. Both Demi and Nicki Minaj wore Moschino to the Met Gala on Monday, with Demi in a silver sequin dress with brocade stripes and Nicki in an elaborate cleavage heavy black sheer getup with large rhinestone buckles straining to hold in her boobs. Nicki's outfit looked like a Halloween costume, which was reinforced by the fact that designer Jeremy Scott showed up in a black suit with a skeleton bedazzled on top.
All three of them posed together on the red carpet: Demi, Nicki and designer Jeremy in between. Nicki posted a photo on Instagram of this but only tagged Jeremy and Moschino. Demi responded by commenting with the laughing crying emoji and a peace sign and thumbs up. Not one to leave well enough alone, Demi then posted a photo of herself on Snapchat with her face looking perplexed and all stretched out from a filter, and the words "When you aren't mentioned in a post but didn't do sh*t to the person."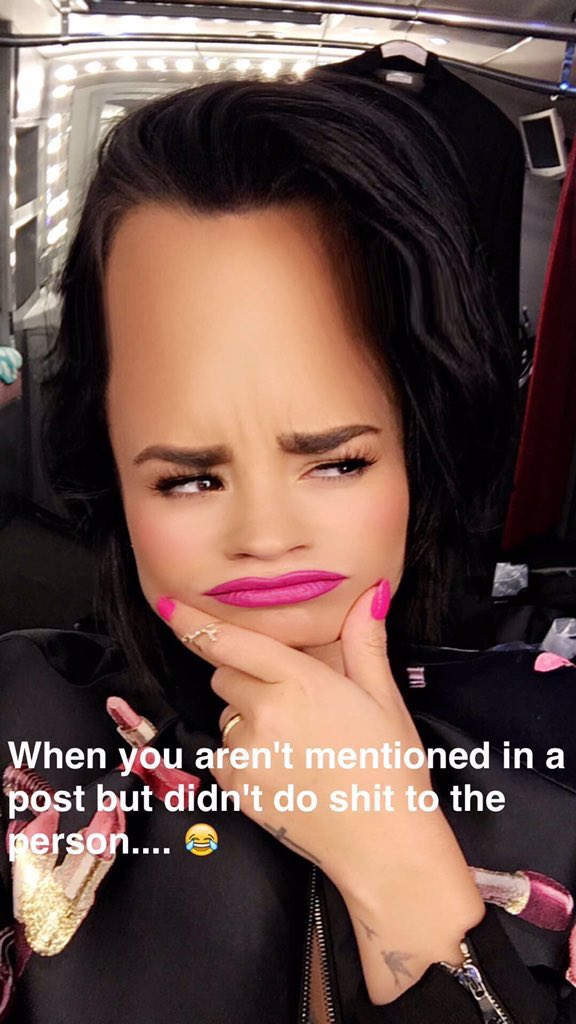 In case we didn't see that snapchat, or her comment, Demi also posted the following message to Instagram to reinforce her belief that Nicki was snubbing her.
Does the shade give Demi life or does it give her headlines when she makes a big deal of it? I get that she feels like she didn't do anything to Nicki and was deliberately ignored, but she is blowing this up beyond whatever happened that night between them. It looks like Nicki and Jeremy did not hang out with Demi at the party and later went over to Terry Richardson's studio to get photographed together, just going by Nicki's Instagram. Demi should be grateful she was able to avoid that mess. You do not want to be at Terry Richardson's studio without a team full of people watching out for you at all times.
Nicki has not responded as far as I can tell and that kind of reinforces her initial point that Demi is just not there. Is this really so bad that Demi has to threaten/promise not to go to the Met Gala again? Maybe she's just mad that Wilmer didn't come, since he's her everything. Why didn't he come as her plus one? Was she unable to bring a date or was Wilmer refusing to go and being "stubborn like Latino men can?" (Her words.)
Update: Demi has gone off on the trolls on Twitter. Here are a few of her tweets but there are more:
Sometimes there's more shit going on than you see. Maybe you DON'T know every aspect of my life so maybe you shouldn't assume you know. 🖕🏻

— Demi Lovato (@ddlovato) May 5, 2016
Maybe my midnight rants are a part of my bipolar disorder. Can't change being crazy.. But you can press unfollow.

— Demi Lovato (@ddlovato) May 5, 2016
Imagine the love of ur life/biggest crush finding out u spend time on the internet commenting negative shit about celebrities.. Embarrassed?

— Demi Lovato (@ddlovato) May 5, 2016
Here's the breakdown of the Nicki vs. Demi one-sided feud, thanks to Instagram user balleralert, which E! found:
photos credit: FameFlynet and Getty