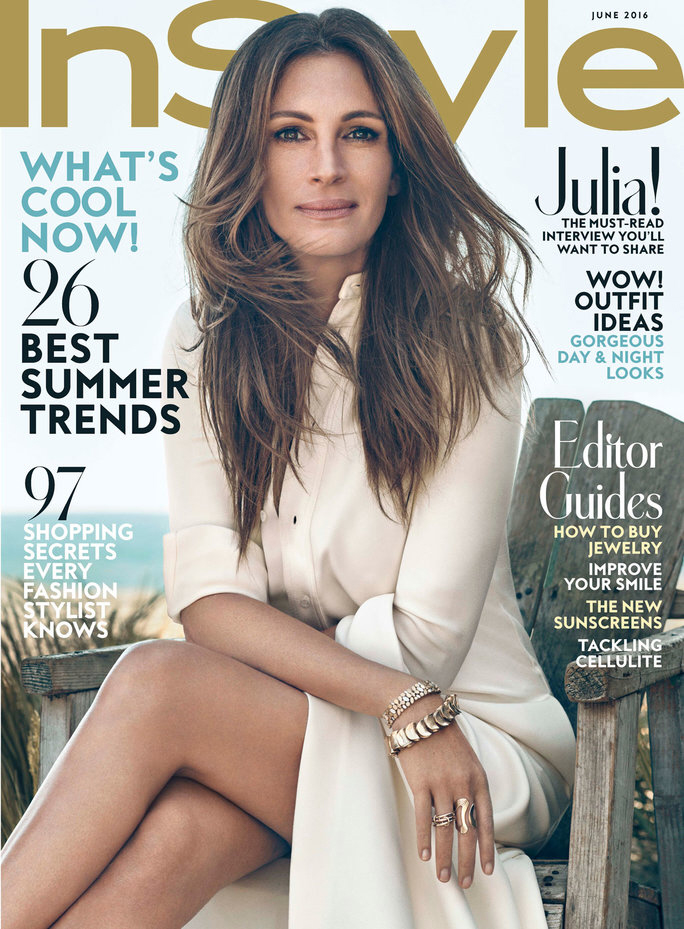 The Cannes Film Festival starts next week, and Team USA is going to be pretty well-represented on the red carpet. In addition to the premiere of Woody Allen's new movie, Café Society, Jodie Foster will be premiering her new film, Money Monster. Which means we'll see Julia Roberts, George Clooney and probably Amal Clooney on the carpet. I'm genuinely excited about that. Julia tells InStyle – she's the cover girl for June – that she might be wearing Givenchy, in which case it's going to be HUGE… a huge disaster, that is, because Riccardo Tisci can't design to save his life. But it will be great to see what Amal wears. Anyway, here are some highlights from Julia's InStyle interview.
On Jodie Foster: "Well, in my mind, she's so scary, but really she's so sweet… she's so talented, notoriously brilliant. And she's such a great actor. And really, she is very no-nonsense. She doesn't think that there has to be some incredible, painful struggle to accomplish your goals. I thought she was crazy to be helming me and George—it's like trying to keep puppies in a box."

Whether she'll ever be on social media: "I think it's like—what's a good analogy? Listen, I don't have my head in the sand. I'm aware of the different outlets, however you label them. It's like people talking about a TV show: I can be perfectly aware of the TV show and the story, but it doesn't mean I watch it. I have other friends who watch it, and they tell me about it. I mean, we were talking about Instagram. Everyone has Instagram on their phone. And I just, yeah, [if I had it] I would be looking at it all the time."

What she learned from her mom: "One of the greatest things she ever did for me … I remember asking her—when I had three kids under 3 years old and just felt like I was running in a thousand directions at once—"How on earth did you raise all of us? You worked full-time, and you did all these things." She could have said, "Well, you know, you just do your best." But she said, "Darling, it's called day care. I dropped you and your sisters off at 7:30 in the morning, and I would pick you up at 4 in the afternoon." But it didn't feel like that to me. I didn't feel like I was a dropped-off person who didn't see her mom all day. I just felt completely part of her life, and she was part of mine. And that's the magic trick: to make people feel that they're with you when they're not."

Whether she ever just goes shopping: "I do from time to time. It just kind of strikes at moments. The thing I never understood about fashion is that you put something on and you look and feel great, and then you put it on again 10 days later and it's terrible."

How she stays in shape: "I feel like if I knew all the things to do [in terms of exercise], I would probably look like I was put together with tape. I would just go crazy. So I think, better just to remain calm, drink your water, get your sleep and be joyful. We definitely try to eat mindfully. As I always say to my kids, 'You have to eat the good stuff to get the good stuff.'"

Her first time at Cannes: "I've kind of avoided it. I mean, the first time I ever went to Asia was for a movie, Eat, Pray, Love. I'm a late bloomer."
I always think Julia Roberts and Jennifer Aniston have the same kind of reaction to the rise of social media: social media came after their heydays, and they don't really want to bother engaging in it. Surprisingly, Gwyneth Paltrow was in the same kind of boat, but she embraced her online presence and now she's built an entirely new career out of it. Now, unlike other social-media-shy celebrities, I don't get the feeling that Julia looks down on it at all. Like, she's not judging it. She's just not engaging with it at all. Also: I like what she says about her mom dropping off the kids at day care.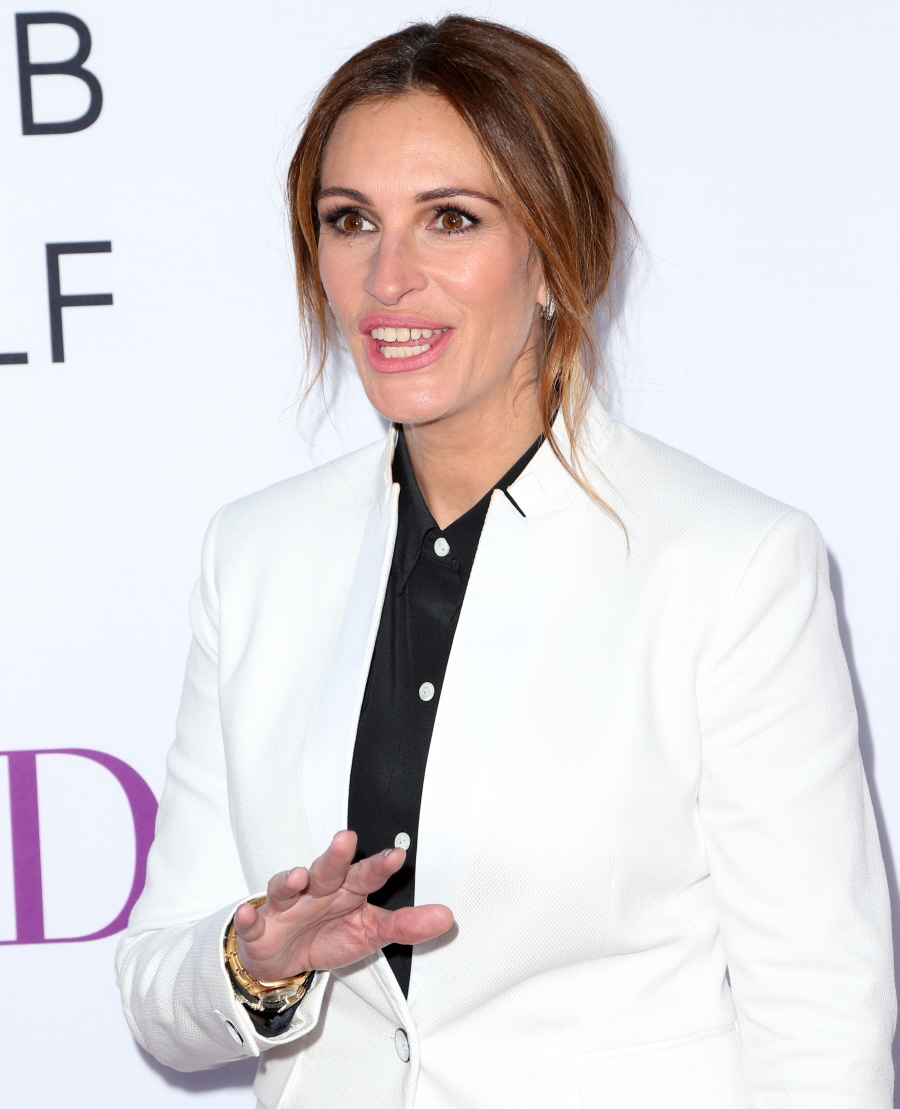 Photos courtesy of WENN, cover courtesy of InStyle.