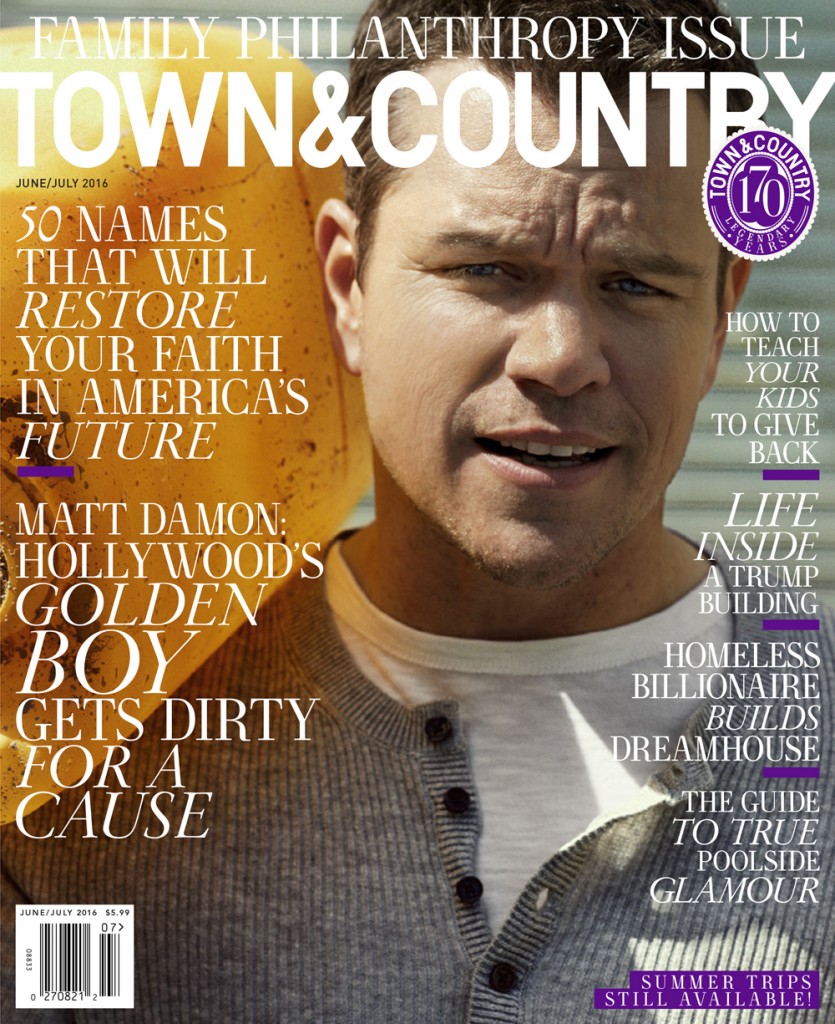 Matt Damon is covering Town and Country's June/July philanthropist issue. He talks about his work with Water.org, a charity he co-founded which brings clean water to the third world, and he endorses Hillary Clinton for President. I pegged Damon for a Bernie guy, but it sounds like he's personally met with Hillary and knows that she's committed to this issue. Plus it's possible that he's endorsing Hillary because it was thought that she had already statistically won the primary, although Bernie is giving her a good fight. (No disrespect to Hillary supporters and I swear I will vote for her!) Damon also discusses how he got involved with this charity.
On the impact of being a celebrity and the influence that comes with it:
"I became famous. It's surreal to suddenly wake up to one day and have a larger sphere of influence than you ever anticipated. You genuinely want to do good in the world, but you're going to make a lot of missteps. People started asking me to come to this gala or that. And then I would find my name associated with things that I didn't know anything about. I didn't want to be somebody at whom people rolled their eyes, thinking, 'What is he doing, getting into the middle of this kind of stuff?' And that's why, once my life stabilized a little—my career was going pretty well, my wife was pregnant—I decided to get very serious about one thing."

On lack of access to uncontaminated water in areas where water is ubiquitous:
"We don't know anyone who goes thirsty. We have faucets everywhere. Our toilet water is cleaner than what 663 million people drink. The crisis in Flint, Michigan, ironically, is one of the first times, at least in my memory, that Americans have become aware of just how necessary clean water is, and the dire consequences of not having it."

On his endorsement of Hillary Clinton for President—because of water:
"She understands it from a number of different angles—as a national security issue, as a human rights issue, and, obviously, its impact on women and girls. This is not a partisan issue, which is one really good thing about it. We've talked in equal parts to Republican and Democratic senators and congressmen."

On children missing school due to lack of clean water
"One child dies every 90 seconds because of water-borne illnesses. It's completely insane. But beyond just senseless death, this is robbing people of their humanity, of their hopes and dreams. And also of simple day-to-day things, like a kid having time to play."
[From Town and Country, received via email]
Read the first paragraph above. Doesn't it sound like his decision to go into charity work was image-driven rather than issue-driven? He's serious and committed to this cause, I'm not questioning his involvement, I'm just saying that he describes his initial interest as a desire to control the narrative around him. Damon is calculated and careful with his public image and you can see that in how he reuses talking points, although he rarely talks about it. That said, he also focused on one thing so well that he brought worldwide awareness and money to an important cause. Water.org is an extremely effective and high-regarded charity and Damon has absolutely made a difference in the world.
The full interview includes a nice story from Damon about how he talked to a 13 year-old girl in Haiti who had just received clean water in her village for the first time. The girl, who was top of her class, told Damon that she would use her extra free time to play. Damon said her answer "buckled my knees." He also explained that he has four daughters and that he often hears how a lack of clean water affects girls especially.