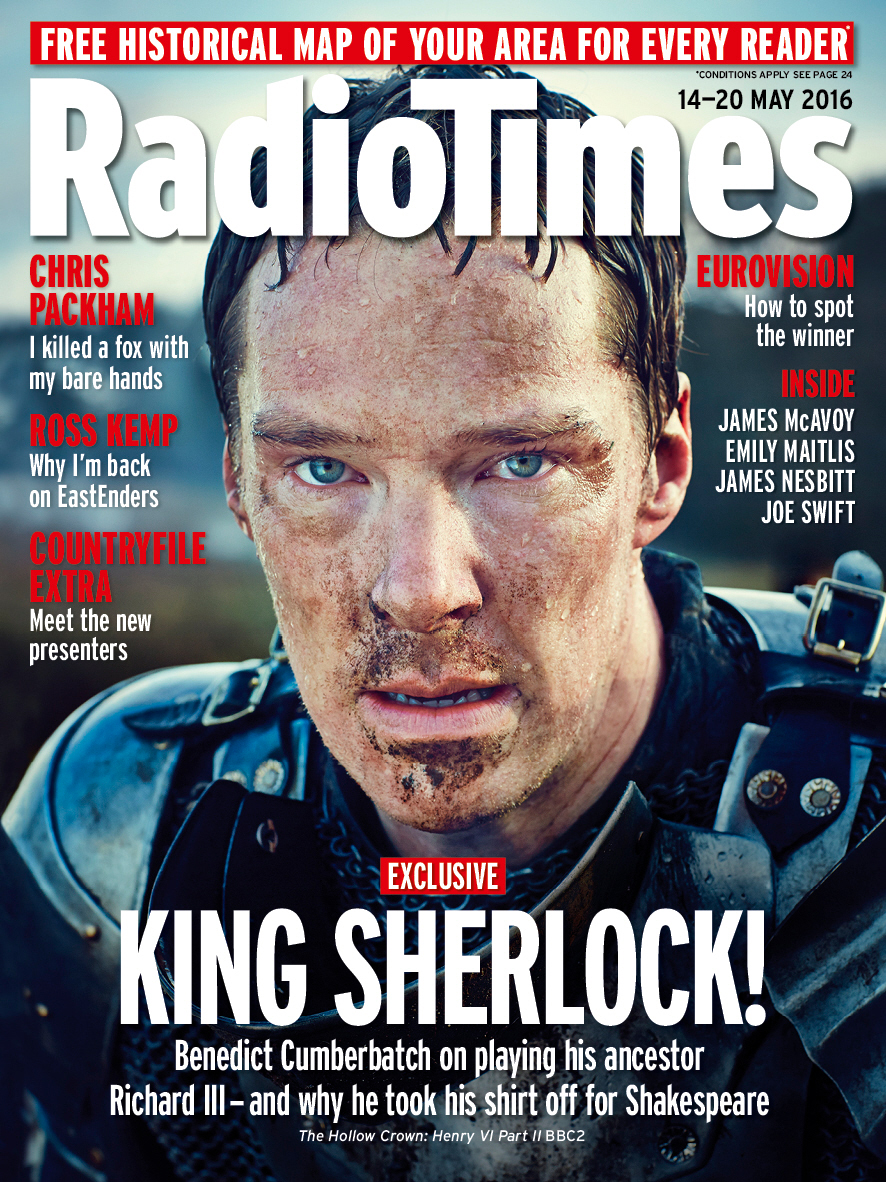 Benedict Cumberbatch is currently promoting The Hollow Crown in Britain. We still don't have an air date here in America, but it will probably air next fall on PBS, that's my guess. But the British premiere is upon us, and as such, Benedict covers some of the local British magazines. I can't say I took this Radio Times cover very seriously though. The mud around Benedict's face just looks… wrong. Very wrong. Benedict spoke about playing Richard III to the mag:
Learning he was related to Richard III: "I was literally dressed as Shakespeare's version of Richard III when I received an email from Leicester University saying that I was a not-altogether-ridiculously-distant descendant of Richard. I'm a third cousin 16 times removed, which is still distant, but puts me ahead of an awful lot of other people."

Attending the reinternment of Richard III in Leicester Cathedral. "To have been present when Richard III found his resting place was moving. I was at the burial of a king."

Why Richard III's story is important in the modern world: "These films stretch way beyond the remit of historical or period drama. They are about everything we're facing – all the debates about who we should ally ourselves with, whether we should be part of Europe, and how deep these divides go within a society. And the violence of medieval warfare has a resonance with what's going on with extremism in the world…To see the headlines, and then read the day's shooting script, realizing we are enacting a beheading, literally taking someone's head off their shoulders – sad to say, these are things which are still part of our world."
I'm sure there are some in Britain who feel that Benedict might be stretching to find a modern context for the Richard III story, but I think he's right – there's a tunnel vision when it comes to modern struggles, like Donald Trump is the first fascist to ever run for office, or that a nation's isolationist tendencies ebb and flow. But there are far-ranging histories with all of these issues.
Benedict also chatted with Culture Mag about how vanity and how he hated that he was photographed at Pres. Obama's speech:
He doesn't have any vanity as an actor: "I've had a career that's not dependent on the way I look – but that is a great liberation for an actor, so I'm not really that vain about it. As myself, of course, I get a bit of, like 'Oh God, I look like s**t', but as an actor I've never, ever cared."

Being photographed at Obama's speech in London: "We were right beside the press pack, and there were people there with telephoto lenses. When they realised that Barack was going to be another five minutes, the whole lot just went wumph, onto me, onto the side of my face… I was just like, 'How many times can you take a photo of a not particularly attractive profile – again and again.' I mean, thank God Sophie was there, so that kind of drew the eye of the photographs, as it always should. But it was just embarrassing."
Whoa, first of all… I kind of think it's wrong for Benedict to refer to Pres. Obama as "Barack" right off the bat. I mean, do they know each other? Are they friends? Did Obama say "call me Barry, Benedict"? No. Also, "thank God Sophie was there, so that kind of drew the eye of the photographs, as it always should…" I get that he's trying to be self-deprecating, but he makes Sophie sound like she's there to be the eye-candy.
Photos courtesy of Getty, Fame/Flynet, Radio Times, Culture.