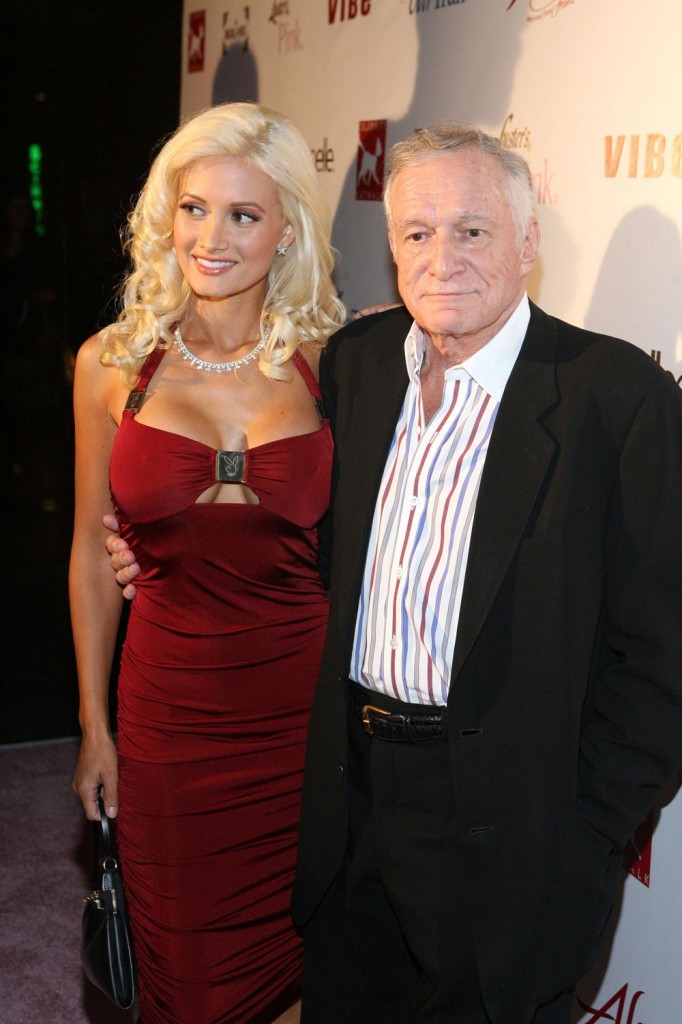 Hugh and Holly on 8/28/08. Credit: WENN.com
Hugh Hefner's new trio of barely-legal blondes must not be intellectually or emotionally stimulating enough for the geriatric bachelor. The 83 year old is still pining for lost love Holly Madison, who he called "The love of my life" in a recent interview:
It has been several months since Hugh Hefner and his former flame Holly Madison went their separate ways, but it seems the 83-year-old men's magazine mogul still has super strong feelings for the 29-year-old pin-up. Hef told Jason Binn, editorial director of Niche Magazine's Los Angeles Confidential, in his debut issue that he'd welcome Madison back with open arms because she is still the "love of his life."

So where does that leave things with his new top squeeze Crystal Harris?

"How serious, and intimate, and important that works out to be, well we'll have to wait and see because it's only a couple months old," Hef said in the upcoming issue, which hits the stands on May 1.

So even though Hef's heart is still hoping for Holly, it doesn't look like a reunion will happen any time soon.

"I loved my time at the mansion and think the world of Hef," Madison told Tarts in response. "There comes a time in everyone's life where they need to go their own way."

And although Mr. Hefner still considers himself the ultimate playboy and has lived (and continues to live) a life beyond what most men could even dream about, he has two prominent regrets — his two marriages (the first to Mildred Williams in 1949 and then to Playmate Kimberly Conrad in 1989 — to whom he's still married) and taking his empire public.

"I think the company would have been more closer to home if it had remained a private corporation," Hef admitted.
[From Fox News]
Doesn't it sound like Hef isn't getting any from Crystal? He said "How serious, and intimate… that works out to be, [with Crystal] well we'll have to wait and see." She's a 22 year-old San Diego State co-ed and in the only interview I've seen with her she came across as vapid and kind of dumb. I assumed she was the one keeping Hef company as the alternative, his two 19 year-old ex con twin "girlfriends", conjure up all sorts of unsettling images when you let your mind go there. It looks like all of Hef's arm candy is just for show this time around. No wonder he misses the girlfriend who stood by him for so long, but she's moved on to other things. In an interview with In Touch last October after the split, Holly made it clear that she'll never be with another man that much older and that she's not going to reconcile with Hef. You can tell from her statement here that she wouldn't consider it, either, as she said "There comes a time in everyone's life where they need to go their own way."
Hef saw Holly for the first time since their split at his birthday party earlier this month. She was cordial but mentioned that she was there for the sake of their reality show. It's kind of sad for Hef that he's still chasing super young tail at that age and missing the one that got away.
Hugh Hefner is shown below with his new girlfriends on 3/21/09. Holly Madison is shown at US Weekly's Hot Hollywood party on 4/22/09. Credit: WENN.com