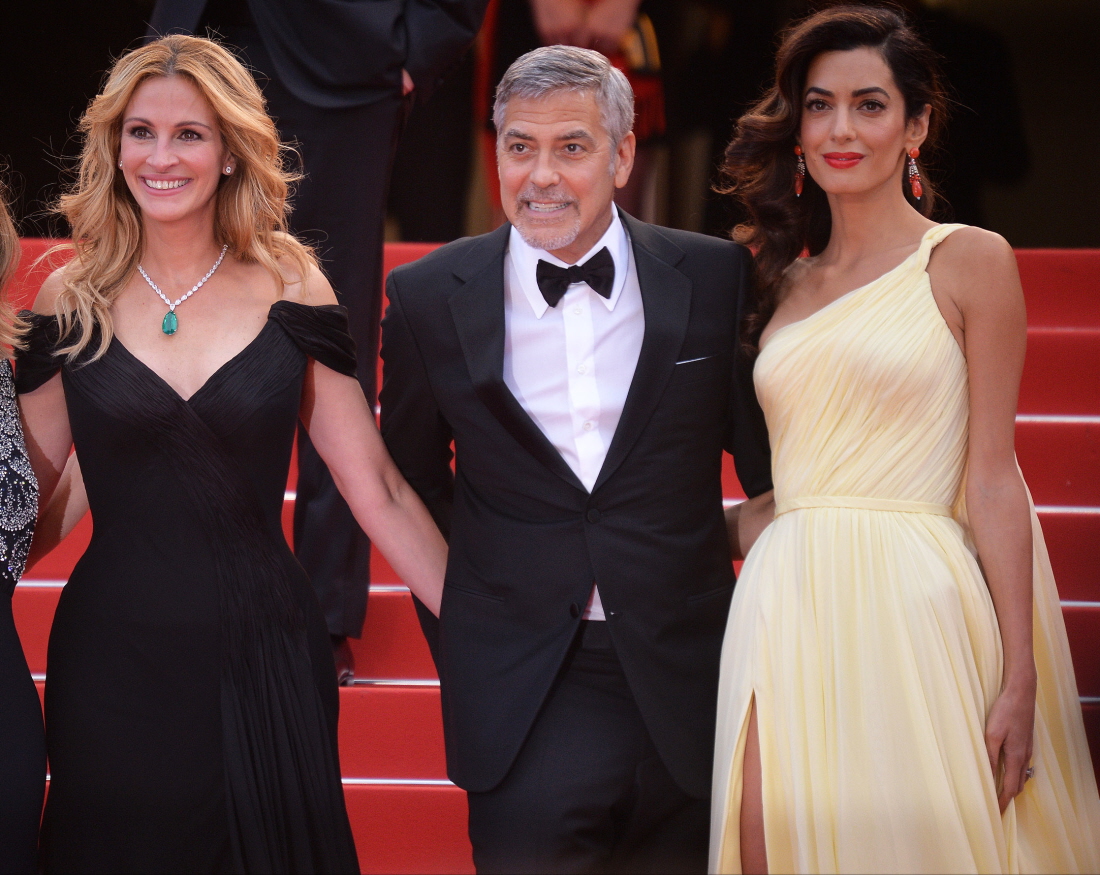 As previewed yesterday, this week's tabloids are full of interesting/funny/untrue speculation about George and Amal Clooney's marriage, based solely on their appearance at the Cannes Film Festival last week. For the record (since we're on the record!), I kind of think George and Amal are fine. Their first year of marriage was a whirlwind of craziness, but they seem to have "settled down" quite a bit in 2016. Still, I always enjoy some good Amal gossip. In Touch Weekly had the longer story full of deliciously bitchy details. Some highlights:
Amal's posing. An insider says: "Cannes has strict rules about a non-movie member posing for obligatory cast photos – it's a big deal and very rare for a spouse to join. But Amal, with George's blessing of course, barged right in. Amal wore a look-at-me bright yellow gown amid the cast's sea of black, she had trouble adjusting her long train in the wind so she also held up the entire process, which meant all eyes were on her."

Julia was pissed. "Julia was stunned that Amal tried to steal her show and her thunder, and that George actually let her." So in retaliation, Julia flirted with George, and the source says, "Amal felt like Julia was flirting with George and she was seething!"

Amal hates Julia. Amal hated how friendly George and Julia were on the set of Money Monster and "Amal can't stand how Julia monopolizes her husband's time." After the Cannes red carpet, Amal pulled George aside and told him that Julia was being "disrespectful." Julia "was so mad that she had a mini-meltdown about it and was overheard complaining about Amal's rude move and George should have known better."

Julia hates Amal too. After spending some time with Amal and George in Como, Italy last summer, "Julia left with a very bad taste in her mouth." Julia would "mock image-obsessed Amal behind her back after seeing how Amal constantly had her hair and makeup touched up and wore glamorous gowns during a casual weekend." A source says: "Julia laughed at her because she thinks she's so absurd."
[From In Touch Weekly, print edition]
While I think this whole thing is being overblown, I do believe that there's some shade and gossip going on at the core. Like, Julia was pissed that Amal was being so showy and look-at-me. And Amal was pissed because Julia was goose-honking all over George. I also sort of believe that Amal is severely image-obsessed? That's just my gut-level reaction to seeing her pap strolls and red carpet posing.
Meanwhile, Star Magazine claims that Amal and George looked like they were having serious problems at Cannes. A Cannes tipster reveals that after George and Amal walked the Cannes carpet together, they stopped pretending to be all lovey-dovey.
"Once inside, it was obvious to everyone there that George and Amal had been fighting all day. I don't think either one of them wanted to be there."

Arms crossed and scowl fixed, it was clear the human rights lawyer wasn't happy with her husband. In fact, eyewitnesses say the two barely said a word to each other during dinner that night at Le Michelangelo in Antibes and cast a frosty chill over the afterparty at the Hotel du Cap-Eden-Roc.

"It looked like George truly regretted bringing Amal out. Just imagine what it must have been like when they got home!"
[From Star Magazine, print edition]
Sure, but WHY were they fighting? Was it because of Julia? Or something else?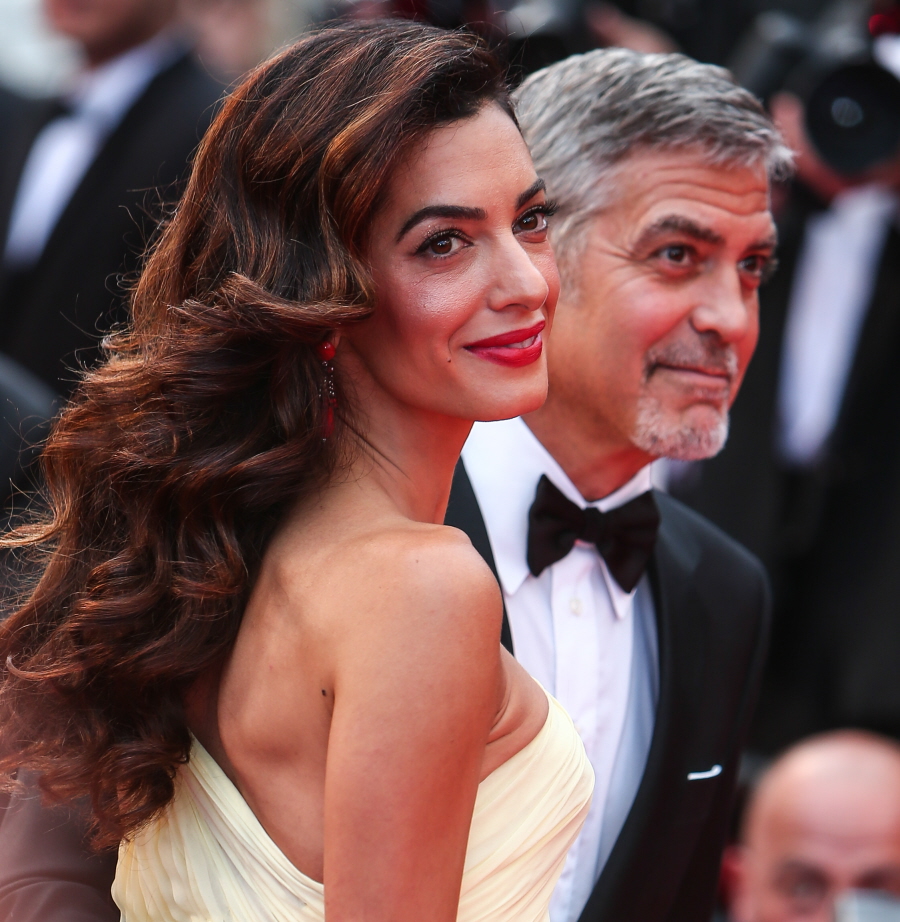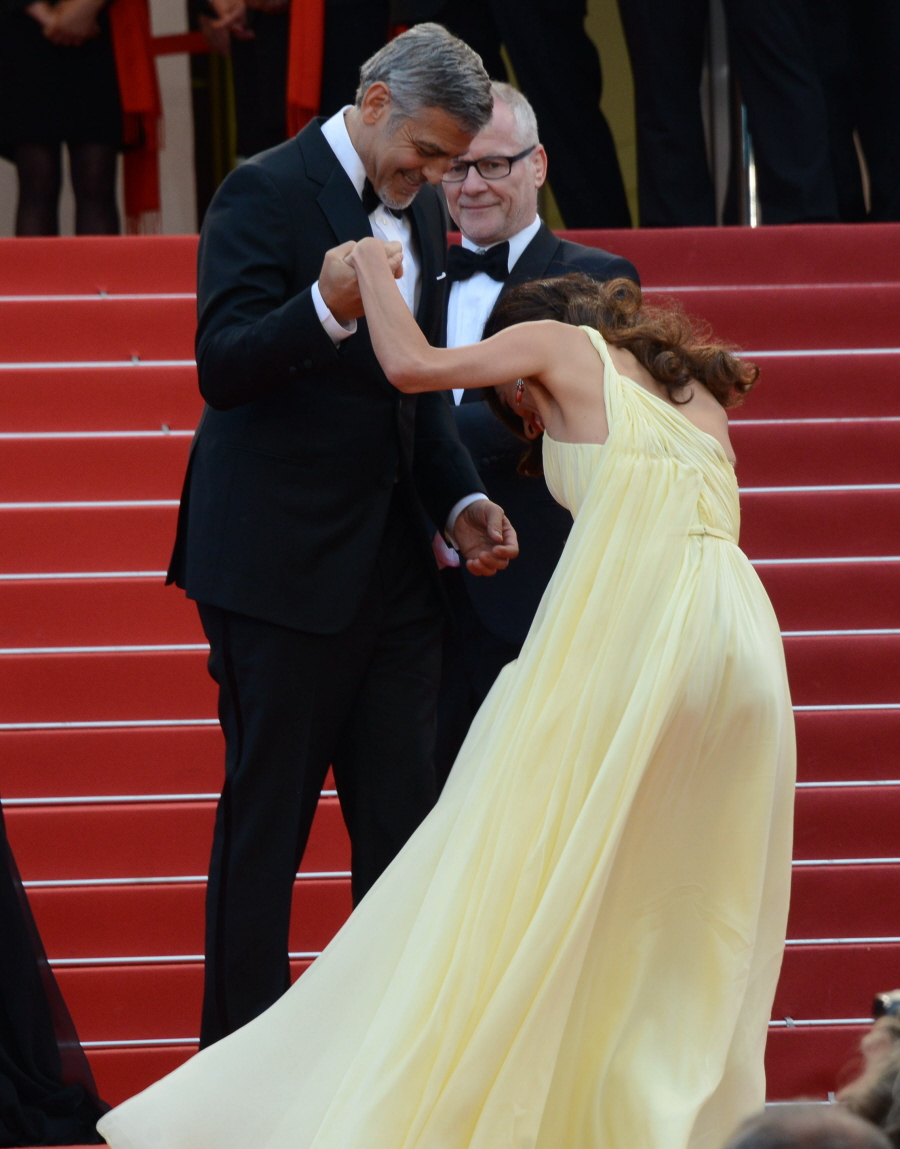 Photos courtesy of WENN, Fame/Flynet.