Here are some photos of Johnny Depp in Stockholm on Monday. He's still touring Europe with his band, the Hollywood Vampires. Do you think Team Depp's crisis management just operates without him? Or is Depp on those conference calls, suggesting quotes that need to be placed in People Magazine? The only thing I know for sure is that Team Depp was hard at work on Memorial Day. Their current vibe is "let's throw everything against the wall and see what sticks." Which is the only explanation for two of the most blatantly pro-Depp pieces thus far, in People Magazine and TMZ. Some highlights:
TMZ's police sources are chatty. TMZ's "law enforcement sources" want you to know that Amber Heard did not tell police officers that Johnny Depp had smashed her in the face with an iPhone. TMZ's sources have already claimed that Amber was sporting no visible injuries and now they're reiterating that Amber did not tell cops the whole story. TMZ ends their story with this: "We're told Amber still has not filed a police report. If Johnny's right and he never touched her … had she filed an official report she could be prosecuted for a felony — filing a phony police report." Just what every victim of domestic abuse wants to hear, right? If you do come forward and tell (gossipy) police officers about your abuse, you could be prosecuted. Thanks, TMZ! Update: Oh, great, TMZ has another story about how Amber tried to "set up" Johnny by screaming for security when they were 20 feet away from each other.
Amber and Johnny should have never gotten married. And now for the "derp" part of Team Depp's media strategy, People Magazine has unnamed sources saying the most obvious things. Things like "they are just not good together. They had lots of problems before they got married, and should have never gotten married. Their personalities are just not compatible." YA THINK? People's source also says Heard caused a lot of "drama" and that she "exacerbates" his "jealousy issues," and Depp is "very insecure when it comes to Amber." I love that she's getting the blame for "exacerbating" his unhinged jealousy. OH SHE MADE HIM JELLY. Then she totally deserved it, right?
Amber is incredibly upset. E! News has one of the few pieces with quotes from pro-Amber sources. E!'s source says: "This has been incredibly upsetting for Amber but she knows she is doing the right thing. It has been very traumatic for her to finally speak out, but she needs to do what she can to protect herself." The source also says that Amber "tried to hide what was really happening in the marriage from most of her friends because she wanted to believe that it would get better. That things would change. But ultimately they didn't and so she had to do what she did to stop it." I believe that. You know why? Because it happens all the time. The victim believes that things will change for the better. The victim is embarrassed that this is happening. The victim doesn't think anyone will believe her/him. The victim doesn't want to tell other people because then it becomes real.
Meanwhile, Amber's team finally responded to Doug Stanhope's guest column in The Wrap (you can see our coverage here). Stanhope claimed that Amber was "blackmailing" Depp, and Stanhope based his accusations on stuff that Depp had told him. Amber's lawyer tells The Wrap that Stanhope's "allegations against Ms. Heard are absolutely and unequivocally false" and that the guest column "has no basis in reality and is nothing but the typical celebrity muckraking for profit." Amber's lawyer demanded that The Wrap take the column down and they're currently speaking to their lawyers, but Amber's lawyer told The Wrap: "It is highly offensive and disturbing that you would choose to publish it in the first place."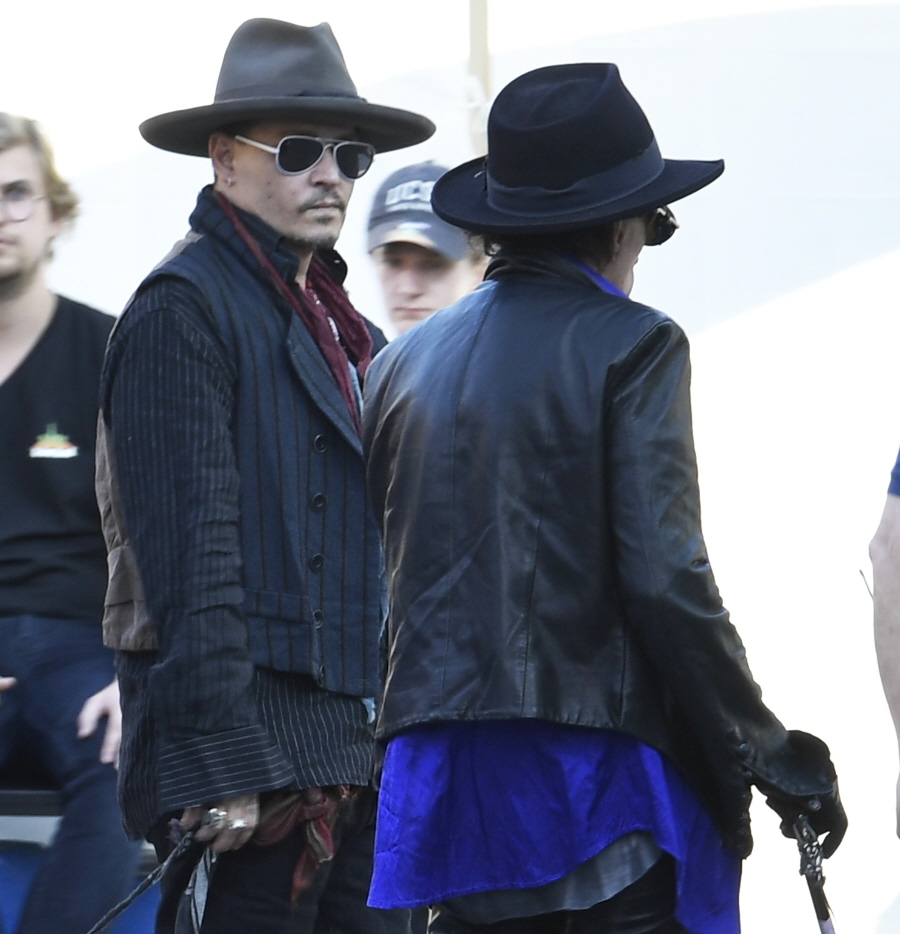 Photos courtesy of Fame/Flynet.