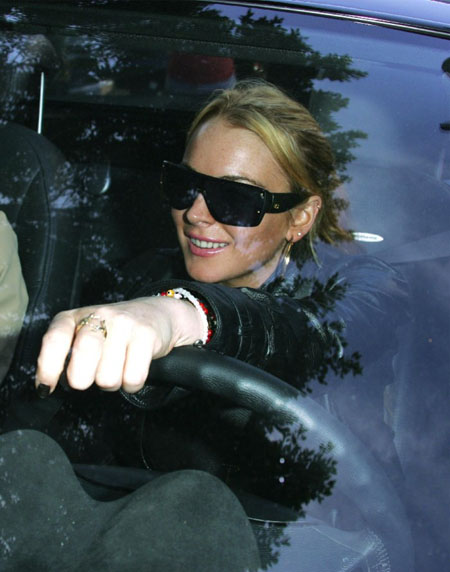 TMZ is at the forefront of investigative journalism yet again and is featuring interviews with the three guys who were unwilling passengers in the car with Lohan the night she was arrested for DUI. The three witnesses detail the night in question, and it's apparent that not only did Lohan drive drunk in a car that wasn't hers, she put countless people's lives at risk and ignored repeated pleas to get her to slow down, let out the passengers, and/or listen to reason. Several times she repeated the claim that she was a celebrity and above the law. She ran stop signs and stop lights, did circles around the car she was chasing on the Pacific Coast Highway, and could have killed herself, any or all of the passengers in her car as well as multiple other drivers and/or pedestrians. Given the way she was driving recklessly and how wasted she was it's a wonder that the worst injury was a hurt foot. This woman needs to go to jail for at least a month for this stunt, the second time she was busted for DUI in less than three months.
Here is the whole sordid tale, as told by the three passengers in the car in the interview videos available on TMZ.
Lohan lures her prey
On the night in question Dante Nigro, a friend of the boyfriend of Linday's assistant, was texted by the assistant that Lindsay wanted to invite him to a party in Malibu. (It does not seem as if the party was at Lindsay's house, as was previously reported, and sounds like it was somewhere else from the statements given.) Dante's friends Jakon Sutter and Robbie Blake came with him to the party, but were not allowed in so they waited outside in Dante's car.
Dante said Lohan was drinking at the party and that he did a shot with her. He said "every time I saw her she had a drink in her hand."
Lohan's assistant fights with her boyfriend then quits her job when Lohan yells at her
He said there was "a confrontation outside between [Lindsay's] assistant and [the assistant's] boyfriend… They get into some sort of, like a verbal argument, I don't know, basically he's our friend and he wants to leave, and so there's this whole big mess and Lindsay comes out of the house and she starts yelling at her assistant saying 'You know, you need to be quiet, blah blah blah' and that's when her assistant is like 'You what know, I quit, I'm done, I don't even care, I'm over working for you'… everyone heard her."
Dante and his friend Ronnie Blake answered the interviewer's question about how drunk Lohan was and said she looked really inebriated. Ronnie says "I don't know what kind of drugs she was on, but she was raging and seemed real crazy like she lost her mind."
All three guys agree that she was acting wild and aggressive. Then Dante explains how they ended up passengers in Lohan's crazy mobile. He says that the three of him were in his car, and that he was riding shotgun and their friend, the boyfriend of Lohan's assistant, was about to drive. The assistant Tarin pulled him out though and ran to her car to drive away.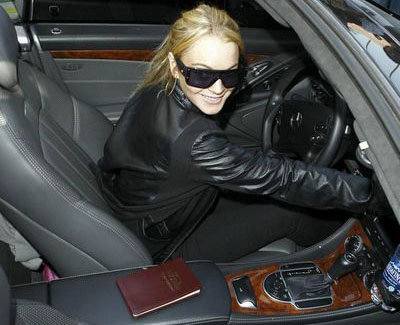 Lohan grabs the keys to the guy's car and drives away with three people in it. One guy escapes and Lohan runs over his foot
Lindsay then reached over Dante in the passenger seat and pulled the key out of his ignition. She jumped into the drivers seat and started to chase after Tarin's car. Ronnie was in the back and he jumped out of the moving car. Lindsay ran over his foot with the car, and didn't even stop! He shows a bandaged foot and says he doesn't know if Lindsay knew she ran over him, although he was screaming at the car. He then got help from the assistant's boyfriend, who was there with him at the side of the road.
Lohan chases her assistant recklessly, resists repeated attempts to get her to stop or slow down, keeps insisting she's a celebrity and can do whatever she wants
Dante grabbed the wheel and put his hand on the parking brake to try and get Lindsay to stop driving and she said "if you touch me, I'll sue you!" The other guy left in the car, Jakon, says they were pleading with her to pull over and that she was going 100 MPH on the Pacific Coast Highway. He said Lindsay was doing circles around the assistant's car on the PCH! They said Lohan did three circles around the assistant's car and was running red lights.
Dante said he told her "you're going to kill us," and she said "I can't get in trouble, I'm a celebrity, I can do whatever the f&*# I want."
Assistant loses Lohan, so she goes to the assistant's mother's house and chases the mother's car
The assistant eventually lost them in Santa Monica. Lindsay decided the assistant was going to her mother's house, and she started running stop signs in an attempt to get there as quick as possible and almost got in a head-on collision. Right when they pulled up to the assistant's mother's house, another car, a black Escalade, was pulling into the driveway. It was the assistant's mother's car. Dante ran out of the car and said he wanted to tell Tarin to get out of her car and not drive anymore.
Dante ran back to the car, with the intent of throwing it into park to protect his friend in the back. At that point the Escalade driven by the assistant's mother was driving backwards down the street to escape Lindsay, and Dante was back in the car.
The Escalade got away and Lohan sped down the street going 80 chasing after it in a residential zone. She ran every red light possible, crossing four way intersections. The two guys kept pleading with her and she said "I can do whatever I want, you want to see?"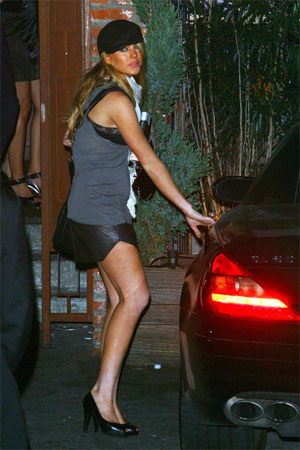 Assistant's mother leads Lindsay's car to the police station
Then Dante realized that the assistant's mother's car was leading them to the police station in Santa Monica, and he told her about it. She said "I don't care I'm a celebrity, I can get away with whatever, I'm not going to get in trouble." Dante swears she said this when the interviewer questioned him about it.
And Dante says she threatened them earlier, saying if they came forward with any of this information something would happen to them, like she would sue them.

Lohan says "I wasn't driving, the black guy was driving," but was found out and taken in after failing the field sobriety test
They ended up at the parking lot at the police station, and Lindsay got out of the car, ignored the cops that were there specifically to apprehend her, acted like nothing was wrong and went up to the Escalade. The cops arrested her, and she said "I wasn't driving, the black guy was driving." They say she was yelling at them saying "Tell them I wasn't driving. Tell them I didn't do anything."
The cops then question Jakon and he maintained that he wasn't driving. They gave Lohan the field sobriety test and she failed. The two guys that could have easily been killed on that long and scary car chase were only allowed to leave after the Escalade got a police escort out, as the assistant's mother was scared that she will still be chased despite the fact that Lindsay had been apprehended.
They then went back to pick up their friend Ronnie, who was still nursing his hurt foot at the side of the road on the Pacific Coast Highway. The assistant's boyfriend was also still with him.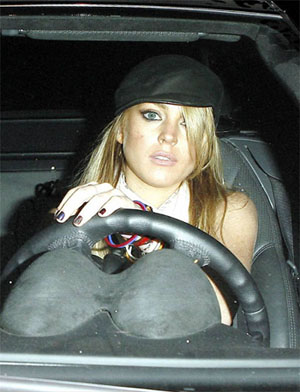 Conclusion: Lock her up
The guys said they feared for their life, that this was the craziest ride they've ever been on, and that Lohan was unrepentant and acted as if she didn't do anything wrong. They said "definitely if that was us, we would be in jail right now, we definitely wouldn't get bail."
As I mentioned in the introduction, this is outrageous and Lohan needs to go away for quite a while. Two stints in rehab didn't help this self-centered and careless woman, and I don't know if jail will either, but at least she'll pay for her actions.
Hollyscoop has an exclusive that Lindsay is broke, having wasted all her money on drugs. Well now she'll have some huge lawyer bills and hopefully she won't be employed for a very long time. While her career prospects seemed better to me before hearing this story, now I hope she's burned all of her chances at any kind of music or movie career. Sound harsh? So is killing people. Everyone knows you're not supposed to get behind the wheel when you've been drinking, and no matter how much your judgment is impaired there's no excuse. She took these guys hostage and told them to suck it when they told her she could end up killing them. She needs to go to jail.