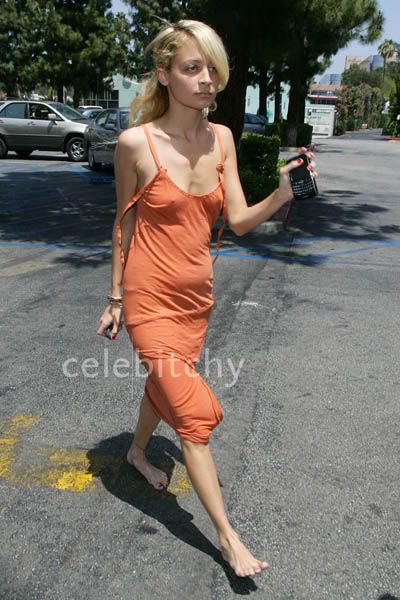 "What, so early?" you ask. (At least that's what to sprung to mind when I read the headline.)
It turns out Nicole is going to cop a plea in her DUI case from December when she was found driving the wrong way on the freeway. She has an earlier DUI conviction from 2002, and under California law she faces a mandatory 5 days in jail. On Friday she will appear in court, and the judge will sentence her on the spot.
On June 20, Nicole was ordered to stand trial for her DUI on July 11, or within 10 days of that date. Friday will be past the ten day deadline, and I wonder how she worked that out.
I bet Nicole wants to avoid a media circus trial and is scared she'll be made an example of given the recent high-profile arrest of Lindsay following Paris' stint in prison. She's undoubtedly pregnant at this point, and has been lying low amid rumors that she's having trouble with her probable baby-daddy, Joel Madden. She has been touring with him, and has popped up in the upstate NY city of Rochester and in other out of the way locations while he makes promotional appearances for his band, Good Charlotte. The two were seen fighting in public recently, but it may have just been a minor incident over what size bra Nicole wears. (Follow the link, I'm not making this up.)
Nicole will break her silence with ABC's Diane Sawyer in an interview to air next week. It will be shown on Good Morning America on August 2 and 3, and on 20/20 on August 3. I wonder if she'll already be in jail at that point.
How crazy is it that Nicole, Paris and/or Lindsay might end up doing jail time this year? Add Britney Spears to the mix and I'll be in gossip heaven.
The images here are older ones. The header is from late May and the one below is from mid June. Also, I have not gloated for this yet, but I believe we were the first to call Richie pregnant.