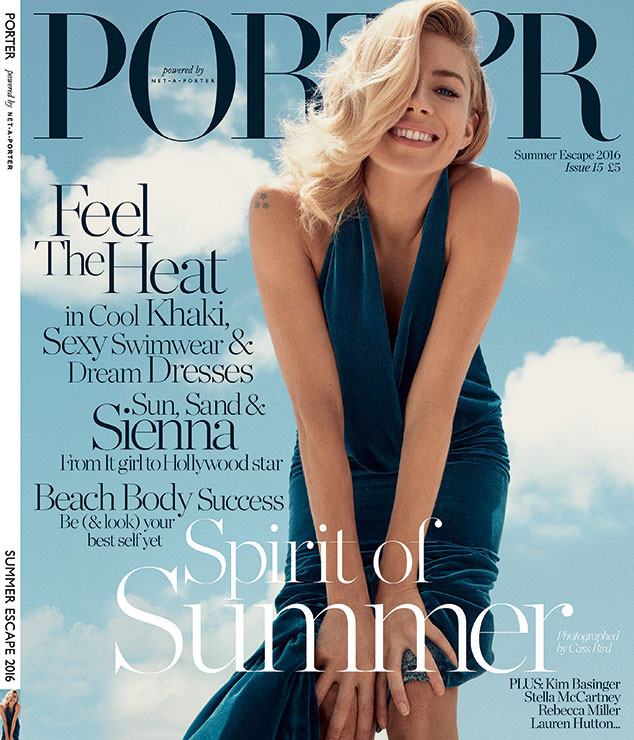 Sienna Miller covers the new issue of Porter Magazine, the summer issue. The photoshoot is nice and her hair looks especially good. When I see Sienna on the red carpet these days, I tend to think that a decade of hard-partying and sunbathing without SPF has caught up to her, but in this editorial, she looks sun-kissed and properly beachy. As for the interview… I don't know you guys? I always think "Sienna has done a lot of growing up over the past five years." And then I'll read an interview with Sienna and I'll realize "yeah, not so much." She's still pretty self-absorbed and… how do I say this? Like, Sienna is still stuck in a frame of mind where she's a really big deal. Like, it's always 2005 to Sienna. And the world sort of moved on? She's not an It Girl anymore, I'm just saying. Some highlights:
On her ex-fiancé Jude Law: "We don't see each other that much. I care about him enormously."

Being an It Girl a decade ago: "Thank God I actually survived it. I watched that Amy Winehouse documentary and, not to compare myself, but there was footage that… it was a similar time, and you just lose your mind. I couldn't cope but it's resilience that kicked in. And no heroin addiction, thank God."

She went into therapy: "I just got to a point where…I couldn't dig myself out, I couldn't make decisions, I felt pretty assaulted by life and not in control. I think as you get older you have to really cultivate your mind and have a deep understanding of self, otherwise you just become lonely and isolated and unsatisfied and unfulfilled, and however your perfect little life looks on paper, there will be a sense of unfulfillment if you haven't explored the nature, the very depths of who you are… It's terrifying but extraordinary. It's 10 years of therapy in a week. I got back a week ago. It takes a while to settle. It's focused on Freudian analysis, which is basically how behaviour patterns are all learned, how you can trace them all back to either parents or surrogates, then you kind of let go and examine who you would have been if you hadn't taken on all these negative traits. There's an immense amount of space in my head and there is no f—king noise in it for the first time. All that noise has just gone."

She wants more children: "I would love more. I'm suddenly feeling very broody for more babies, and my daughter's desperate to have a sibling."

She digs intellectual dudes: "I like intelligence – it's the only thing I've ever been attracted to. People who aren't clever enough fall by the wayside. They're a motley crew my ex-boyfriends, if you lined them up, it would be strange. I don't care about that [looks], but you know, within limits… Someone staggeringly beautiful and thick is totally ugly to me. It sounds silly but I like bookish academics who are slightly odd, and borderline, you know, on the spectrum."
It's still crazy to me that within the span of a handful of years, she was on-again with Jude Law, dating Rhys Ifans and then the mistress to a still-married Balthazar Getty. Those men, are they pillars of intellect? I think Rhys Ifans is probably quite clever, but Jude Law and Balthy? Um, not really. I'm not saying Jude is an idiot, but considering he's not smart enough to consistently wear protection, I wouldn't call him a deep thinker. And of course Sienna describes her type as "borderline, you know, on the spectrum." She thinks she's being so cute, like guys on the autism spectrum are all bookish, eccentric hotties just dying to date neurotic former It Girls. And is it just me or was that comment about Amy Winehouse really unnecessary? Sienna's all, "Me and Amy were like in the completely same situation but like I wasn't a heroin addict, hahaha, JK LOLZ."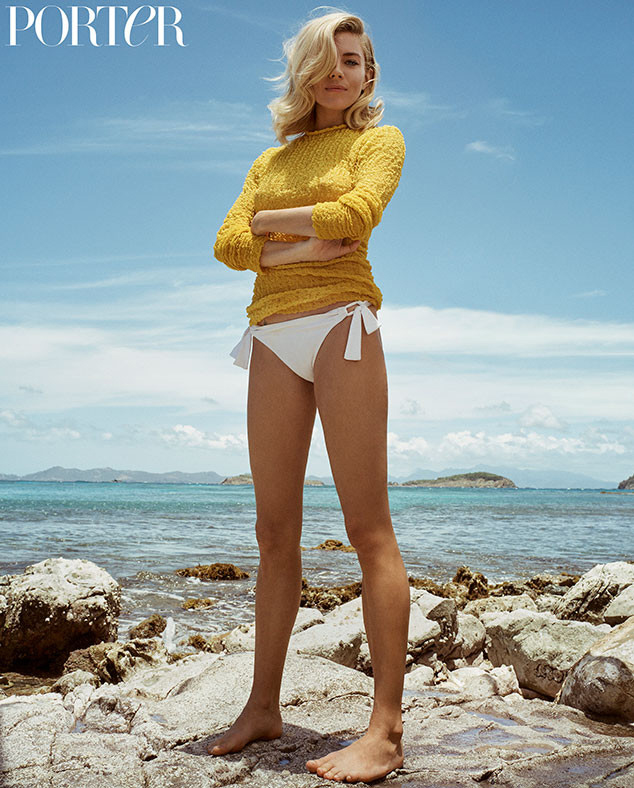 Photos courtesy of Porter Magazine.