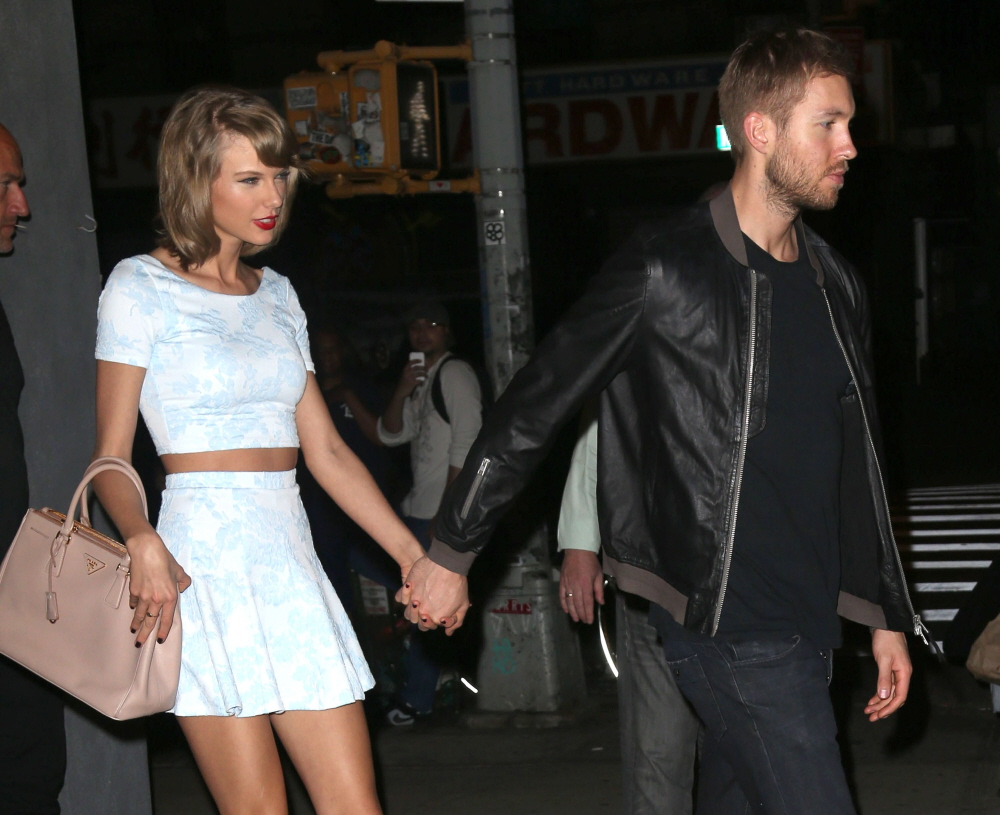 Sad news, you guys! Taylor Swift and Calvin Harris are over. What will the song be? Something about Scotland, maybe? Or some sort of reference to his real name? "Adam To My Eve" or "Haggis Heart" or "Glasgow Heartbreak" or something. What's sort of amazing about the break announcement is that Taylor's people confirmed it (I'm almost positive) to People Mag, Us Weekly and E! News simultaneously, and E! and People were running their stories as "exclusives." People's exclusive was a quote from an insider who said: "There was no drama. Things just don't work out sometimes." Us Weekly's source also took an ambivalent course, saying: "It just wasn't working anymore. She's OK." Thankfully, E! News had some better dirt:
E! News has confirmed through multiple sources that Taylor Swift and Calvin Harris(real name Adam Wiles) have broken up after dating for almost a year and a half. "This all happened last week," a source tells us.

"Taylor and Adam had no big blowout fight, but the romance just was not there anymore for them. Adam is the one that ended it. It was all done in a very mature fashion. Taylor is pretty upset but they are still in communication. Taylor was there for Adam with his accident and supportive."
Ah, so HE dumped HER. Oh, Calvin. I feel so sorry for you, dude. There's an avalanche of cray heading your way in the coming weeks and months. This was Taylor's biggest, longest and most significant relationship to date. She met a guy who didn't mind being photographed with her. She was with a guy who had his own career. She was with a guy who was as melodramatic as she is. It really was a good match and I'm sorry that it's over. I thought it would be over before now, but they made it to the one-year mark and I actually started rooting for them. I also kind of think that Taylor wanted him to propose and she was disappointed that he hadn't locked it down? Just my opinion.
And now she's free for Tom Hiddleston, who is coincidentally in LA as we speak. Perhaps she called him and invited him to stay at Casa Swifty. I hope Tom is okay with cat hair and grandma doilies. CB has already called it: Hiddles + Taylor = TIDDLES.
Photos courtesy of Getty, Fame/Flynet and WENN.