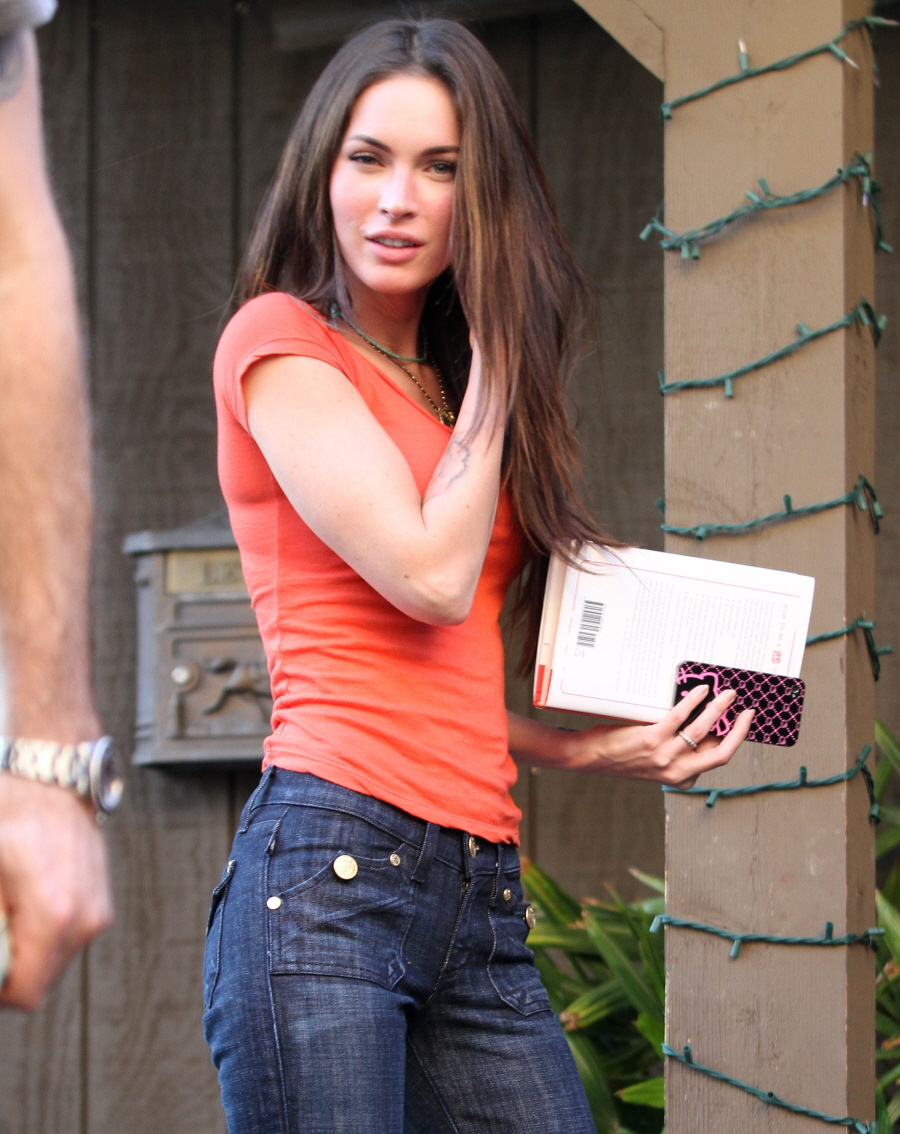 Truly, one of my favorite little facts about Megan Fox is that she is unapologetically crazy when it comes to alien conspiracies and any kind of "what were ancient people really doing?" conspiracies. Years ago, she said her favorite show was the History Channel's Ancient Aliens, which is basically a show about how all of these historical mysteries can be explained by saying "aliens did it." The flood? Aliens. Machu Picchu? Aliens. Jesus Christ? Alien. Adolf Hitler? He knew about aliens. Ancient Aliens is a highly entertaining show, but Megan Fox thinks all of those crazy conspiracies are absolutely 100% true. And soon she might give up her acting career to investigate all of that stuff full time. Megan gave an interview to the Los Angeles Times about that and a lot more. Some highlights:
As a kid, she knew she was going to be an actress: "Sometimes I just know things. I accidentally tap into stuff sometimes. I used to do it as a kid, and I do it as an adult. I crossed over and saw a future string." ["Future string" as in string theory.]

She's intellectual, people: "I don't think acting is my ultimate passion. I have other skill sets and gifts that are much, much stronger that I am obligated to exercise and use. I'm really more intellectually minded. I've always been into alternative history, antiquities, archaeology. I've always been really consumed by these deep mysteries that exist on our planet that can't be explained today by science. They eat away at me."

The Great Pyramid of Giza: She and costar Shia LaBeouf were given a tour of the Great Pyramid of Giza by the Ministry of Antiquities and someone "high-ranking in that field — I will not say who" told the actors that the pyramid was never actually a tomb. "They presume they may have been some type of energy plant at some point. The sarcophagus that is in the Great Pyramid was put there by the government for tourism. And that sparked in me an interest in really exposing this sort of thing, because I realized I have access to things I shouldn't have access to because of what I do for a living."

Whether she would be interested in working for The History Channel: "It might be something like that. If I ended up working for Vice, that would be a dream. I don't know how that could ever work, but I do have a little bit of a journalistic streak and I'm also reckless enough to do well in that field, I think."

Her public meltdown in 2009: She says she thought she was "Joan of Arc, and it was my job to pick up the sword and defend anyone that I felt like was being treated in an unjust manner. There were moments where I could have acquiesced and been more respectful, and I wasn't."

People make fun of her for reading books: "You know how women that are always cast in James Bond movies are pinups but their job in the movies is always being a marine biologist or neuroscientist? I think people react to me that way. Like, 'Right, she's studying neurobiology.' But I am really interested in that."

Whether she's bothered by her pin-up fame: "Resistance is futile, at this point… I'm not going to keep fighting the image that exists. I think people, in general, are plebeians that are brainwashed by the type of media that they expose themselves to. … People anticipate a shallowness [from me]. They anticipate a self-centeredness and a lack of self-awareness. It doesn't … matter what I say, or how eloquent a speaker I may be, or how positive my intentions may be. I'm going to be made into what people desire me to be. At this moment, they might desire to exalt me onto a pedestal. But the next? You're a human sacrifice. The control is not in my hands."
"….People, in general, are plebeians that are brainwashed by the type of media that they expose themselves to…" Whether or not you agree with her core point – that you are what you read – can we all agree that no one should say "plebeians" in this day and age? I mean, we mock Gwyneth Paltrow for her elitism, but she's never actually SAID "plebeian" about the common folk who are so obviously beneath her. As for the Great Pyramid being some kind of ancient nuclear plant which was probably built by aliens and only Vice Reporter Megan Fox can get to the bottom of it… sure. If someone wanted to hire her to do a conspiracy theorist TV show, I would probably watch it, actually.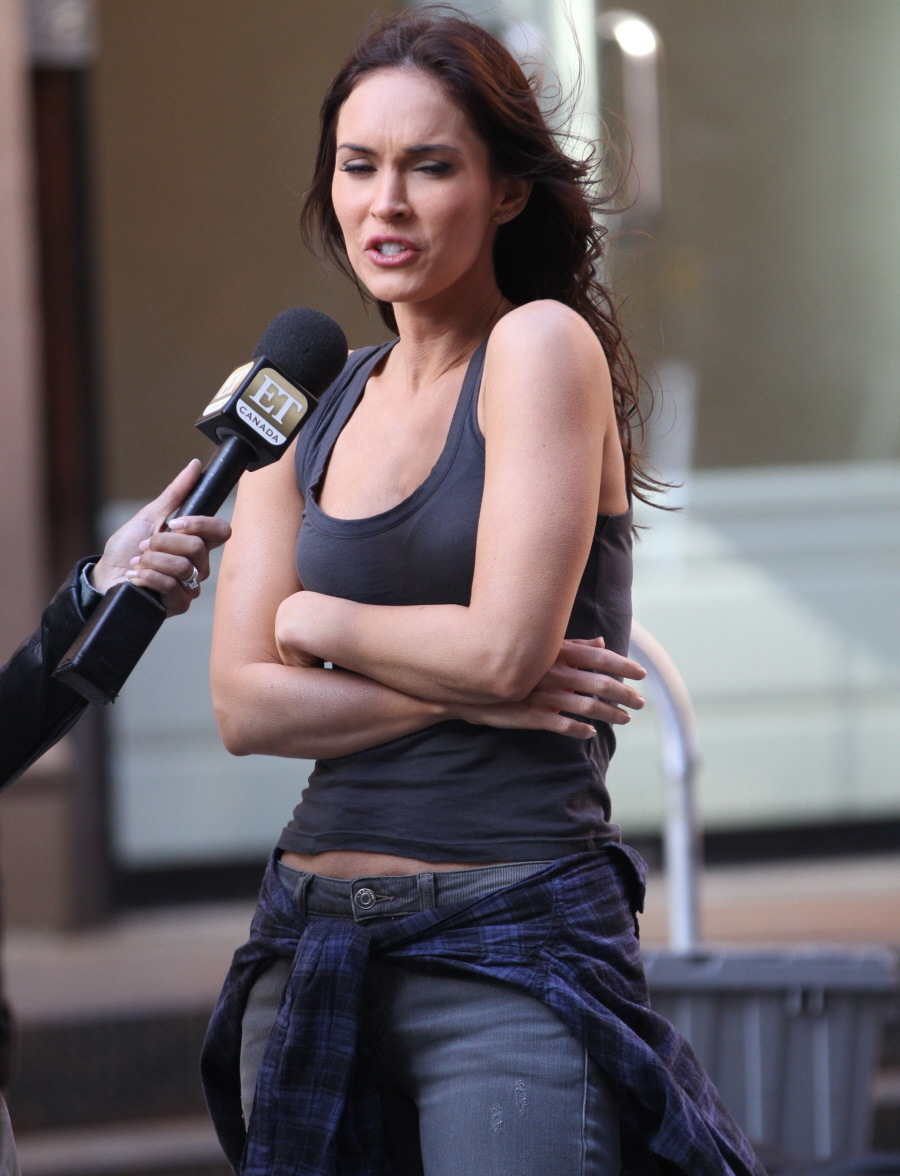 Photos courtesy of Fame/Flynet.