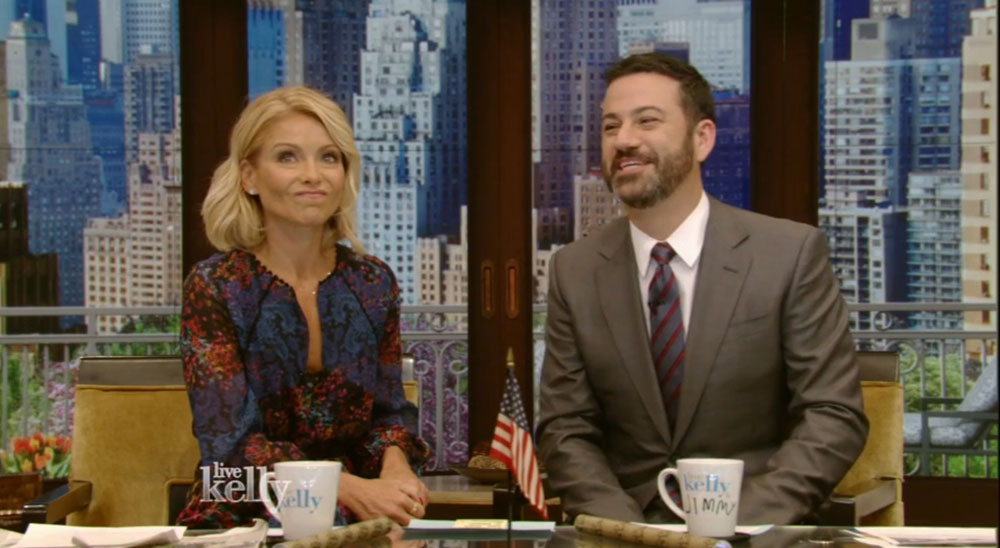 Kelly Ripa is currently testing out other co-hosts to take the place of Michael Strahan on Live with Kelly. As you've heard, Strahan left several months earlier than he originally planned after Kelly was blindsided by his departure. Producers colluded with Strahan to hide his exit from Kelly, whom he'd worked with for four years, until right before the announcement was made to the public. Kelly took her vacation a couple of days early and made it clear in interviews and in some barbed statements on the show that she was hurt. While I don't think Kelly was entirely mature in the way she handled the situation, I do think it was bad form that she was left out of the decision making process. So that's why I'm side-eyeing this report from Page Six that Kelly is ruling Live "with an iron fist" and wants to control everything that's going on with the show. Maybe she just doesn't want to get screwed over again:
"They are now calling her 'Queen Kelly' " backstage, said a source. "It's like her royal court," and everyone is being loyal and falling in line.

The insider added that the buzz at the show is that Ripa wants to be consulted on all moves at "Live" these days. "From the bookings to the comedy bits . . . It all has to be approved or suggested by Kelly," said a source.

Page Six previously reported that Ripa had a "total meltdown" after it was announced by ABC that Strahan would leave and the network had waited till the eleventh hour to inform Ripa and the show's staff.

Spies told us pictures and signage of Strahan were scrubbed from the "Live" lobby just hours after his departure. Another source further said that "there was a celebratory atmosphere" at the show. Rumors have run rampant over who will replace Strahan — with buzz surrounding Rob Lowe, Anderson Cooper and Sherri Shepherd (who has shot down the possibility).

But a spokesperson for "Live" said of Ripa's new demand to approve everything and anything after Strahan left: "The hosts of 'Live' always have had major input with regard to the production of the show. This report is completely false." Ripa's rep didn't get back to us.
Incidentally, this piece was co-written by the same author who pointed out that Emma Stone couldn't play tennis well enough to not require a body double on the set of Battle of The Sexes. This sounds completely normal to me. Kelly was left out of something that was in the months for works so she's making sure that doesn't happen again and that she has input at the place she's worked for over 15 years. If a man was insisting on having decision making power at his job would he be given nicknames and made fun of for it? Doubtful. I've never heard of that. "Oh that Kevin, always so bossy at work and trying to have a say in everything."
Kelly has a new home collection at Macy's and I'm going to post her Instagram for it even though it all looks rather fug to me. She has hustle, I'll give her that.