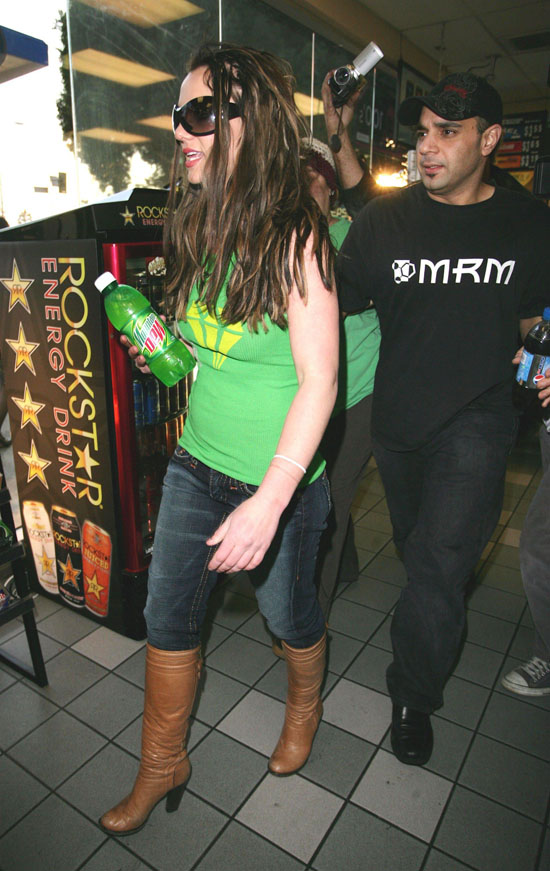 Sometimes we forget that Britney used to be involved with some pretty shady characters. Recently, she got a 3-year restraining order against Adnan Ghalib, her ex-boyfriend and all-round creep show.
Now her family has been successful in getting a three-year restraining order against Sam Lutfi as well, which means that he won't be able to come within 100 yards of her or her sons until 2012. Jon Eardley, a lawyer who questioned Britney's father's legal control, was also given a three-year restraining order.
Before Sam met Britney, he already had three restraining orders against him, and was generally known as a creepy guy. Britney's old assistant says that when she was working for Brit, Sam came up to her in a Starbucks requesting contact information for the pop star and asking personal questions. He stalked for a while before he was able to wheedle his way into her inner circle.
Among other things, Sam crushed up drugs and put them into Britney's food, took away her cell phone, and told her mother Lynne that he had control over every facet of Britney's life. Here is a full list of the accusations against him.
Los Angeles Superior Court Judge Aviva Bobb issued a three-year restraining order against the singer's former manager on Tuesday.Jon Eardley, a lawyer who has repeatedly challenged the validity of Jamie Spears's legal control over his daughter, was also slapped with a restraining order for three years.

Both men must stay at least 100 yards away from Britney, her two sons, and her family members' homes, and must not harass Britney and her children, or contact them through phone, mail and email. It also prohibits them from "acting on Ms. Spears's behalf or purporting to act on her behalf." The orders, however, do not specifically protect Jamie and Britney's mother Lynne Spears, which Jamie had sought.

The singer's father, who initially filed the request on Jan. 30, alleged that both men have harassed his daughter, adding Lutfi arranged the smuggling of a cell phone to the pop star at a hotel.

Bryan Freedman, Lutfi's attorney tells PEOPLE: "We absolutely will appeal this ruling. Never before in history has a restraining order been issued against someone who answered another person's cries for help."
[from People]
Answered a person's cry for help? Yeah, right. This man is terrifying. He did horrible things to Britney and deserves to be in jail. Hopefully he will get what he deserves and Britney will be able to stay out of harm's way. Recently, Britney was caught on her cell phone talking with Sam and Adnan Ghalib, so it's clear that she hasn't completely recovered from the time she spent with them. It sounds a little like Stockholm's Syndrome to me.
Britney and Sam are shown out at Petco on 1/21/08. Images thanks to WENN.com .