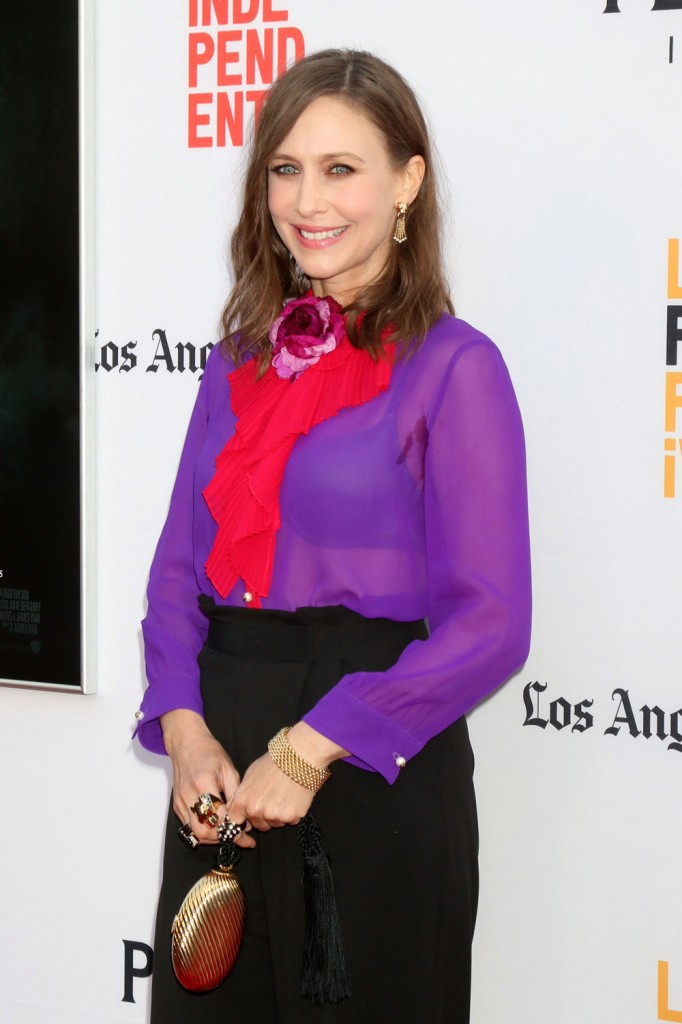 I didn't particularly want to talk about The Conjuring 2 (here's the trailer), although I'll probably go see it because my standards are low, I love scary movies and my summer is shaping up to be rather boring. I am here to talk about Bates Motel because holy sh*t that show is amazing. I watched this season's finale a few days after it aired or I would have run a recap. The ending was beyond shocking, which is a feat because we know how the story goes. I was yelling at my screen at several points. I'm not going to post spoilers because I know a lot of you haven't seen it and I want to encourage everyone to get into this show before the final season airs next year. You can watch the first three seasons on Netflix. I want Freddie Highmore, Vera Farmiga and Bates Motel to win all the TV awards this season.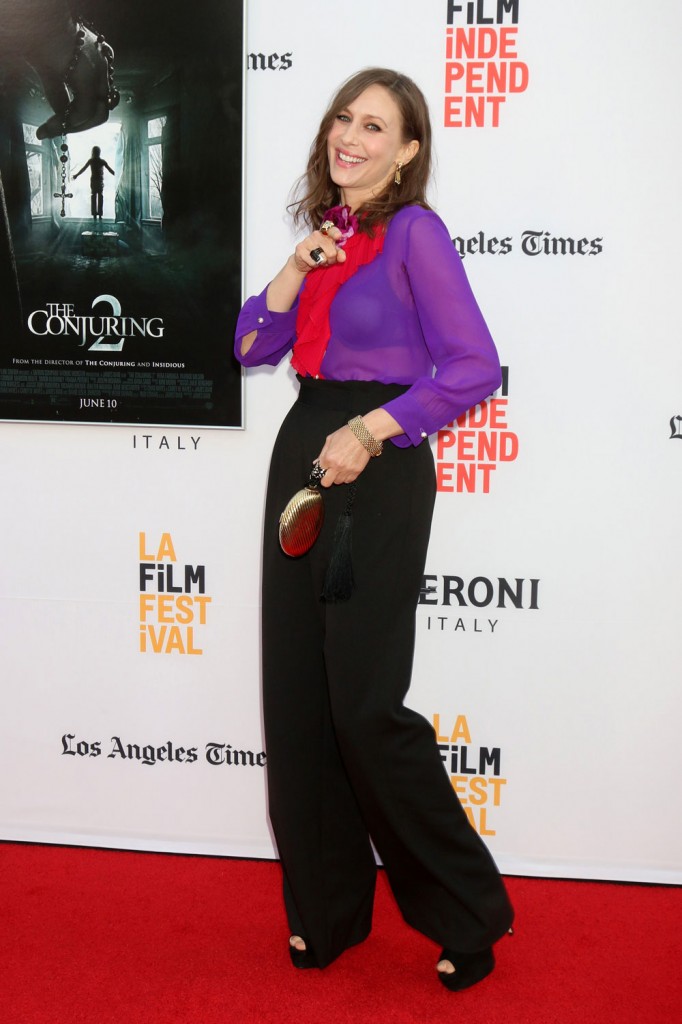 Vera, 42, wore this purple sheer blouse with a bright fuchsia pleated ruffle and a giant flower at the neck and I don't even hate it. Maybe it's the fact that she does not seem to care at all and even matched her bra to the shirt. She paired it with oversized wide leg pants and platform pumps. Plus this movie is set in the 70s so it may be a cheeky nod to her character. There's something scary about this blouse, like only someone crazed would wear it, but she's the straightwoman on Bates and judging from the trailer she plays a similar role in this movie. Those of you who watch Bates Motel, look at her eyes. You can't unsee it right?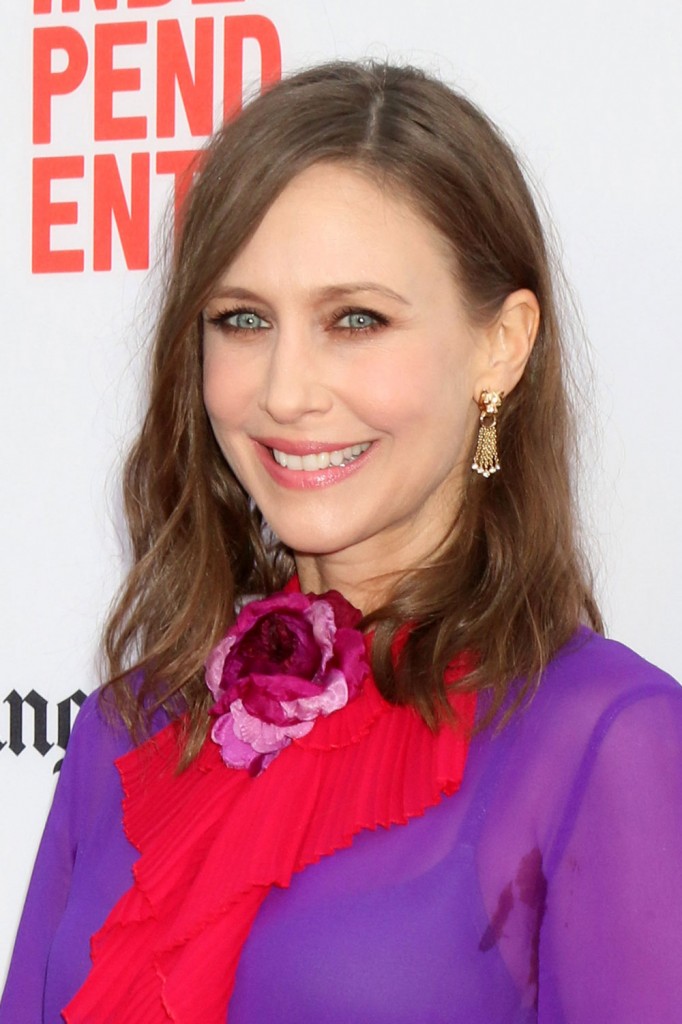 This is Vera with her husband, Renn Hawkey, they've been married since 2008 and have son Fynn, 7, and daughter Gytta, 5. Renn works as a carpenter and musician and was also on A&E's The Returned.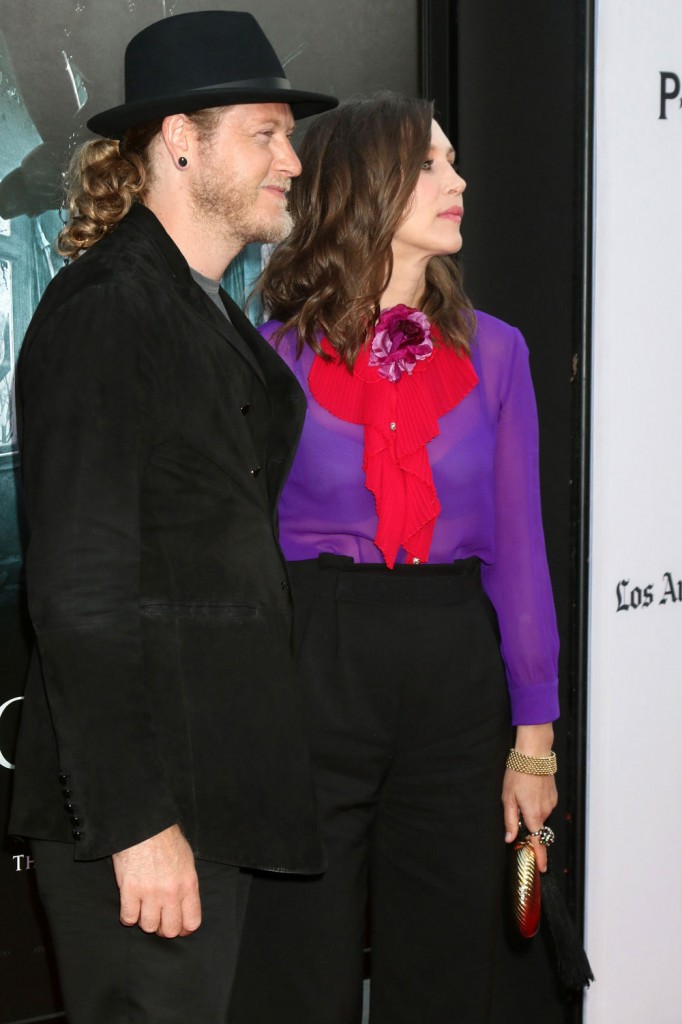 I mention Vera's husband because I saw that her onscreen Bates husband, Nestor Carbonell, came out to support her which is nice! Sidenote: Nestor always looks like he's wearing eyeliner and mascara to me, but I've heard him deny that he wears any eye makeup. He's just naturally purty.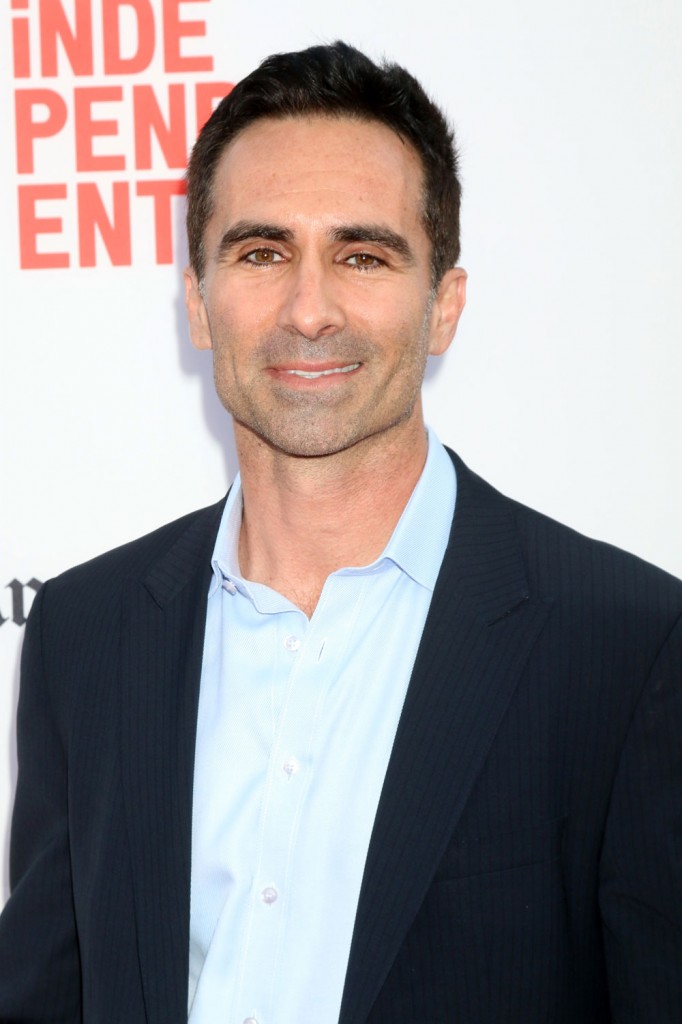 Vera returns to her role as part of the husband and wife paranormal investigative team Ed and Lorraine Warren. The original Conjuring and this sequel are supposedly based on real hauntings from the 70s which Ed and Lorraine investigated. Lorraine, 79, was a consultant on the film and she came out to the premiere, her photo is below. Here's Patrick Wilson, who plays Ed Lorraine.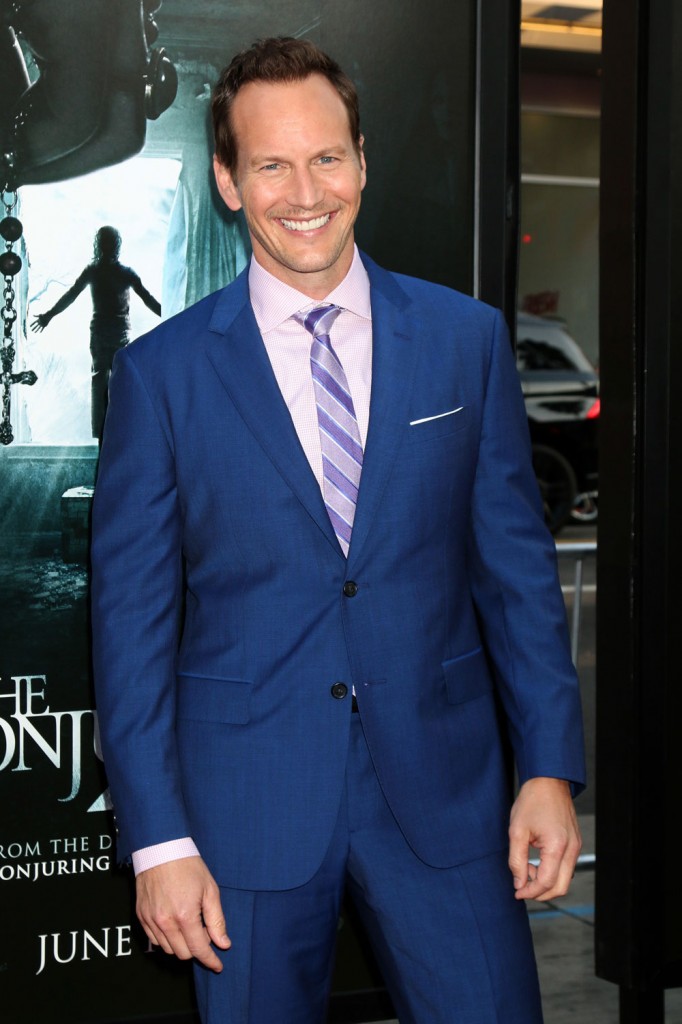 Conjuring 2 is getting ok reviews and is currently at 65% on Rotten Tomatoes. Critics say that it's not as good as the first but that it's still scary. Maybe I'll watch the first one on Vudu before deciding whether to go see this.
Oh and Vera and Patrick Wilson have a joint interview with The Knoxville News. They talk about weird occurrences on set and whether they believe in ghosts and the paranormal. They're both rather noncommittal but say they've had strange unexplained things happen. Patrick said that a child actor on the first movie had mysterious bruises and Vera explained that she was so scared working on Conjuring 1 that she couldn't sleep and would check in on her children frequently throughout the night.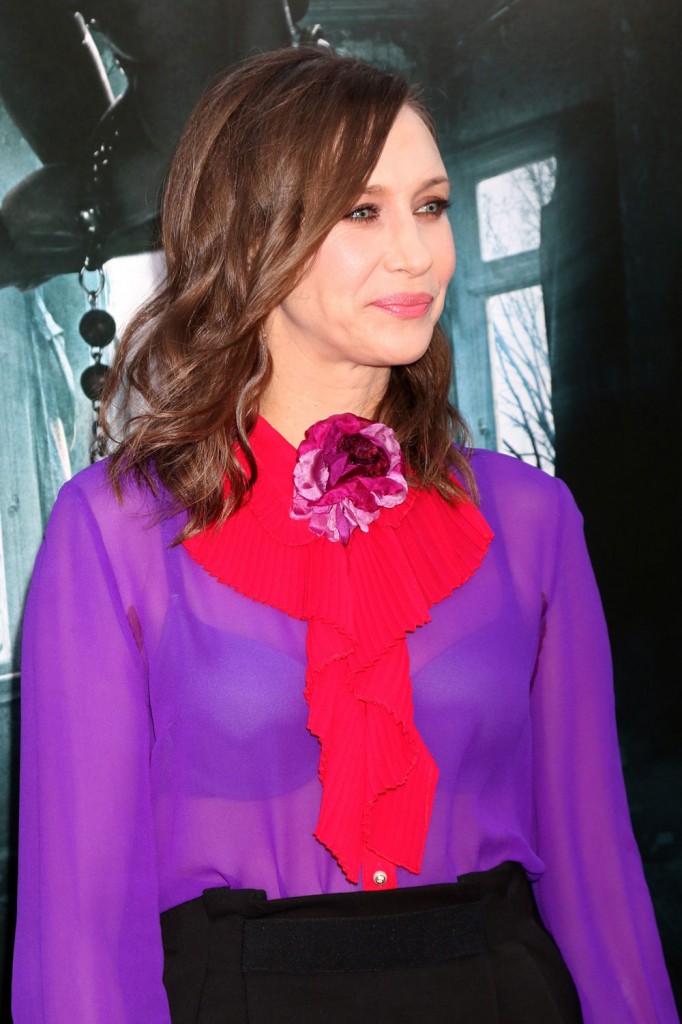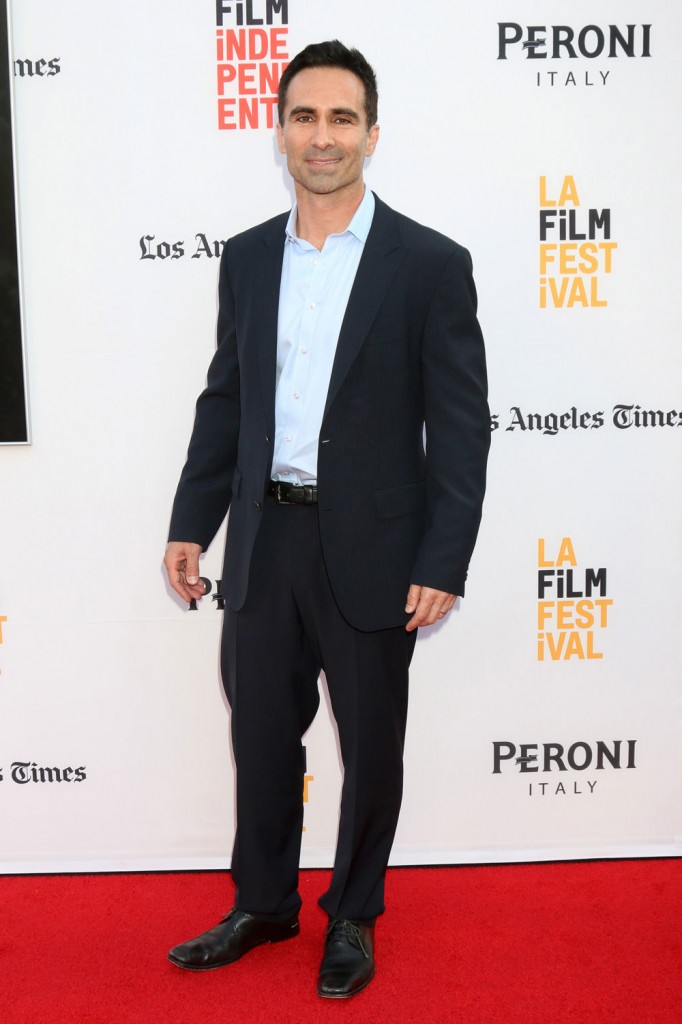 Photos credit: WENN.com