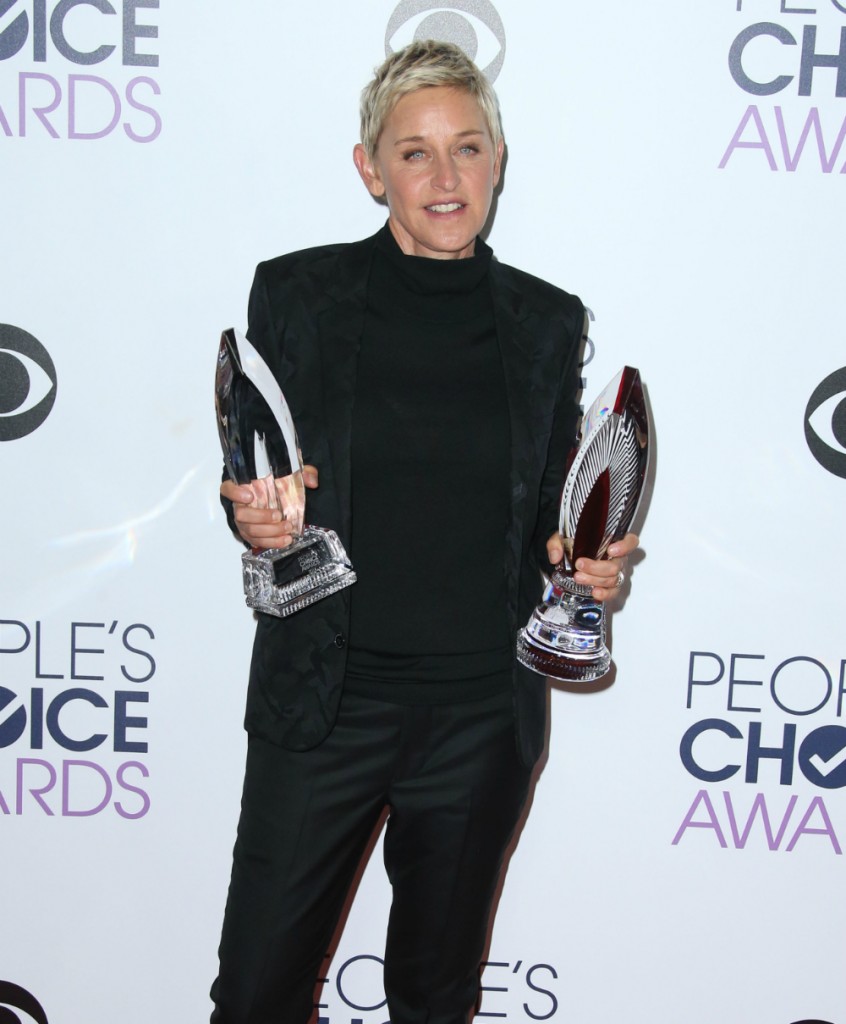 Talk show ace Ellen DeGeneres is being sent to the principal's office for teasing. Only, the principal is the U.S. District Court in Macon, GA and instead of slapping erasers, she will be paying up if found guilty. Last February on her What's Wrong with These Signs segment, Ellen featured sign for a retirement home called "Nipple Convalescent Home." Following that, she showed this sign: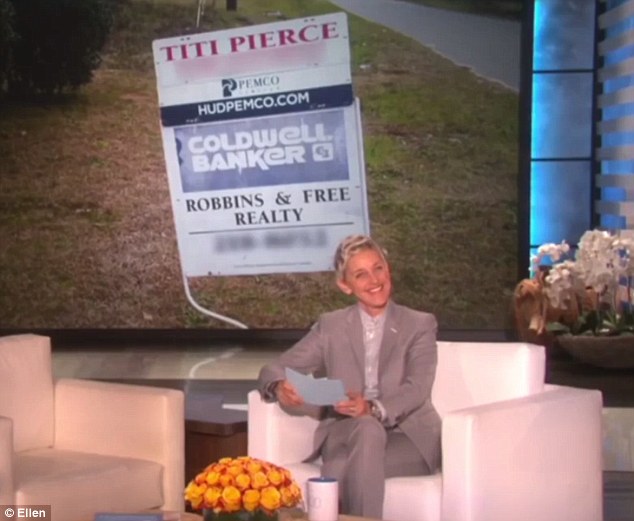 Ellen quipped that "Titty" Pierce,"sounds like she might have spent some time in that nipple home." The problem with this little piece of playground humor is that Ms. Pierce's name is pronounced "Tee-Tee" and that her personal cell phone displayed on the sign was not blurred out while it aired. As a result, Ms. Pierce has been forced to field a truckload of offensive phone calls and voicemails.
She is the daytime chat show doyen beloved for her inoffensive brand of comedy.

But that has not stopped a real estate agent called Titi Pierce from suing Ellen DeGeneres after she mocked her moniker on an episode of her show in February.

Her send up of the name during a segment called What's Wrong With These Signs garnered plenty of titters, not least from the host herself.

Unfortunately Ellen pronounced the name like the slang name for a woman's breast, rather than the supposedly grammatically correct, 'tee-tee,' which is said to have led to the woman being a source of mockery ever since. Titi claims it was the first time anyone had mispronounced her name.

In her suit the 35-year-old says when the segment aired her personal mobile phone number had not been blurred from the real estate sign featuring her name used on the show.

Realtor Titi, who also works as an Air Force base electronics engineer, claims she did not even see the segment when it initially aired, but soon afterwards received calls as she drove to a funeral, at the wake and during the service itself.

She claims she called the show in February and the following month to inform show staff the correct correct pronunciation of her name and that her number had not been blurred. She also begged that they do not reference her on the show or on social media.

While it was blurred on a video posted on social media, when the programme aired again April 15 her number could still be seen.

According to the Macon Telegraph, the Warner Robins, Georgia woman has been subjected to constant ridicule, with people ringing her mobile phone to leave cruel answerphone messages, including during a funeral.

Her name was apparently taken from the Nigerian word for flower, which her mother discovered in a book on Nigerian names.
I cannot believe no one blurred out the phone number; that's a rookie mistake. If Ellen got a giggle out of this, obviously hundreds of sophomoric viewers were going to act on it. A relator has to keep her phone on at all times when she has active listings; Ms. Pierce couldn't just shut it off or change her number. Although I am shocked this is the first time anyone has mispronounced her name, it sounds like a nightmare. Executive producers at the Ellen DeGeneres Show told The Wrap, "We try to have fun every day and make people laugh and never intend to hurt anyone's feelings," which, okay – but if that was the case, why did they rerun the segment with the number again on April 15th? Especially since they had already been contacted.
I used to watch Ellen when I was pregnant with number 2. At that time she was still the "nice" talk show host. Then the whole fiasco over the adopted dog Iggy happened. I felt she bullied the agency on national television while crying crocodile tears. Since then, I have seen cracks in her affable veneer. I'm sure I would have snickered had I seen this sign segment but I also would have assumed some form of permission had been granted prior to use. I think I'm #TeamTiti on this one.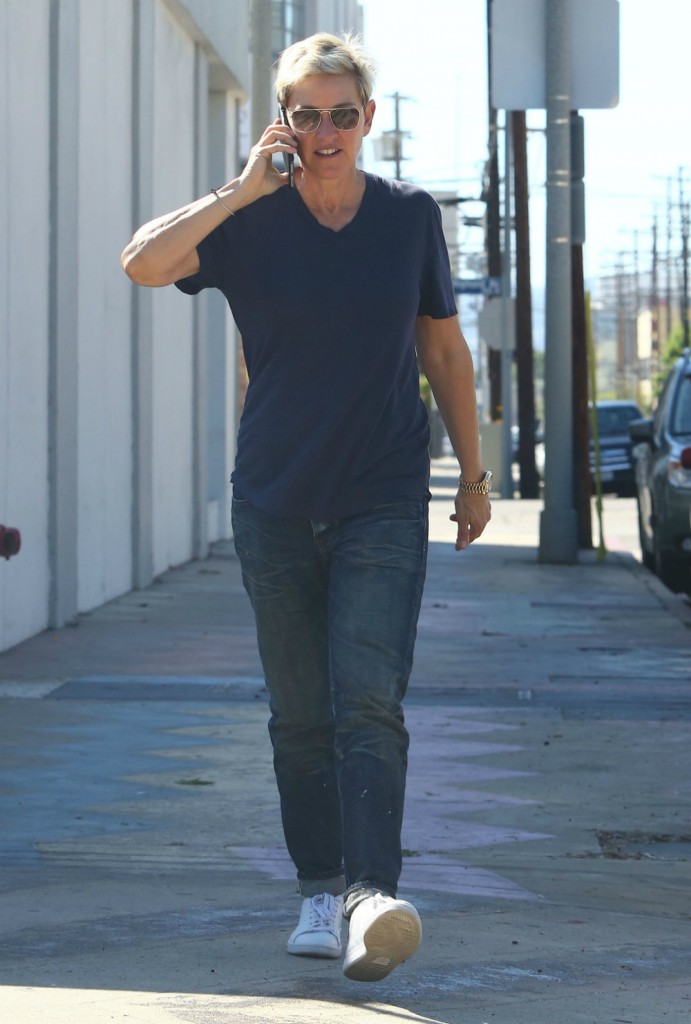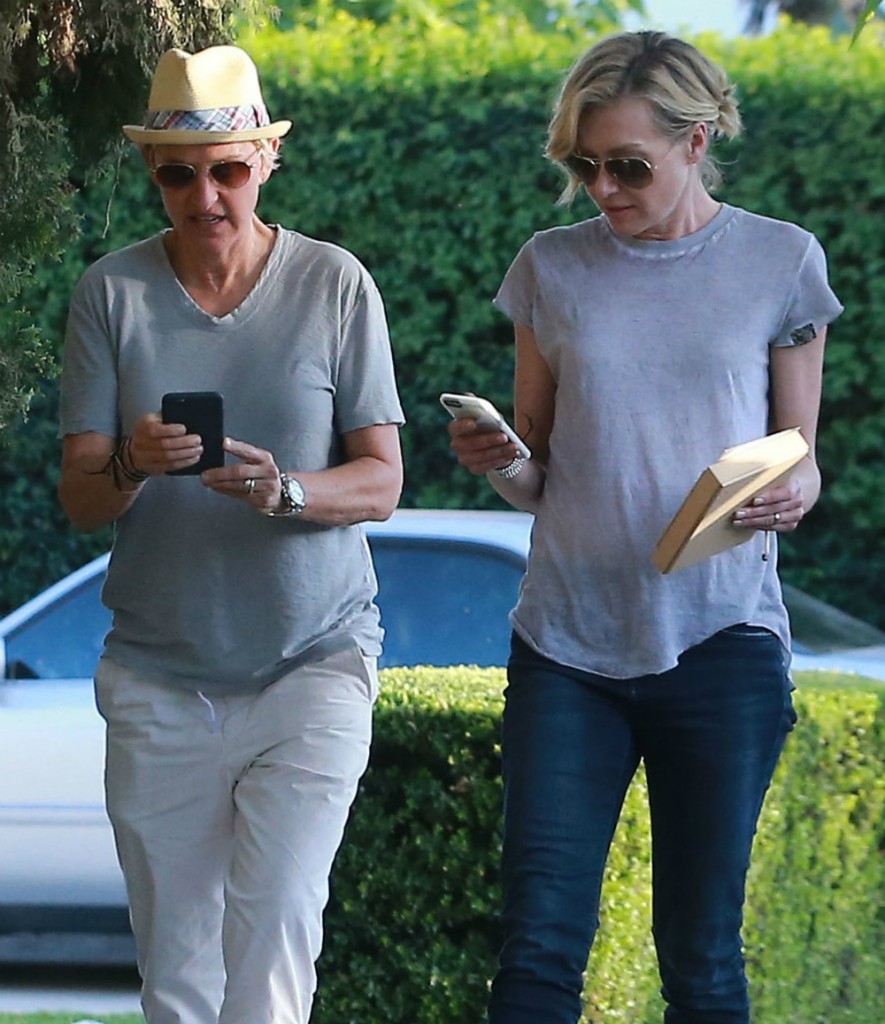 Photo credit: Ellen Show, Fame/Flynet and Getty Images