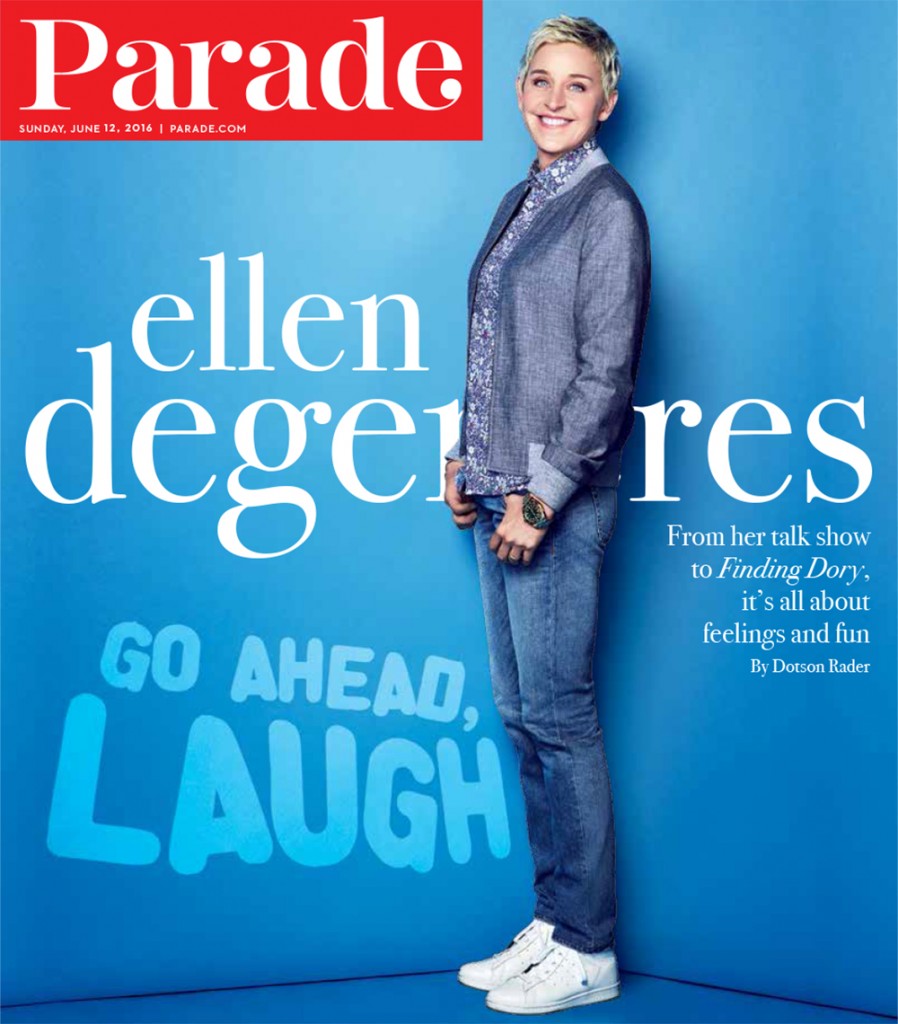 Ellen DeGeneres is promoting Finding Dory, in which she reprises one of her most well-known roles as the fish with short term memory loss. When the original film, Finding Nemo, was released, it was during the resurgence of Ellen's career. After having made the very bold decision to come out on her successful sitcom, Ellen, in 1997, her show was abruptly cancelled and it looked like her star had flamed out. Instead of crawling under a rock, she went back to stand-up, auspiciously hosted the Emmy's and created her own daytime talk show in which she took up Rosie O'Donnell's mantle of the Queen of Nice. Ellen's interview in Parade Magazine this week reaches back into her childhood and how it molded not only her but her style of comedy.
On growing up in Metairie, La., and her parents' divorce: "I grew up in a very conservative home. There was no drinking, smoking or cursing. I didn't see deep emotion from my parents. It was all very polite and very surface. I never knew how anybody was feeling. I never saw anyone angry. So when I was 13 and my parents divorced, it was a huge surprise to me, because I was told everything was fine. It was very confusing. That's not a healthy way to grow up."

On her sense of humor: "My comedy came from observing little details of life. One of my first jokes was the fact that when somebody tastes something disgusting, they always want you to taste it too, like 'This is disgusting—taste it!' I was very tender, very sensitive, and I still am. I never want to hurt anybody. I want to make people laugh. I didn't think it was ever funny to make fun of people. There's so much to laugh at without it being at someone else's expense."

On the "happy" vibe of her TV show: "It is a happy show, on purpose. I represent happiness to a lot people. I think a lot of station managers thought I would have an agenda to try to somehow turn the world gay. People did worry. Our only agenda is to make people feel good. It's an hour of joy."

On the rumors of marital discord that recently surfaced about her and her wife, Portia: "I don't pay attention [to rumors]. There's a story out there that we're getting divorced. We don't know why. We genuinely love each other. Her happiness is my happiness, and vice versa. True love is caring more about the other person's happiness than your own."
Later in the interview, when asked about why she doesn't talk about the election, Ellen says she doesn't do political humor and never has. She cites other talk show hosts going after Trump every night but explains, "I don't want to make fun of anybody. It's not who I am." I'm sorry, but isn't she being sued because that's exactly what she did to a poor realtor in Georgia? I'm sure the interview was conducted before the lawsuit so it's bizarre that the slant of the article is about how sensitive she is and how she doesn't fun of people.
Ellen also talked about assuming more a parental role to her mother after the divorce and her mother's breast cancer. If you have ever seen Ellen's mother on her show, you can see this dynamic. I feel like this comes into play with her relationship with Portia too, like Ellen is very protective of her. I know their marriage was plagued with rumors of strife a few years back. Whatever happened, I think that have worked through those issues and are solid now. As for this Parade interview, I think maybe it's time for Ellen to put her money where her mouth is on the realtor's lawsuit.
Ellen and Portia at the Finding Dory premiere – Portia looks amazing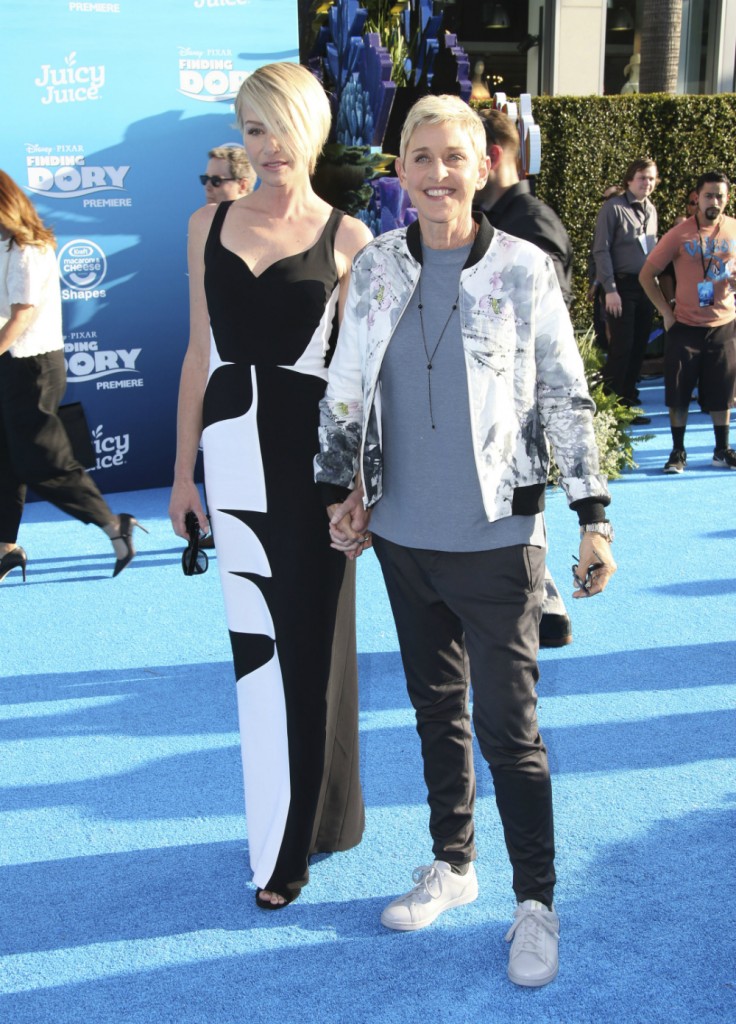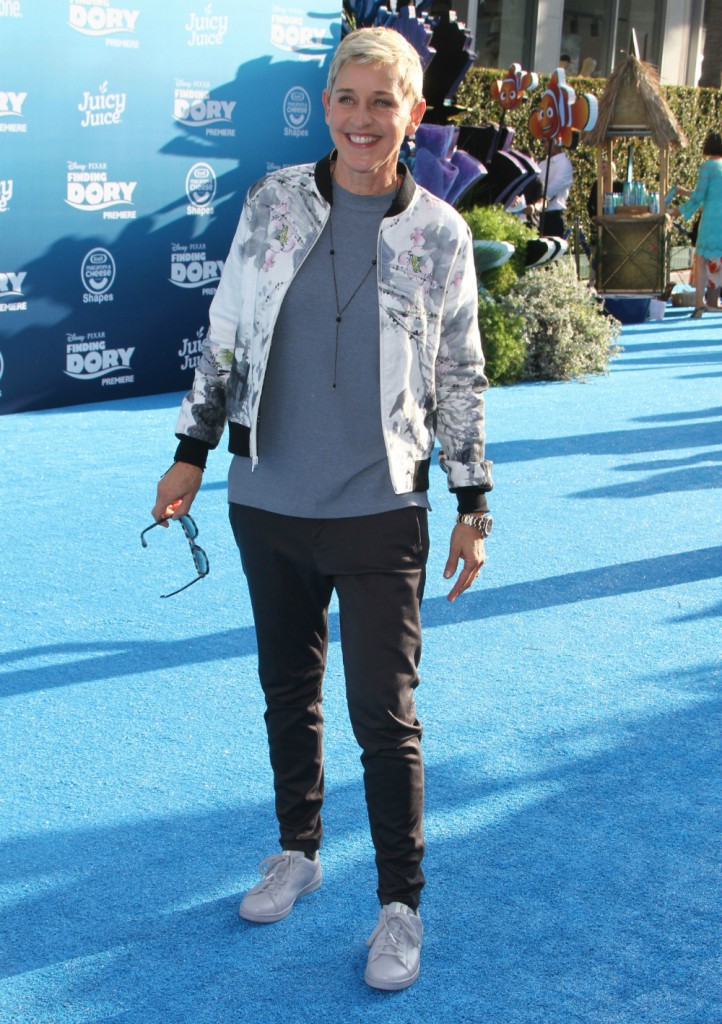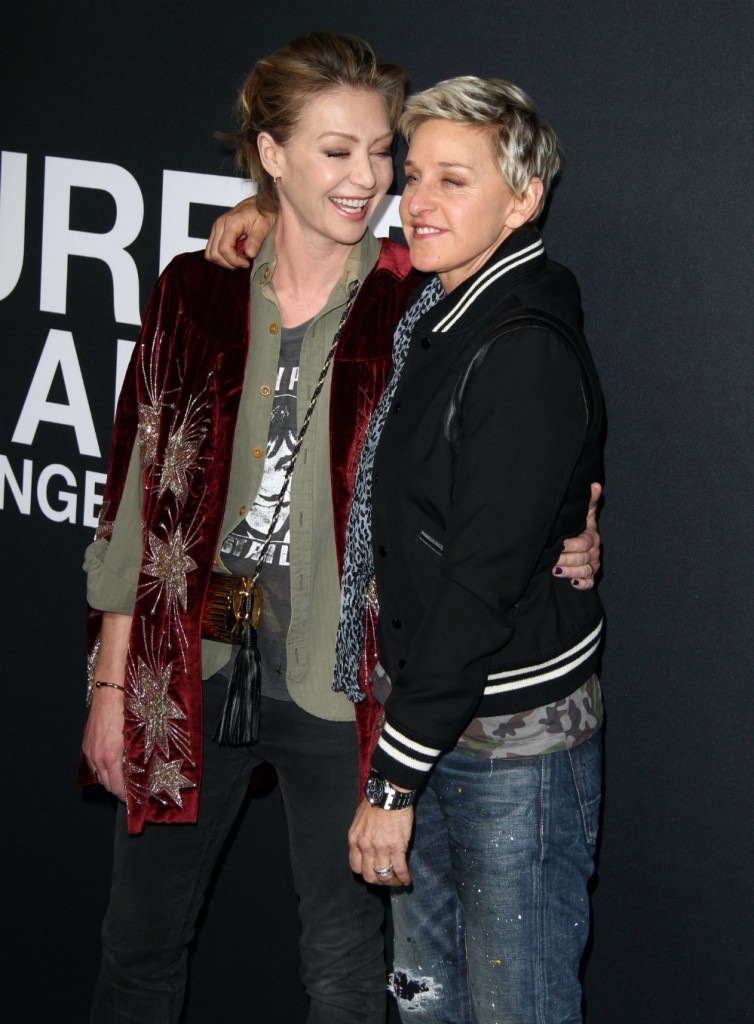 Photo credit: Parade Magazine and Fame/Flynet Photos