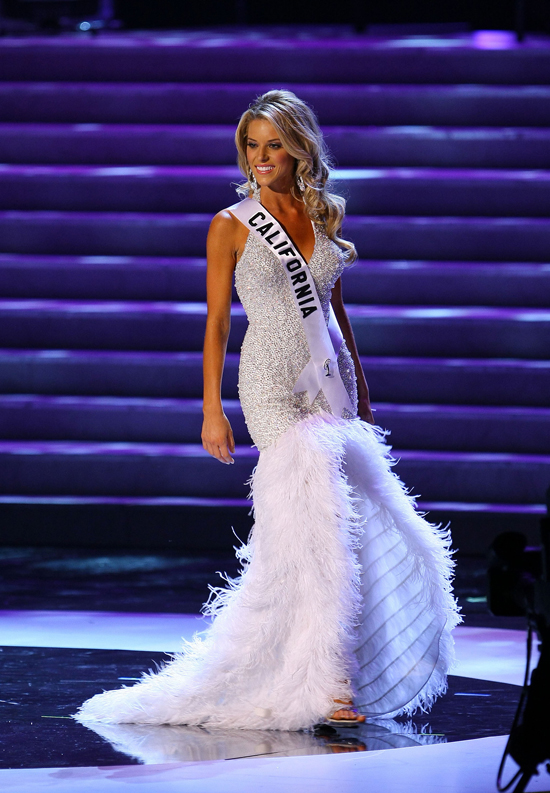 Move over Sarah Palin, the right wing has a new poster girl, and her name is Carrie "Miss California" Prejean. Carrie announced on the Today show (story via US Weekly) that she'll be working with the National Organization for Marriage to formally oppose gay marriage. It seems Prejean no longer thinks it's a "choice" (or, in her words, "opposite marriage") because NOM is one of the most prominent political organizations opposed to gay marriage and gay rights in the country.
There are two wings of NOM: the non-profit wing that "works to develop political messaging, build its national grassroots email database of voters, and provide political intelligence and donor infrastructure on the state level, with a focus on developing new strategies for increasing influence in the Northeast and West Coast, where marriage is most under threat" and the NOM-PAC (political action committee) that "[raises] funds for direct involvement in targeted races of strategic importance across the country." Many cable news watchers will recognize NOM from their recent "gay thunderstorm is a' comin'" commercial.
Get ready for Miss California's battle with the gay community to heat up.

On NBC's Today show Thursday, Miss California Carrie Prejean announced that she'll be working with the National Organization for Marriage on a campaign opposing gay marriage.

"I am just here to protect marriage," said Prejean, 21. "The National Organization for Marriage basically just respects marriages and people who support it. I am here to protect traditional marriage."

Of the outrage following her conservative stance, she said, "I never thought in a million years that this would be happening right now. I was attacked for giving my own opinion on stage. I am going to do whatever it takes to protect marriage."

Marriage, she added, "is something that is very dear to my heart, and I am just here to protect it. That's all I am here to do."

Although it is an issue "people are passionate about," Prejean said: "Regardless of our opinions, we need to respect each other, even when we disagree. It's all about respect."

She said she has gotten no physical threats because of her views. Instead, "I've actually had so may supporters and so many people say, 'Thank you so much. It had to take a beauty pageant contestant to actually stand up for what she believes in.'"

Asked about some claims that she resembles Alaksa Gov. Sarah Palin, Prejean laughed. "I think that's funny," she said. "The only comparison is that we have both been in a beauty pageant."

So no plan to run for political office?

"Definitely not anytime soon," Prejean said. "That's for sure."
From US Weekly
Which is her right… as a citizen. But as a beauty queen, she's basically telling gay Californians "I don't give a crap about representing you, opposite-marriage losers." There's no doubt in my mind that Carrie is going to ride this controversy into some kind of political or politics-ish career. My first thought was "Fox News co-anchor" but Carrie may be aiming higher. Perhaps a highly paid spokesperson/lobbyist/poster girl for several right-wing organizations? All of this because Perez Hilton couldn't keep his damn mouth shut. This is what Perez hath wrought.
Here's a really funny parody of the "Gay Thunderstorm" ad that The Colbert Report did.