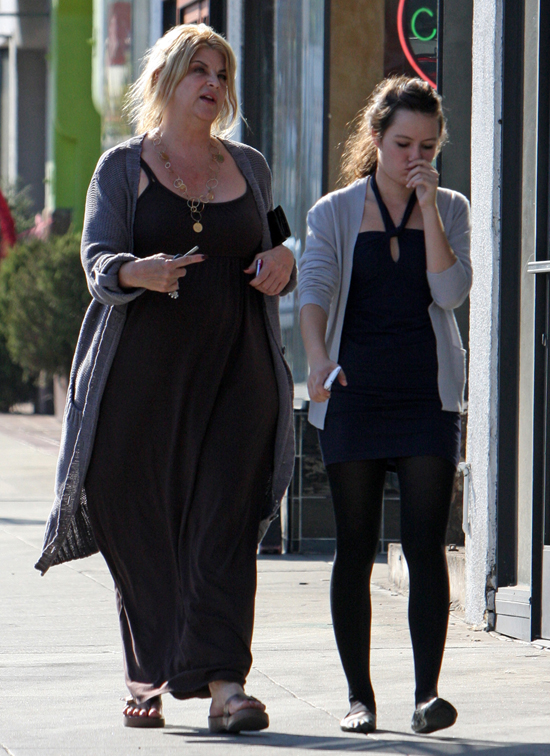 Between 2005 and 2007 Kirstie Alley lost 75 pounds as a Jenny Craig spokeswoman. She then went on Oprah in a bathing suit – a super gutsy move. Very shortly thereafter Kirstie seemed to lose her motivation and began regaining weight. Now she says she's committed to losing it all over again, and admits some of the mistakes she made that caused her to have to start from scratch.
Kirstie Alley has a sympathetic ear in Oprah Winfrey when it comes to weight loss – and gain. In an interview scheduled to air on Thursday's The Oprah Winfrey Show, the former Jenny Craig spokeswoman discusses her recent weight fluctuations – and reveals an unlikely inspiration in her renewal to get fit.

"We look around. We see what we want," says Alley, 58. "Don't you look around and see what you want to look like? I'm, like, 'Look, Michelle Obama's guns. I could have those arms,' " she says. "I don't know about the legs."

Responds Winfrey: "You've got to work for that." … "I know," Alley says. "I'm saying, I think I'm ready to work." After reducing on the Jenny Craig program, Alley tells Winfrey she gained back all the weight because of a lack of urgency. "I just said, 'I'm going to cut myself some slack.' Big mistake." Having turned her home gym into a dining room, "I thought, 'You know what I need? You know what I haven't had a lot of? I haven't had a lot of dinner parties and company,' " says Alley.

The actress, who last February announced she would be developing her own weight-loss brand, admits, "In a way it's sort of … crazy. We're in the middle of a recession, and I decide, yes, I'm going to create my own business … I'm going to lose 80 pounds … I'm going to be in a bikini again.
[From People]
People has a short clip from the show on their site and it looks like Kirstie's already lost some weight. I've always found her to be really likeable, and I appreciate the realistic way she talks about weight issues. She doesn't throw a bunch of trite garbage at you and is honest about her mistakes. I don't find that pre-packaged diets like Jenny Craig work very well for me. I like to cook and bake so I prefer to make my own food. But Jenny Craig clearly worked for Kirstie and a lot of other people, and you've got to figure out what best fits your lifestyle.
Speaking of which, Jenny Craig said they'd be happy to have Kirstie come back – as a client.
One option that could be open to her? Returning to her former employers, who say they've still got friendly feelings for Kristie.

"Jenny Craig maintains a friendly relationship with Kirstie and we are proud of her accomplishments while she was on our program. Kirstie successfully lost 75 lbs and maintained that weight loss throughout our three year relationship, which came to an end in December 2007. We remain supportive of Kirstie, wish her nothing but the best and we would welcome her back at any time as a returning client," said a Jenny Craig spokesperson.
[From OK! Magazine]
It seems like there might have been a dig or two in there. That part about being proud of her accomplishments "while she was on our program." Not just proud of her accomplishments. But maybe they were just trying to get in another plug for Jenny Craig. They were definitely clear that they didn't want her back for an endorsement deal with that whole "we would welcome her back at any time as a returning client" thing. Of course you would. Hey maybe they'd even waive that $20 fee?
Here's Kirstie in September. Images thanks to Fame Pictures .