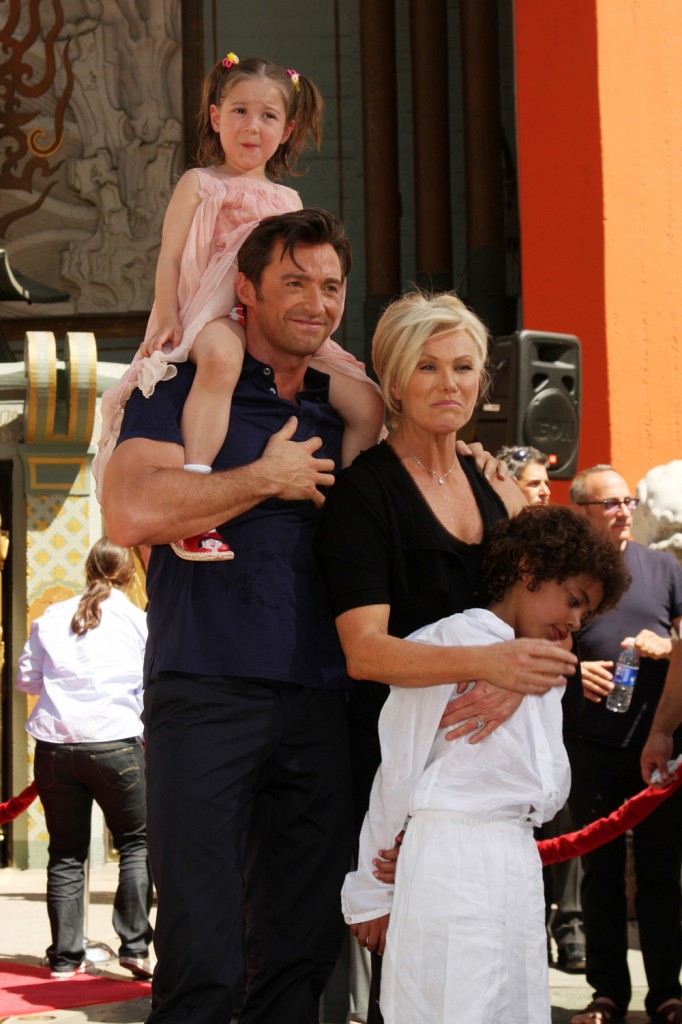 Hugh Jackman is speaking publicly about his family – specifically, the adoption of daughter Ava and son Oscar, through American adoption agencies. Hugh claims that in his native Australia, adoption laws and regulations are "too restrictive", almost as if Australian agencies are trying to discourage adoption from Asia or Africa. Perhaps Hugh and wife Deborra-Lee should become American citizens, then try adopting from Asia or Africa – America seems to have a system that works pretty well. Or at least better than Australia's system.
Hugh also defends Madonna's attempted adoption of Mercy James, saying that he's sure Madonna was coming from "a good place". I'm not so sure, but I love that Hugh tries to defend Madonna – such a gentleman. Hugh also basically says that people who claim any celebrity is adopting for publicity is crazy.
HUGH Jackman has sent a message of support to Madonna after her failed bid to adopt a Malawian orphan while bitterly attacking Australia's adoption laws.

The Aussie movie star and his wife, Deborra-Lee, have two kids who they adopted as babies from America – Oscar, eight, and three-year-old Ava.

But, like Madonna, their hopes of giving a home to a Third World child were crushed by rules that made it virtually impossible to adopt from Africa or Asia.

Speaking exclusively Britain's The Sun, Hugh – who hit cinema screens this week as razor-clawed X-Men character Wolverine – said: "The adoption laws in Australia are too restrictive. Of course, checks need to be made. But they had a very negative approach."

"It was like they were trying to discourage you. There are 130 million orphans in the world – who is looking after them? If you are a citizen of the world, on some level they are all our responsibility."

"And if you have got parents who want to adopt and there are children who need a home, it seems like a no-brainer."

"There are not that many children in Australia who need adopting, so we looked internationally and that is what is difficult."

The couple turned to adoption after actress Deborra-Lee, 53, suffered repeat miscarriages.

But they insist they would have done it regardless.

Hugh, 40, said: "We tried and it just didn't happen for us. There was no particular medical reason."

"We had a few miscarriages, which was very upsetting. But we always planned on adopting anyway, even if we had our own biological children."

He said he could understand Madonna's desire to add to her brood – Lourdes, 12, Rocco, eight, and three-year-old David Banda, who she adopted from Malawi in 2006.

And he is sickened by cynics who applauded an African judge's decision to reject her bid to become mum to baby girl Mercy James earlier this month.

Hugh said: "I challenge anyone who thinks you adopt a kid for a publicity stunt. Anyone parent knows that would have to be the most intensive publicity stunt in the world. I am sure she is coming from a good place."
[From Australia's Daily Telegraph]
That's sad that Deborra-Lee had miscarriages – I had never heard that. Poor Deborra-Lee. I've also never heard that Australia has such a difficult adoption system. If Hugh Jackman, one of Australia's best exports, can't get the system to work for him, there's something wrong. It sucks – I'm sure there are so many Australian families who would like to adopt abroad, but can't because of the restrictions.
Here's are Hugh and Deborah-Lee with Ava and Oscar at his handprint ceremony at Grauman's Chinese Theatre in Los Angeles on April 21st. Images thanks to WENN.com .