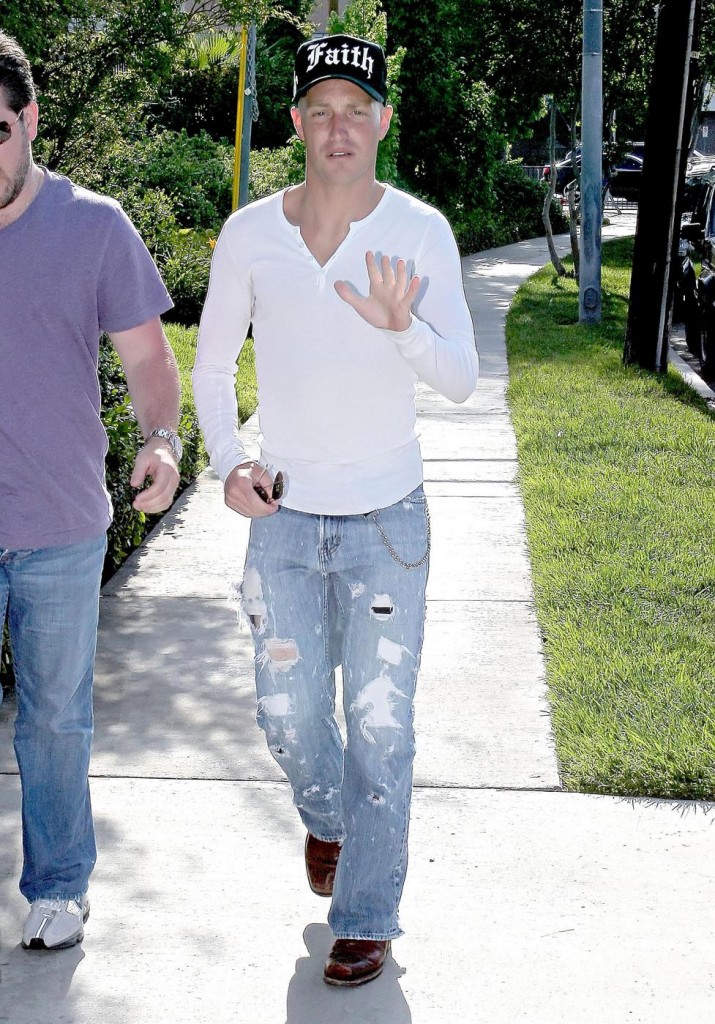 Now that Lane Garrison is out of prison, what's the first, most logical thing to do? Go to Jessica Simpson's parents house for a party, naturally. That's where most ex-cons go. Actually, it turns out that Jessica Simpson's dad and Garrison go way back: Joe was Lane's youth pastor when he was growing up in Texas.
Garrison served just half his 40 months sentence for felony vehicular manslaughter and driving under the influence. His car crash killed a 17-year-old boy and left two teenage girls injured. As a condition of his release, Garrison is spending the next five months in a rehab facility.
Hours after his release from prison and a gathering at Jessica Simpson's parents' house, a noticeably thinner Lane Garrison spoke exclusively to E! News as he arrived at the Los Angeles-area Tarzana Treatment Center to begin a five-month stint at the residential inpatient facility.

Wearing a baseball cap with the word "faith" printed on it, the former Prison Break star discussed his plans for the future. "I'm blessed to be alive," said Garrison, who spent more than 19 months in prison altogether for a 2006 DUI crash that left one passenger dead. "I'm just worried about getting through treatment right now," he said. Also, "I'm looking forward to getting on with my life and doing the right thing and helping people."

During his incarceration, Garrison was a peer mentor for fellow inmates, a responsibility that requires a spotless behavior record while behind bars. And he had some famous friends waiting for him on the outside upon his release.

Sources tell E! News that, after being picked up from the California Correctional Institute, he was the guest of honor at a welcome-home reception at Simpson's parents' Encino home. Papa Joe Simpson was Garrison's youth minister in their native Texas and Lane lived with the family for a time. Jessica was at the gathering today, but there was no sign of sister Ashlee. Garrison was at the Simpsons' place from 1 p.m. to 4:30 p.m., after which he went directly to the nearby Tarzana rehab center.
[From E! News]
I hope this guy works his butt off in rehab. He's obviously got some serious demons. It seems like he handled this as well as he could. He gave an apology in court in which he seemed to be genuinely emotionally distraught, though obviously he's an actor. But he took responsibility (at least publicly) for his behavior and has never tried to blame anyone else. He also reached settlements with the victims' families. I'm by no means on the guy's side nor do I have empathy for him – that's for his victims. But I think so far he's done as much as can be done in a situation like this. Now if Garrison is willing to work hard and really clean up in rehab – and stay that way – that will best demonstrate his remorse.
Here's Lane checking into rehab yesterday. Images thanks to Pacific Coast News.