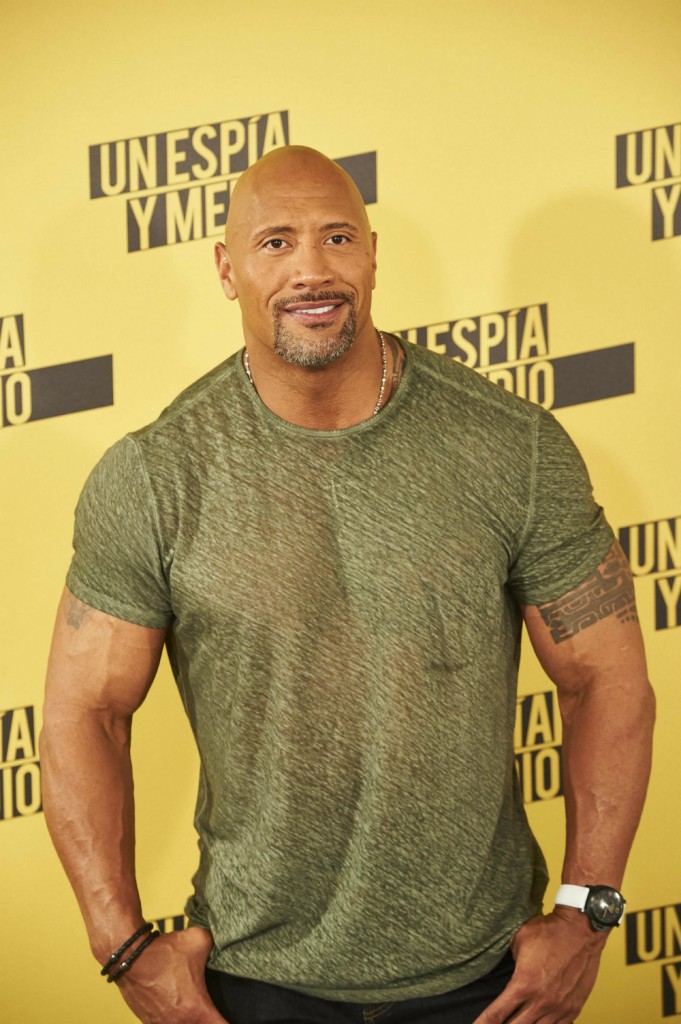 As a person who thinks candy is a food group, this story is inconceivable to me. While promoting Central Intelligence on The Tonight show with Jimmy Fallon, Dwayne Johnson confirmed that he has not eaten candy in 27 years. After admitting he still loves his cheat days, DJ explained that candy just isn't his thing and the last piece he had was a Twizzler while watching a movie in 1989. So Jimmy produced an assortment of treats to coax DJ to indulge after two + decades on national television. As always, DJ was happy to oblige.
Dwayne Johnson shared a very interesting fact about himself with Jimmy Fallon during a recent appearance on the Tonight Show.

The Central Intelligence star, who is known for sticking to a strict diet and workout regimen in order to maintain his impressive physique, admitted that he had not eaten candy since 1989.

That's right! Apparently, the professional wrestler-turned-actor managed to stay away from eating candy for nearly 27 years. When he opened up about the candy-eating hiatus to Jimmy Fallon on The Tonight Show, Dwayne made it very clear that his decision did not necessarily deal with the boundaries of his strict diet. As many of The Rock's fans and followers already know, Dwayne is a huge fan of embracing the infamous "Cheat Day" whenever the seemingly rare opportunity to do so presents itself.

"I'm just not a big 'candy guy.' You know, I love cheat meals. Right? I love that, but I'm just not like… a candy thing."

"It's crazy how I remember this kind of stuff, right? It's like 'Rain Main.' Twizzlers is the last [candy] I had and we were at a movie theater watching a movie."

Even though Dwayne did not remember the movie that he was watching while eating the Twizzler, it's still somewhat impressive that he was able to identify the specific type of candy that was consumed. Jimmy Fallon was eager to try and "make a little history" by tempting Dwayne Johnson to eat candy during his Tonight Show appearance – bringing his 27-year hiatus to an end.

Instead of eating the entire pack of Twizzlers – or even attempting to take a bite out of the giant gummy worm – Jimmy Fallon decided to feed Dwayne the pop rocks instead.
There are a dozen other candies I would have gone with before Pop Rocks but I guess there is some poetry to The Rock ending his candy-fast with Pop Rocks. BTW – Hecate ParenTip: Pop Rocks will entertain your children for hours on a long car ride. They will bounce of the walls when you arrive at your destination but at least your drive will be smooth.
The whole segment is worth it just to see DJ seductively swing the giant gummy worm Jimmy had on hand to tempt him. The Rock and Giant Gummy Worm should become a meme. Speaking of memes, Jimmy and DJ did a high school prom skit, in which they morphed into the Ermahgerd character. The skit's okay but they look fantastic.
In case you haven't seen it already, the Moana teaser trailer, in which Dj voices Maui, dropped last week. Below is the clip of DJ and the Pop Rocks.

Like DJ said, he still loves his cheat days. His cheat day meals and puppy pics are just two more great reasons to follow him on Instagram.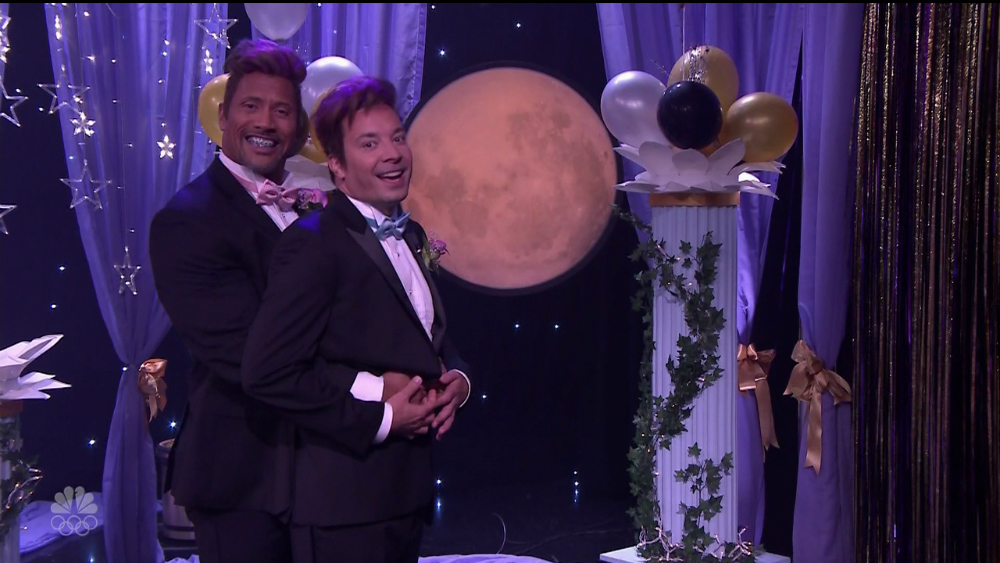 Photo credit: WENN Photos and Instagram