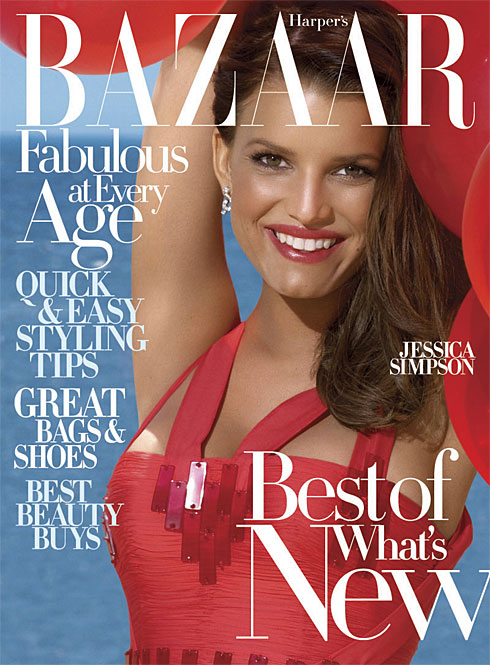 Jessica Simpson's last couple of musical efforts have been met with lukewarm receptions, so she's heading straight for the country and western market, saying she aspires to be like Patsy Cline. She also admits, in the same interview, that she spends a lot of money on clothes.
Jessica Simpson is a big spender, she recently admitted to Harper's Bazaar — big surprise there. But the singer/actress also revealed that while sister Ashlee "goes to a thrift store and can buy something for 20 bucks … I have to go buy a black button-down at Barneys. For $900. Because it's a collector's item," she said in the magazine's August issue, which features Jessica on the cover.
Father/manager Joe Simpson also had this to say about her recently offered role as a porn star.
"The last script that came to us was for Jessica to be a porn star," Jessica's father and manager, Joe Simpson, told People at Thursday's ABC Television Critics Association party in Beverly Hills.

"We were promised we would win an Oscar with that," says Simpson, 49. "I was like, 'Eh, we'll just buy a [statue of a] little man and keep our clothes on.' "
I guess he means buying an Oscar, because another statue wouldn't be the same. Maybe a spare one off Meryl Streep? Besides, I think we all know it's the spin you get in Hollywood. Some movie guy rolls up to you, chomping on a big cigar and says" Hey, I'm tellin' ya, it's got Oscar written all over it. It's about a guy who is a Siamese twin, who falls in love with a hooker, but it's only in his head. She's not like a real hooker, okay? She's good lookin', classy. In the end she turns out to be real, and they get married, except you have to have a bit of dramatic tension, so I'm thinking one of the twins will die a virgin. Then there will be a touching moment where their shared penis gets in on the wedding night. The Academy, it loves this stuff…."