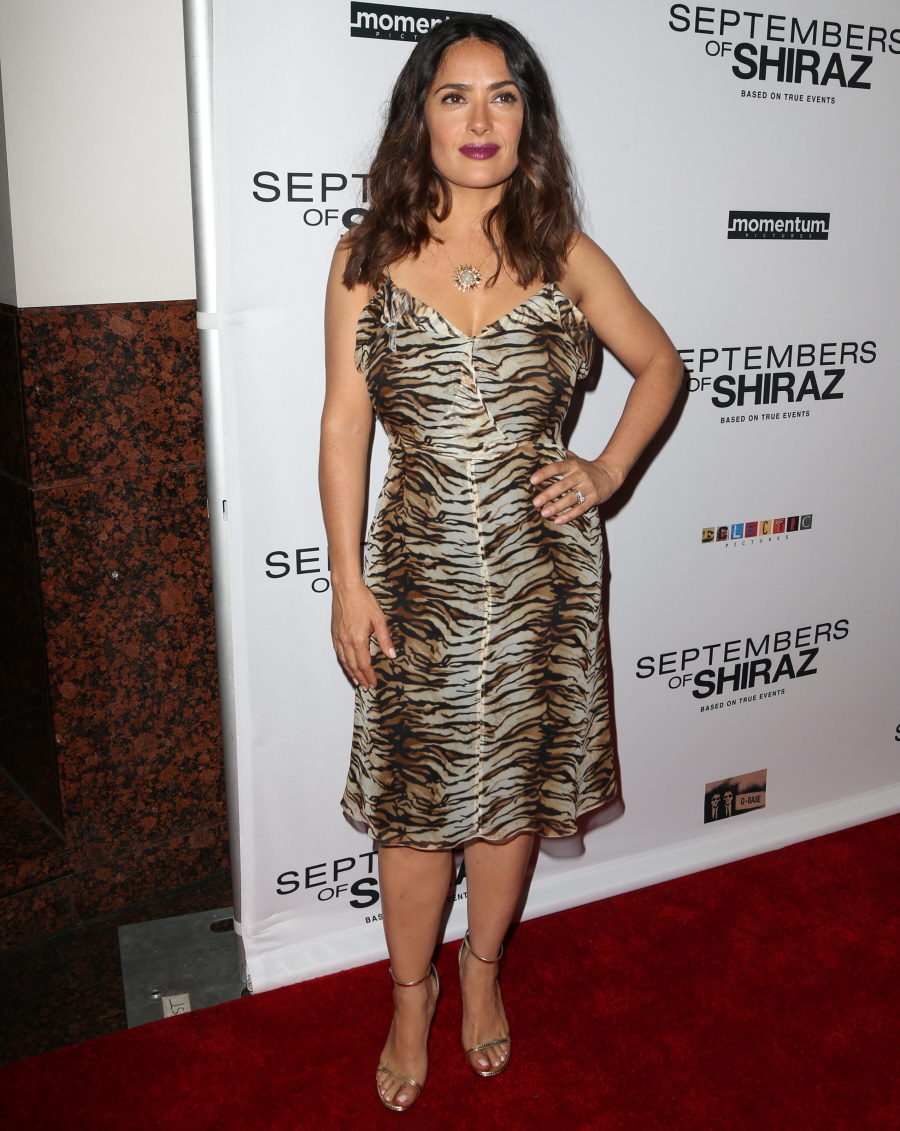 Here are some photos of Salma Hayek at the LA premiere of Septembers of Shiraz earlier this week. Salma wore a tiger-striped Saint Laurent slip dress which… do you guys think there's an age limit on animal prints? Or is it just an issue of taste? I've seen some stunning animal-print clothing that could be worn at any age, and then sometimes (like right now), I'll see an animal print on a nearly-50 woman and think, "mutton dressed as lamb." Salma looks great for 49, totally and completely. But this looks sort of tacky on her, that's all I'll say.
Speaking of Salma's age, she gave an interesting interview to InStyle UK this week about how it feels to be turning 50 this year (she turns 50 in September). Salma has a history of giving updates on her personal aging process and she has a history of doling out aging "advice" too. Some of the advice is bonkers, but some of it is… okay. I sort of enjoy how honest Salma is in this interview:
How her body confidence has changed as she approaches 50: "That made me insecure too… especially when it's new it's like (shrugs shoulders). Well I am entering my fifties so your body confidence isn't that good. I think it depends on the day, for everybody, there's some days you say, 'this is it,' and you love it. Then there are days when you go, 'this can not be it! Is this really it?' So I think it's up and down all the time!

How to become a queen in everyday life: "You have to get up and become your own work of art; from the moment you put yourself together. Not that I do it! I am quite lazy in the queen department. But celebrate who you are and celebrate life and know that this is your experience.
Last year, Salma was proudly proclaiming about how she was 48 and had no need for Botox, peels or fillers. The comments on that post were scary, because some of you magnificent over-50 ladies were like *sepulchral voice* "JUST YOU WAIT." As in, 50 is when things really start to drop off. And it seems like Salma is feeling that too. What a difference a year makes, right? One second you're smugly declaring that you have no need for any cosmetic adjustments and then suddenly you're researching neck-skin surgery online. I have no answers, ladies! I'm more than a decade younger than Salma and I'm already starting to look at various parts of my body like, "Oh, that's never going to be firm again, I guess."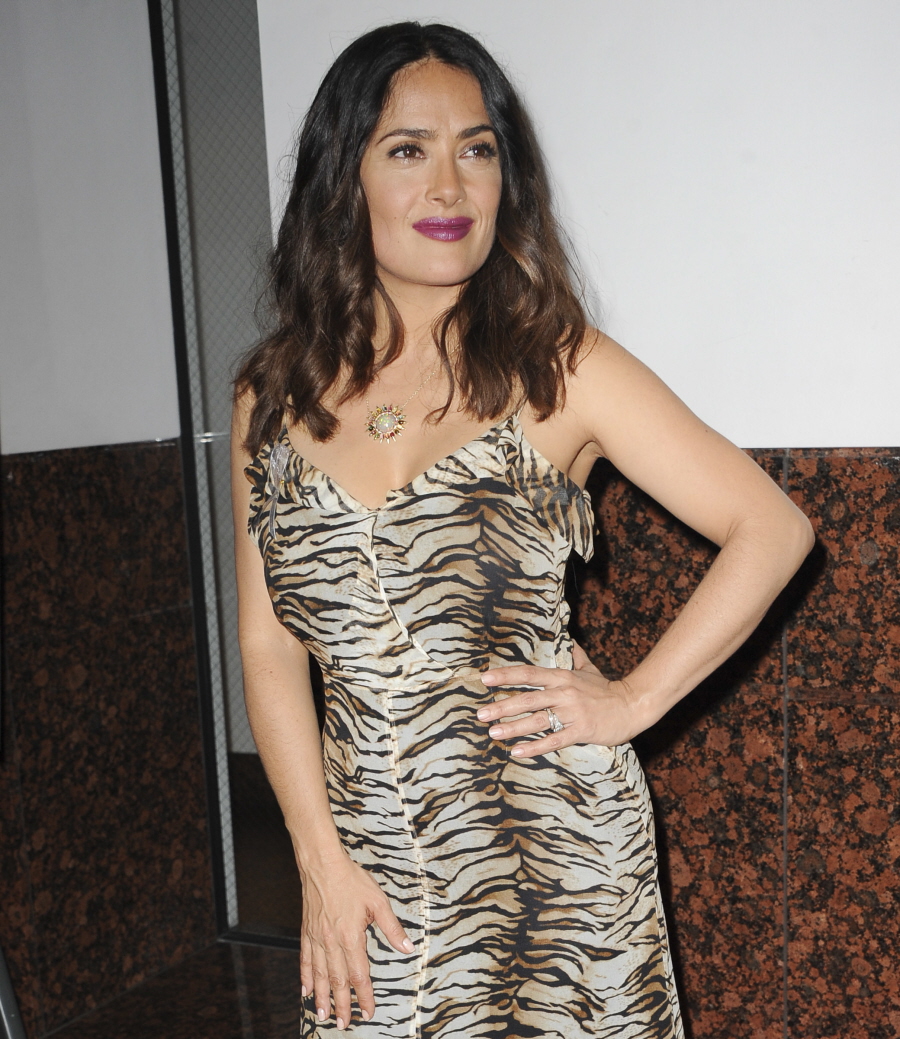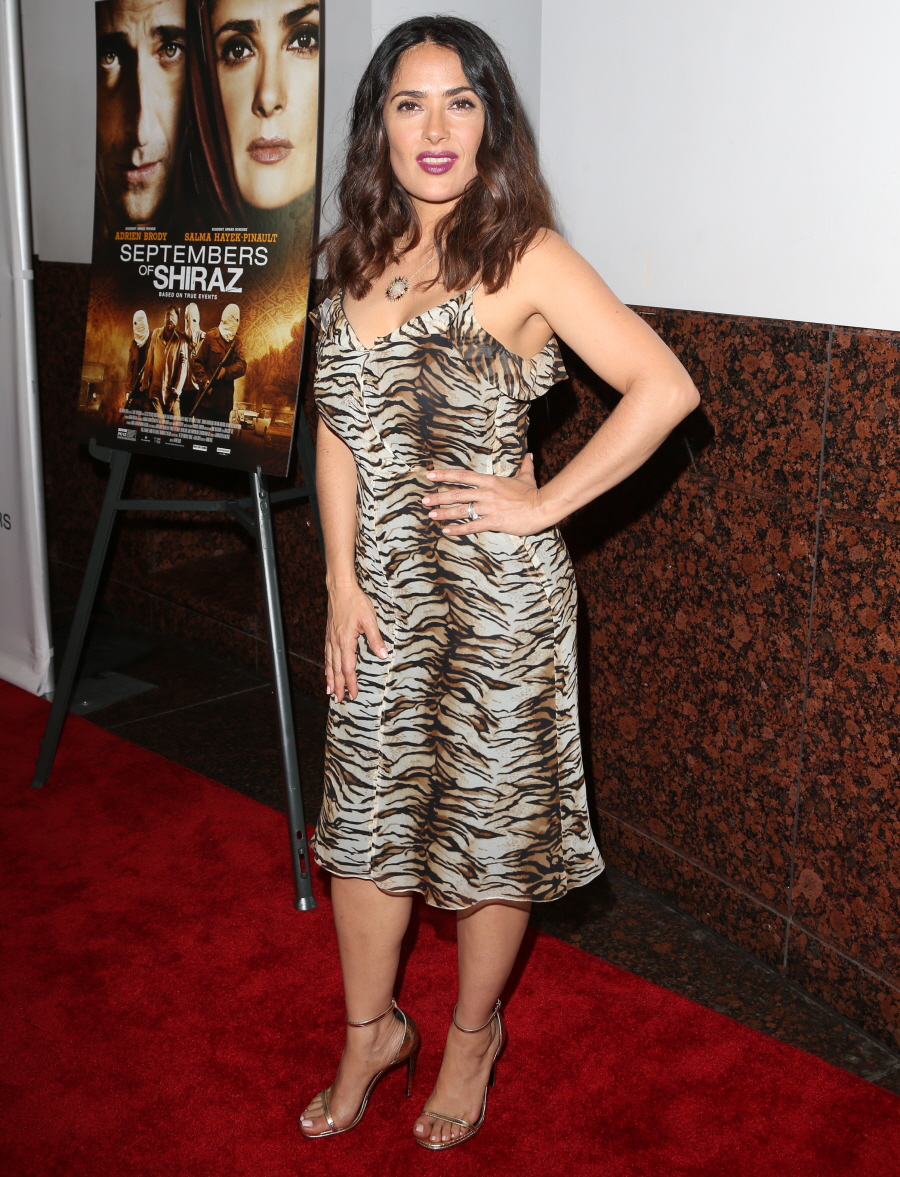 Photos courtesy of WENN.