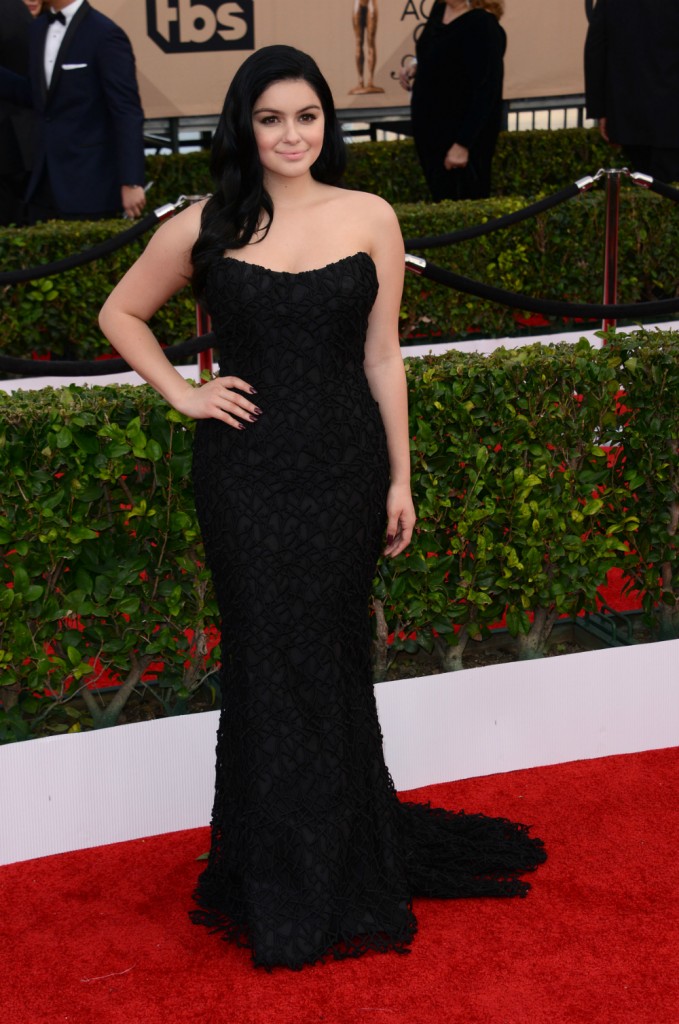 Ariel Winter has engaged in another social media scuffle. For a little context, when she was 17, Ariel reduced her breast size from an F to a D cup. Her reasons for doing so were both physical and self-esteem. She is thrilled with her new physique and has proudly showed the results on social media. With that however, has come a great deal of criticism. Ariel has been very vocal about standing up for one's right to dress as they want. She has defended both herself and Kim Kardashian's right to post whatever selfies they chose.
After Ariel's recent high school graduation, Ariel's sister threw her what looked like a delicious party. Ariel excitedly posted this pic of the celebration:
Some people wasted no time condemning Ariel for her dress choice so she fired back at them on both Twitter and Instagram.
Ariel Winter is sick and tired of body shamers, and she's firing back.

The Modern Family actress received criticism over the form-fitting pink dress that featured a cut-out below her bust that she had worn for her high school graduation party. Commenters on social media bashed Winter for her choice of wardrobe because they found the dress to be too revealing while others zeroed in on the teenager's figure.

"Dear sorry body-shamers, I looked HOT in that dress," the 18-year-old tweeted on Wednesday. "And if you hate it, don't buy it. But please get a hobby. XOXO Ariel #EmbraceYourBody."

Winter followed up with a photo preaching a similar message, posting a mirror selfie that she captioned: "Embrace all that you are. Don't let those outside voices become your inner voice #mychoice #loveyourcurves."

The actress, who had breast reduction surgery last year, said she doesn't usually "give power" to mean things said about her on the Internet, but felt inspired to speak out for other girls who have been bullied.

"You are not asking for anything because of what you are wearing – you are expressing yourself and don't you ever think you deserve the negativity as the consequence to what you are wearing – YOU ARE BEAUTIFUL," she wrote. "Celebrate you and don't let anyone's comments allow you to think less of yourself. Us girls have to stick together!"
I am not a fan of the dress and I'll be honest, modesty factors into my opinion. I may not care for the dress but I don't care if Ariel posts pictures of herself wearing it, she can wear whatever the hell she wants. Also, I understand her excitement about her new figure. When I was 43, I finally finished losing weight I had been trying to shed my whole life. I dressed in anything I could find that would show it off. I'm sure my name was dropped at a few school PTO meetings but I didn't really care. And I agree, she did look hot.
I don't think her response hit the right note, though. I feel like she is giving her critics the power she doesn't want to by continuing to respond to this nonsense. Especially considering that most of the comments on that Instagram take down her detractors for her. I like her following up with another provacative-but-perfectly-acceptable pic, that's how I would have fought them. You do you, Ariel.
Dear sorry body-shamers, I looked HOT in that dress. And if you hate it, don't buy it. But please get a hobby. XOXO Ariel #EmbraceYourBody

— Ariel Winter (@arielwinter1) June 23, 2016
Not related but Ariel's puppies!
Photo credit: Instagram, Twitter and Fame/Flynet Photos