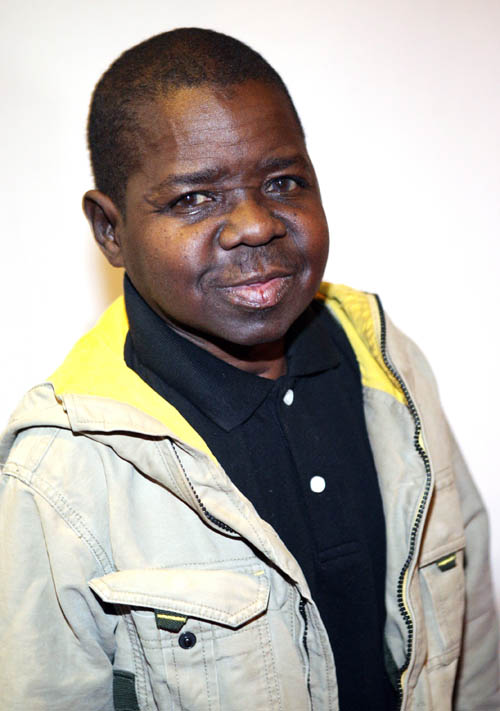 Gary Coleman, 41, stars in a new reality-type movie that features little people competing with mascots in Jackass type competitions. There's supposedly $1 million up for grabs for each contestant on the winning team for a total of $10 million, but it's hard to believe the film had a budget that was even a tenth of that.
Coleman's new film, Midgets vs. Mascots, is being billed as "shockumentary" and judging from the trailer, below, it's a mess that's offensive on many levels. There are scenes of little people getting punched out, mascots puking on each other, and predictable scatalogical humor. In a contractually obligated interview promoting the movie, the 41 year-old former child star makes it clear that he only did the film for money and that he thinks it's a piece of crap:
His wife would be Shannon Price, 23, the pleasant redhead milling in the background. They live in Utah County, Utah together, are visibly in love, and their mortgage is, according to Coleman, what has driven him, now 41, to star in Midgets vs. Mascots.

"If they weren't paying me, you wouldn't be talking to me," Coleman proclaims, motioning at director Ron Carlson and adding, "He is very proud of the film, and I don't know why.

"I have very little good to say about the movie because it's just so offensive. But I'm sure if you're a fan of Borat, you'll like this movie. But I have never liked the word midget."

Coleman describes Borat as "ridiculous, offensive and pointless."

Earlier this month Page Six quoted Coleman as saying he wanted "to bash my fists right in my agent's face" for booking him this job.

Coleman says he was half-kidding.

"He knows as well as I do that I still have to pay my mortgage, and if I want to keep my land I have to do that. I took this job and I promote this film because they pay me. Not because I think it's a good film, and not because I'm in it."

With that, Carlson interjects, "You haven't seen the movie yet."

"And I probably won't," Coleman fires back.

The director continues, "People on the street are coming up to me saying, 'Carlson, Aronofsky brought back Rourke, but what you did with Coleman…'"

"Who the hell is Aronofsky?" Coleman responds with a "whatchu talkin' bout Willis"-like fury.

Carlson busts out laughing and declares 2009 "the year of Gary Coleman."

So what's next for Gary?

"Right now I have garycolemanworld.com, which is a really nice portal for me. It's a shopping portal. I got scented candles, some Amway products, all kinds of good stuff."
[From The Huffington Post]
The website Gary Coleman mentions, GaryColemanWorld.com, is pretty sad. It's one of those template sites with just a front page and some links. As of 6:00 am EST it only had 665 visitors logged on the counter. It's possible one of the sites he links out, RailsFurnitureRailways, is also run by Coleman but it's hard to tell as it has no real identity. That site only sells perfume and some jewelry.
I saw this guy on "The Surreal Life" and he definitely has a massive chip on his shoulder. He's been in several public fights with his young wife Shannon Price, 23, in which cops had to be called. The two were even on Divorce Court last year in an attempt to get some kind of cash, publicity and advice from Judge Toler. Shannon told the judge that Gary threw temper tantrums and would often bang his head against the wall when he was upset. At least with this exploitive movie he's getting paid to be self destructive.
Gary claims that everything is fine in his marriage, though, and told The Huffington Post that married life is "great," calling it "one of the hardest jobs you'll ever love." Last year on Divorce court Shannon said that she wanted children but that Gary didn't. Luckily they remain childless.
Here's the trailer for Midgets vs. Mascots. I don't even know what to label the warning on this one. It's just pretty terrible.

Here's Coleman at the premiere of Midgets vs. Mascots on 4/25/09. credit: WENN.com